As another NBA season grinds its way into the All-Star Break, fans all over the world are coming together once again to celebrate as the league's premier stars gather for the annual showcase of basketball festivities.
All-Star Weekend has traditionally been an opportunity for players to have some fun before things get more serious in the pursuit of an NBA title. This is just as true for the fans, who must soon come to terms with another losing season or prepare to get excited for a potential playoff run. As the summer draws nearer, some poker players may even need to start thinking about how their team playing in the NBA Playoffs might conflict with the WSOP schedule.
While poker is a global game, and professional players often regularly travel the world to compete in marquee tournament series, their ties to their hometowns remain strong, as do their connections to their local sports teams. Indeed, rooting for one's hometown sports teams is the type of connection that usually lasts forever, and NBA teams can count famous poker players among their most loyal fans all over the league.
In that spirit, here's our list of poker's most loyal and diehard fans of each NBA team.
SKIP TO: ATLANTA HAWKS | BOSTON CELTICS | BROOKLYN NETS | CHARLOTTE HORNETS | CHICAGO BULLS | CLEVELAND CAVALIERS | DALLAS MAVERICKS | DENVER NUGGETS | DETROIT PISTONS | GOLDEN STATE WARRIORS | HOUSTON ROCKETS | INDIANA PACERS | LOS ANGELES CLIPPERS | LOS ANGELES LAKERS | MEMPHIS GRIZZLIES | MIAMI HEAT | MILWAUKEE BUCKS | MINNESOTA TIMBERWOLVES | NEW ORLEANS PELICANS | NEW YORK KNICKS | OKLAHOMA CITY THUNDER | ORLANDO MAGIC | PHILADELPHIA 76ERS | PHOENIX SUNS | PORTLAND TRAIL BLAZERS | SACRAMENTO KINGS | SAN ANTONIO SPURS | TORONTO RAPTORS | UTAH JAZZ | WASHINGTON WIZARDS
Atlanta Hawks
Josh Arieh
With nine cashes and three top 10 finishes at the 2019 World Series of Poker, Josh Arieh is coming off of one his best years since he placed third in the 2004 Main Event. When he is not playing poker, Arieh spends his leisure time at his home in Atlanta playing golf and scoring courtside seats for Hawks games.
Sittin courtside to watch the hawks bust up the magic!!!

— Joshua Arieh (@golferjosh) April 28, 2011
Look out for these bad boys tonight @russwest44 pic.twitter.com/myyqonyChN

— Joshua Arieh (@golferjosh) January 23, 2015
Boston Celtics
Bernard Lee
For as long as he's been a standout at the poker tables and on the media side of the poker industry, Bernard Lee has been a Celtics fan for even longer. The host of the popular Bernard Lee Poker Show (now part of the Cardplayer Lifestyle Podcast Family) has had season tickets to watch the Celtics play for over two decades, as rooting on the team has become a Lee family tradition.
Brooklyn Nets
Jared Jaffee
Hailing from Staten Island, New York probably made the transition from New Jersey to Brooklyn easy for longtime Nets fan and 2014 WSOP bracelet winner Jared Jaffee. After all, you don't buy season tickets to watch a team unless you're a truly passionate supporter.
My Brooklyn nets seats for this season aren't half bad pic.twitter.com/3MtDQWgzV5

— jaredjaffee (@jaredjaffee21) October 17, 2013
Charlotte Hornets
Chris Hunichen
Clayton, North Carolina native and Hornets fan Chris Hunichen quietly put together a banner year in 2019, taking in over $4.3 million in live tournament earnings and making a deep run to 54th in the WSOP Main Event. When Big Huni's in the field, other players best watch out! His Hornets, however, didn't fare as well, just missing the playoffs.
Chicago Bulls
Connor Drinan
Chicago native and Bulls fan Connor Drinan has an impressive live career with over $11 million in earnings, but for better or worse he's become recognizable among casual poker fans for being on the losing end of that famous hand vs. Cary Katz at the 2014 Big One for One Drop.
a lady asked me if I was an NBA player today bc I had a bulls shirt on, so basically yea

— Connor Drinan (@ConnorDrinan) July 11, 2016
Lol if @russwest44 goes to the bulls I will antisweat my home team until he's gone. #NeverRuss

— Connor Drinan (@ConnorDrinan) July 10, 2019
Cleveland Cavaliers
Adam Friedman
Back-to-back reigning (and defending!) $10,000 WSOP Dealer's Choice Champion Adam Friedman is originally from Gahanna, Ohio, a suburb of Columbus. Prior to pursuing his career as a poker pro, the "LeBron James of Mixed Games" had just a short drive up Interstate 71 to see his Cavaliers.
I wish I were in Cleveland right now. Front row tix for the Cavs & Indians tonight would've been much cheaper than my breakfast in LA today

— Ada❌ Fried❌an (@AdamFriedman119) October 25, 2016
Dallas Mavericks
Haralabos Voulgaris
In 2018, Marc Cuban hired Haralabos Voulgaris, high-stakes poker player and former legendary NBA bettor, to serve as the Director of Quantitative Research and Development for the Mavericks. Much like "Haralabob" is a force to be reckoned with at the felt, the Mavs have seen their fortunes turn positive since bringing the master statistician into their fold.
ESPN reporting with @Zachlowe_NBA: In another example of the league's changing attitudes on gambling, the Dallas Mavericks are hiring former NBA bettor Bob Voulgaris (@Haralabob) as Director of Quantitative Research and Development.

— Adrian Wojnarowski (@wojespn) October 5, 2018
Denver Nuggets
Chance Kornuth
Originally from Denver, Chance Kornuth has over $7 million in live earnings and two WSOP gold bracelets to his name. An online poker legend and accomplished live poker pro, Kornuth left the University of Colorado-Boulder to pursue the game and has not looked back since. Like any passionate fan, Kornuth goes to great lengths to show support for his hometown NBA team, even while abroad.
Couple of close calls today but now the nuggets game taking over the Mexican bar! #wefoundit

— Chance Kornuth (@ChancesCards) April 29, 2013
Detroit Pistons
Ryan Riess
Life for a Detroit sports fan isn't easy, but 2013 Main Event Champion Ryan Riess speaks his mind on behalf of all Pistons fans wanting to see a better world. Though better known for wearing an NFL Lions jersey, Riess is one of many long-suffering Pistons sports fans. Perhaps better times lie ahead…
Hey @1MrBigShot, looking good doing NBA Draft coverage. The @DetroitPistons could really use a GM though! Think about it.

Sincerely,

Detroit Pistons fans everywhere

— Ryan Riess (@RyanRiess1) June 21, 2018
Golden State Warriors
Phil Hellmuth
Wherever you find the Warriors, there is a good chance that superfan Phil Hellmuth is nearby keeping a close eye on the team. Whether it's sitting courtside, jet setting with team owners Joe Lacob and Chamath Palihapitiya, or fraternizing with veteran stars like Draymond Green at the felt, Hellmuth's white magic and #positivity are without a doubt the team's secret weapons.
RT @SmackSports Poker legend @phil_hellmuth standing on the baseline at the @warriors – @denvernuggets game pic.twitter.com/YzyzPIJvu2

— phil_hellmuth (@phil_hellmuth) April 27, 2013
Houston Rockets
Phil Ivey
In the past, Phil Ivey has claimed both the Lakers and Rockets as his favorite NBA teams, but it's hard to think about Ivey and the NBA without picturing him in his iconic Steve Francis jersey at the 2003 WSOP Main Event. All these years later, his elimination at the hands of Chris Moneymaker is still gripping poker TV.
Phil Ivey MasterClass: A Thorough Review
Indiana Pacers
Chad Eveslage
Look to the top of Indiana's all-time money list and you'll see part WSOP Main Event Champ John Cynn and Poker Hall of Famer Mike Sexton, but it seems they're not necessarily Pacer fans. Look a little further down the list to fifth place and you'll notice that, while currently based out of Florida, poker pro Chad Eveslage represented his hometown of Ramsey, Indiana well with eight cashes at the 2019 WSOP and has cobbled together a solid career resume boasting over $1.5 million in live tournament earnings.
pacers better win this game or I will turn into a hawk and fly away

— Chad Eveslage (@badbeatman06) May 1, 2014
Los Angeles Clippers
Bryce Yockey
The fourth place finisher in the 2019 $50,000 WSOP Poker Player's Championship might best currently known as "the guy that this happened to", but his terrific performance in that tournament was proof of what many of his professional poker playing peers already know: Yockey is a mixed games beast! Taking a bad beat of that nature, however, is something all longtime Clippers fans can relate to.
Being a clippers fan is a hard life 😭

— Bryce Yockey (@SuddenlyBryce) April 26, 2016
Los Angeles Lakers
Mike Matusow
Laker fans like native Los Angeleno Mike "The Mouth" Matusow know both what it takes to reach the winner's circle as well as what it feels like to experience a drought. They've got a lot to be excited about in 2020, however, with the team featuring the one-two All-Star pairing of LeBron James and Anthony Davis, poised to try and take Laker Nation to their 17th  NBA championship.
As a diehard Laker fan after six years of misery this is really fun to watch this team as I don't believe their beatable Davis and LeBron are unstoppable! #lakernation #LakeShow

— Mike Matusow (@themouthmatusow) December 14, 2019
Memphis Grizzlies
Daniel Marcus
While not a household name in the poker world, Daniel Marcus is rising fast behind the scenes in the NBA. The former financial analyst has served a number of front office roles in the Grizzlies organization, and is currently the manager of their G-League team, the Memphis Hustle. Marcus won a WSOP Circuit ring in 2012.
A little #TBT to some poker glory, 2 years ago to the day – http://t.co/Fj0F6Fysim pic.twitter.com/WwLQDcDCak

— Daniel Marcus (@ddotmarcus) December 4, 2014
Miami Heat
Jason Mercier
The Heat have a lot of celebrity fans, but how many of them have won WSOP gold bracelets in three different variations of poker and another one in H.O.R.S.E.? Jason Mercier stands alone. As he's gotten married and become a dad in recent years, family is now Jason's #1 priority, poker and rooting on his favorite sports teams are still a solid #2.
Let's go @MiamiHEAT !!!! @Matthew_Waxman @JasonMercier pic.twitter.com/0jOruznFMk

— Natasha Mercier (@natasha_mercier) November 11, 2016
Milwaukee Bucks
Chad Holloway
Giannis Antetokounmpo has the entire state of Wisconsin taking notice of NBA basketball for the first time in a while, and the veteran poker journalist/WSOP gold bracelet winner (and occasional Cardplayer Lifestyle contributor) is catching Bucks fever. Holloway is currently PokerNews' Head of Live Poker Reporting USA, and usually seen Brewers gear. We may start seeing more Bucks gear on Chad as they make a run at the title this year.
I will say as a Wisconsinite who never paid to much to basketball the Bucks run has gotten me more involved.

— Chad Holloway (@ChadAHolloway) April 14, 2019
Minnesota Timberwolves
Blake Bohn
Minnesota Poker Hall of Famer Blake Bohn is a legend of the Mid-States Poker Tour and devoted Minnesota sports fan. Much like the Timberwolves, Bohn is beloved in his home state both for his success at the felt as well as for doing his part to promote the game.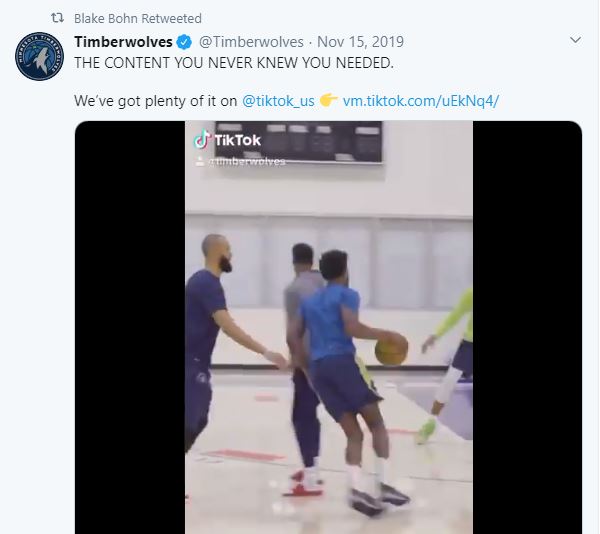 New Orleans Pelicans
Ben Mintz
Ben Mintz is a pro poker player from Louisiana as well as a local radio host with a daily show on 100.7 "The Ticket." He has a little over $600K in live tournament earnings and a WSOP Circuit ring to his credit. Much like the Pelicans, if Mintz can string together some notable wins, many more people will begin paying more attention to this competitor.
I want to do some poker play by play soon. Feels inevitable with my background in both poker & now broadcasting. They need some of my high energy in the booth for the slower poker action.

— Ben Mintz (@Benmintz531) July 9, 2019
I feel blessed as a sports fan to get to watch this Pelicans team next 3-5 years. The entertainment value is off the charts as long as Zion stays healthy no matter what.

— Ben Mintz (@Benmintz531) January 29, 2020
New York Knicks
Ryan Depaulo
Ryan Depaulo might not be poker's most famous Knicks fan, but he certainly qualifies as the loudest. A nominee for the 2019 Global Poker Award for People's Choice Poker Personality, Depaulo burst onto the scene at the 2019 WSOP Colossus, where he notched a very strong third place finish while wearing an Amare Stoudamire jersey. Depaulo vlogs regularly out of New York City.
Oklahoma City Thunder
Ben Lamb
Ben Lamb talked about his love of ping pong and the Thunder in this 2012 interview after he gained notoriety as a member of the November Nine in 2011. Since then, Lamb has only gotten better, picking up over $11 million in winnings and making another WSOP Main Event final table in 2017.
Did the thunder win?

— Ben Lamb (@BenbaLamb) June 1, 2012
Orlando Magic
Tristan Wade
Wade is a Florida native and pro poker player with over $1.7 million in lifetime live earnings, including a bracelet win at the WSOP Europe in 2011 and a Circuit ring win in 2014 in his home state. He's also been an honest and humble fan of the Orlando Magic for well over a decade now.
The magic lost again at home. Wow. Guess it will be lakers celtics rematch. They look like the two best teams left anyways.

— Tristan Wade (@TristanCre8ive) May 19, 2010
Philadelphia 76ers
Joe McKeehen
North Wales, Pennsylvania native Joe McKeehen made certain the world remembered him as the biggest Sixers fan in poker by wearing a black Allen Iverson jersey while winning the 2015 WSOP Main Event.
Congrats to Joe McKeehen (@dude904), the 2015 WSOP Main Event Champion!https://t.co/FniJtXXEpD pic.twitter.com/S0fY5DPXLx

— WSOP (@WSOP) November 11, 2015
Phoenix Suns
Earl Barron
After a long career playing professional basketball in the NBA (including two separate stints with the Suns) and all over the world, the 7-foot center is spending his retirement in Arizona where he has been making his mark on the local poker scene. Barron has approximately $150,000 in career poker earnings and can be seen most summers looking to add some WSOP gold to go alongside his 2006 NBA Championship ring.
First main event and I've made it to day 2. Slow grind but I'm up for the challenge. Day off tomorrow. Gonna hit the gym up and relax.

— Earl Barron (@earldee) July 10, 2012
Truly blessed. Thanks Suns fans for the warm welcome. Glad to be back and can't wait to get back on the court. #GOSUNS

— Earl Barron (@earldee) February 20, 2015
Portland Trail Blazers
Kao Saechao
With over $1 million in live earnings and having made a memorable run all the way to 16th place in the 2018 WSOP Main Event, Kao Saechao is certainly one of Oregon's top tier poker pros.
Main Event: Kao Saechao Eliminated in 16th Place ($375,000) https://t.co/MyeXUEClXm pic.twitter.com/XAwckwOCPX

— PokerNews Live (@PokerNews_Live) July 12, 2018
Sacramento Kings
J.C. Tran
J.C. Tran has long been a big name in the poker world, and has always been tremendously proud of his Sacramento hometown. The two-time WSOP bracelet winner has over $13 million in lifetime live poker tournament earnings and can regularly be seen on social media and poker broadcasts sporting the gear of and discussing his favorite NBA team.
Huge Sacramento Kings fan @jctran23 is your chip leader at the WSOP final table. Give him some love. pic.twitter.com/FLTNg4Ayj3

— Sactown Royalty (@sactownroyalty) November 5, 2013
Nike got it right! The NBA uniforms are going to be sick this season. pic.twitter.com/QzcEzYAK0h

— JC TRAN💯 (@jctran23) August 15, 2017
San Antonio Spurs
Jeff Platt*
Alright, we'll give this one an asterisk. While poker broadcaster Jeff Platt's favorite NBA team is actually the Mavericks, we can't help but associate him with the Spurs. Prior to becoming one of poker's most popular hosts, Platt covered the Spurs as a reporter for a local TV station. He has always spoken highly of the organization and regularly enjoys telling the story of what it was like to have interviewed the team's head coach Gregg Popovich.
One of my favorite photos I captured of @manuginobili was at the Spurs practice facility — @jeffplatt received a lengthy answer. Ginobili was always great with the media, English and Spanish. #ManuForever pic.twitter.com/0UQux2LtFA

— Jose Arredondo (@sportsguyjose) August 28, 2018
Toronto Raptors
Daniel Negreanu
The 2019 NBA Finals between the Raptors and Warriors was the perfect opportunity for Daniel Negreanu to stoke the flames of his rivalry with Phil Hellmuth. The Toronto native now resides in Las Vegas, where he is a fixture at Golden Knights NHL games, but he'll always be a fan of his teams from the Great White North.
LETS GO RAPTORS!!!#WeTheNorth pic.twitter.com/GS8qpytTdw

— Daniel Negreanu (@RealKidPoker) June 6, 2019
Utah Jazz
Jared Griener
With eight cashes at the 2019 WSOP and a near-miss third place finish at the WPT Masters of Poker in August, Jared Griener recently passed $2 million mark in live tournament earnings. This poker pro currently residing in Huntington Beach, California grew up in Provo, Utah rooting for the Jazz, and his support for the team hasn't waned since.
i grew up in Utah and saw many Jazz games. The b2b finals teams would be champs most years imo. Not just a 2 man show

— Jared Griener (@jaredgriener) June 20, 2016
Washington Wizards
Norman Chad
While he might not claim the Wizards as his own, it would be hard to believe that Norman Chad doesn't have a place in his heart for the long-suffering D.C. basketball team. Prior to becoming Washington, D.C.'s best known sportswriter and award winning poker broadcaster, Chad spent his college years working at Bullets (R.I.P.) games for a company that transmitted sportswriters' stories back to their newspapers.
My Couch Slouch newspaper column this week: How woeful are the Washington Wizards? Uh, very woeful. http://t.co/0BT5VCi6

— Norman Chad (@NormanChad) December 3, 2012