It has been an incredible start to 2021 on PokerGO with new and unreleased content rolling out for the first four months of the year. May will kick off with Round 2 of High Stakes Duel II between Phil Hellmuth and Daniel Negreanu where they will face-off in the $200,000 match.
There are 12 episodes scheduled for release in May on PokerGO which includes the continuation of Season 12 of Poker After Dark, and the wrap-up to the WSOP Europe collection.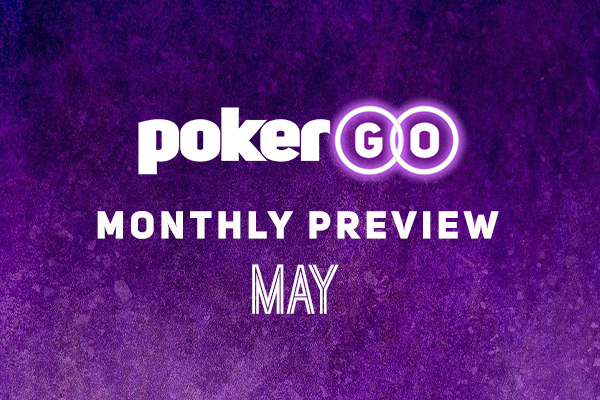 High Stakes Duel II
After sweeping Antonio Esfandiari in High Stakes Duel back in October 2020, Phil Hellmuth turned his attention to Daniel Negreanu for High Stakes Duel II. Hellmuth claimed the victory in a marathon match that saw him sink as low as 3,000 chips from the 100,000 in play before mounting an epic comeback to win the $100,000 match.
"I would rematch Phil for eternity," Negreanu said before a single card was dealt in High Stakes Duel II. "There is no possible way I would say no to a rematch with Phil Hellmuth."
Following those words from Negreanu, the Round 2 match for $200,000 was set with two scheduled to face-off on Wednesday, May 5 at 8 p.m. ET. Round 2 of High Stakes Duel II will again feature three unique shows; The Hype Show on Tuesday, and The Weigh-In and Round 2 airing Wednesday from 7:30 p.m. ET.
Watch Round 2 of High Stakes Duel II on Wednesday, May 5, at 8 p.m. ET
Poker After Dark
The second half of Season 12 of Poker After Dark continues in May with Watch Your Step week coming to a conclusion. Two nights of filming are captured in the six-episode week which includes Frank Stepuchin, Ilyas Abayev, Alex Ding, Ronnie Bardah, Alan Richardson, Marle Cordeiro, Landon Tice, and Mike Matusow playing $50/$100 No-Limit Hold'em.
The final episode of the month will see the debut of Gamblers Delight week that includes Dan Shak, James Bord, Lynne Ji, Albert Destrade, Jake Daniels, Trevor Pope, and Bryan Ercolano playing $100/$200 No-Limit Hold'em.
New episodes of Poker After Dark are released every Monday at 8 p.m. ET.
World Series of Poker Europe
The WSOP Europe 2011 Main Event final table concludes with Elio Fox winning his first WSOP bracelet and the €1.4 million first-place prize after topping Chris Moorman, Moritz Kranich, and Brian Roberts.
The WSOP Europe collection will wrap up with four episodes from the WSOP Europe 2012 Main Event. The final table has been set in Cannes, France, Phil Hellmuth and Sergii Baranov share the chip lead ahead of Joseph Cheong, Stephane Albertini, Christopher Brammer, Stephane Girault, Jason Mercier, and Paul Tedeschi. Will Hellmuth win his 13th WSOP bracelet or will someone spoil The Poker Brat's big day in France?
New episodes of WSOP Europe are released every Tuesday and Friday at 12 p.m. ET.
What Did You Miss in April?
The April releases on PokerGO consisted of nearly 20 episodes of new content including the release of four episodes from the 2020 WSOP Main Event, and episodes from the 2009 and 2010 WSOP Europe Main Event.
April also saw Poker After Dark continue with the second half of Season 12 introducing new sideline reporter Veronica Brill joining the team alongside host Ali Nejad. Also new to Poker After Dark was the players involved in Blitz Week, which was headlined by GGPoker's Dan Bilzerian, along with Bill Perkins, Steve Aoki, Mally Mall, and Chris Eubank Jr.
Connect with PokerGO on Facebook, Twitter, and Instagram.