Last week, I had the good fortune of doing media coverage of the World Poker Tour's Tournament of Champions to end off their 15th season. While I did plenty of work while there, I also had some free time, which I tried hard to make the most of.
Taking advantage of the location, at the Seminole Hard Rock Hotel & Casino in Hollywood, Florida, it was only natural that I head over to the craps tables to try and make a quick buck…
Just kidding! Of course, I visited their poker room for some short cash game sessions. What follows, then, is my review of their poker room.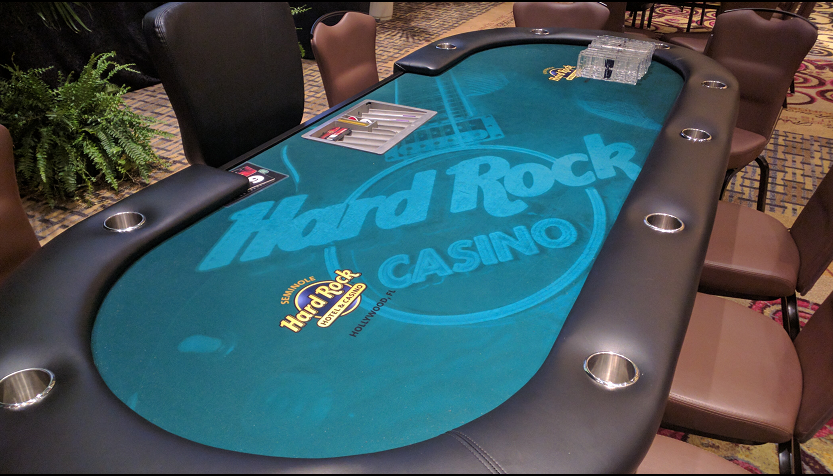 I first walked in to the 40-table room at 10am on a Tuesday morning, so you could say I was quite impressed to find no fewer than 10 tables running.
The next thing to impress me was the promotion they had running: a $300 High Hand bonus given out every half hour, with the qualifying hand being aces full of tens or higher + you only had to use one hole card! I later learned that this was in effect from 9am-2am, with the bonus being scaled back to $200 every hour from 2am-9am; but nonetheless still a great promotion to keep recreational players like me glued to their seats.
I unfortunately had to call it quits after two hours, but not until I managed to lock up a tidy $400+ in profit.
I visited again two days later, on a Thursday night, and the place was hopping – all 40 tables were packed with waiting lists galore. Poker variants of every stripe and at all sorts of stake levels were being spread; Hold'em, PLO, and even a $200/$400 mixed game (probably as the WPT TOC was in town with lots of high rollers).
The dealers and poker room staff were all incredibly friendly. They handled both poker newbies as well as the occasional inebriated player who found himself seated at the tables quite well. Let's just say, they earned each and every dollar I tipped them.
I unfortunately didn't have the opportunity to play in any of their daily tournaments – after all I WAS there to work, lol – but it seemed like they ran a pretty tight ship. I did, however, get to meet Tony Burns, their Tournament Director.
While he was busy running things over at the WPT events in the resort's ballrooms, he clearly is an expert at his craft and works hard – along with his colleagues and other poker rooms staffers – to ensure the players are listened to and get good value and tournament experience for their money.
Who Plays?
Unfortunately, my second and third sessions (the latter late on Saturday night) didn't go as well, as I ended up giving back what I had made in profit and then a bit more (-$150 altogether for the trip…. guess I'll stick to doing poker media instead of trying to turn pro).
The lesson I learned from the three sessions at the Seminole Hard Rock – Hollywood poker room is that it's certainly more likely to be profitable to play during the morning sessions midweek, if you can swing it.
In the morning, the crowd skewed a LOT older (makes sense, midweek after all). Not that older players are less skilled, by definition, but I definitely had a far easier time dealing with them than their younger counterparts later at night.
Regardless of the time of day, however, you'll find a variety of poker players spanning the whole spectrum of demographics; young and old, men and women, all races, colors, and creeds. Being located in South Florida, there were obviously plenty of native Spanish speakers at the tables, but the dealers – and even the players themselves – were uniformly careful to ensure English only while there was action in play.
Conclusion
All in all, I had a great time playing at this poker room. A number of other nearby poker rooms were mentioned by the players and dealers while I sat at the tables, so clearly there's a lot of competition for business in South Florida.
That said, all of the promotions and the great atmosphere ensure you'll have a blast if you choose to sit and play at the Seminole Hard Rock – Hollywood. They're very active on social media, Twitter especially, so just reach out and tell 'em that Robbie from Cardplayer Lifestyle sent you 🙂 .