When I started searching for poker rooms around San Diego, CA, all roads led to Ocean's 11 Casino.
I recently started playing online poker again after a three-year hiatus and realized how much I missed the game. There's nothing like playing live poker, however, and after a few weeks of grinding away at the micro stakes online, it was time to venture out and find some live action
With a handful of local casinos offering poker, I began looking into my options. Ocean's 11 stands out as the go-to poker room for San Diego players, with 50 tables, NL Hold'em cash games with limits of up to $10/25, PLO, Limit Hold'em, and daily tournaments on offer.
Moreover, big name poker tours and festivals that feature a stop at Ocean's 11 Casino include the WPTDeepStacks San Diego and the Card Player Poker Tour. That's as solid a reputation as they come.
My Experiences
On a recent Friday night I dropped by to play in their $5,000 guaranteed NL Hold'em tournament. I made the 45-minute drive from San Diego up to Oceanside with much excitement as I prepared to play in a live tournament for the first time in years.
Immediately when I walked through the door, I knew I had found my live poker home. Ocean's 11 isn't a traditional casino with rows of slot machines to navigate through while trying to a find a poker room that ends up being stuffed in a hidden corner of the casino floor.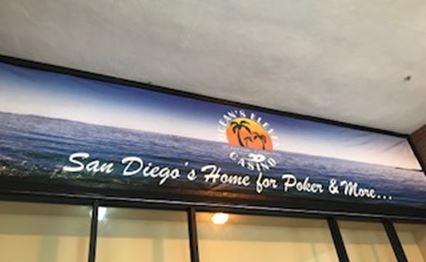 Poker is front and center at this casino, and just about all of its 50 tables were full when I arrived a little before the 6 p.m. tournament was set to begin. Every seat in the cash game room was taken, and the tournament room was beginning to fill up for the Friday night event.
I took my seat at Table 26 in the corner of the tournament room, and in the two hours that followed I witnessed some fascinating interactions among the characters at my table. This was my first taste of live poker since moving to San Diego in 2015, and it was a lot of fun.
I have to be honest in that I did feel a bit rusty, but it's not as though I had to start from scratch and revisit poker strategies for beginners. After a short while, I felt like I was getting back into the swing of things, and soon enough I felt fully comfortable once again sitting at a live poker table. In a sense, even while players have gotten better over the last few years, getting back into the game after an extended break really is like riding a bike.
Anyhow, I plan on driving up to Ocean's 11 Casino a lot more often, but hopefully next time I'll play a bit better. I played exactly six hands in two hours and won two pots. The cards were not coming my way, but there were certainly spots I should have been more aggressive and gotten my stack in with the blinds getting higher.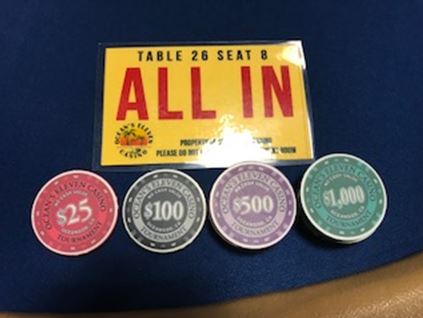 Since I wasn't involved in much actual play, however, I enjoyed the opportunity to take in the experience with my fellow players around the table.
Gotta Love Those Characters
The older gentleman to my left became agitated when nobody called his turn bet of 50 chips during the first level, with the blinds at 25-25. "Come on, it's 50!" he lamented when another player and I both folded.
A few minutes later he confided that he was holding a full house on that hand, and not having it paid off was his second unlucky instance of the night. Earlier in the day he was about to sit down at a cash game table when he witnessed a player at the table cash in on the $20,000 bad beat jackpot, which is paid when a full house of Aces full of tens or better is beaten by four-of-a-kind. He decided not to sit down at the game, figuring there was no way he'd have any luck following that… Go figure!
The woman to his left contested many pots, seemed to have an uncanny ability to call with marginal hands against bluffs, and was visibly upset any time she lost a showdown. She would show her hand and fling them into the muck in disgust any time the board didn't go her way, and in between hands she was sure to remind other players about proper poker rules and etiquette.
Most of the players I encountered were regulars, and I'm planning on becoming at least a semi-regular at the poker room. The casino hosts a $10,000 guaranteed bi-weekly deepstack tournament that I'm going to check out when I get a chance, and at some point I'll get in on the cash games as well.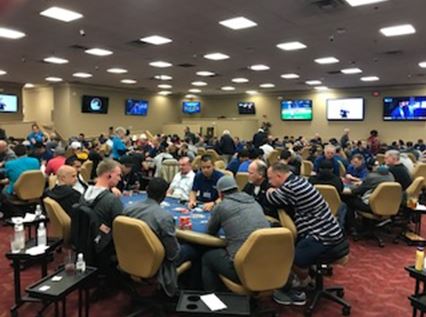 Hopefully things will go a little better for me next time. My 77 didn't hold up against J8s for the last of my chips just before the second break and my night was over.
I'll Be Back!
Before I left, I walked around and took a look at the rest of the casino. I got a look at the mural in the cash game room featuring the cast of the original "Ocean's 11" from 1960, which starred members of the legendary Rat Pack.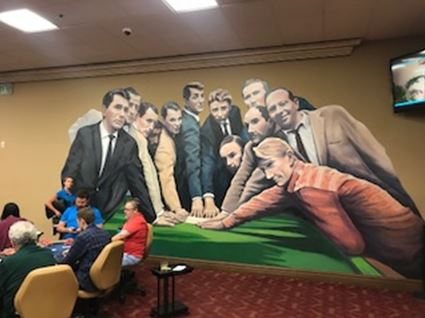 Another side room hosts blackjack, baccarat, three-card poker and Pai Gow, and a fourth room on the property acts as a sports lounge. And that's it! This casino is definitely geared toward poker players, and as I get back into playing the game I'm thrilled to have something like this just up the way from where I live.
I'll be back to play more (hopefully better) poker, and I can't wait to check out one of those major festivals, most likely the WPTDeepstacks Tour, when it comes through town!