The 2014 WSOP Main Event has just begun. One person in the field will eventually become the new champion. When the final river card hits the felt, that person will have their "Moneymaker moment". What better time than now to have a look back at the original Moneymaker moment…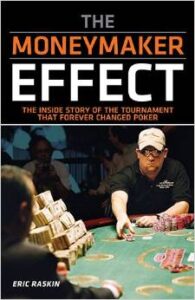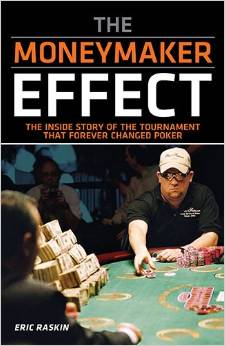 So, I'm going to start off this poker book review with a confession: I don't read too many poker books. Oh, believe me, I read a TON about poker but it's mostly online and in magazines, almost always in article format – short bursts. Actually, I don't read too many books at all. Why? Well, for the same reason I don't blog about poker more often: I simply don't have as much time as I'd like at my disposal. I'm thankful to have a VERY busy life – full-time job, wife + 3 great little kids; with most of my "free time" being dedicated towards my work on this poker blog, my Poker Notes Live mobile app, and the just-recently-added duties of co-hosting the Top Pair Home Game poker podcast. So, needless to say, when I was given a copy of The Moneymaker Effect: The Inside Story of the Tournament that Forever Changed Poker, my gut reaction was "Okay, I guess I'll get around to reading this in a few months". My, how wrong I was!
The Back Story of How I Got a Copy of the Book
As regular readers of this poker blog know, I spent the month of May on vacation in the New York area. Towards the end of my trip, I made it out to the Parx poker room, near Philadelphia, where I met Matt Glantz. There was also one other meeting I had scheduled for that day – with Eric Raskin, Editor-in-Chief of All In Magazine. At the time, I was unaware that Eric had authored a book, The Moneymaker Effect, but I certainly recalled the "When We Were Kings" piece he had done for Grantland, about a year prior. Most of our discussion that evening was about the magazine (I'm an occasional contributor), but Eric was also kind enough to leave me with a gift – a signed copy of his newly-released book. He said that the book was essentially the "full story" of what had been edited down into that Grantland piece.
Having read the book, let me tell you, as great as the Grantland piece was, it's nothing compared to the whole story.
Reliving Poker History through Three Dozen Pairs of Eyes
As only an oral history could capture, Eric's book frames Chris Moneymaker's landmark win through the eyes of dozens of other players, WSOP staffers, and "characters" who were involved. The lineup includes everyone from poker superstars like Phil Ivey and Daniel Negreanu, to Poker Hall of Famers like Phil Hellmuth, Barry Greenstein, Mike Sexton, and Erik Seidel. There's also the unique perspectives of poker media royalty like Nolan Dalla, Norman Chad, and Lon McEachern, legendary tournament director Matt Savage, and many, many others, including the inventor of the hole card camera, 90-year-old Holocaust survivor Henry Orenstein. Of course there's plenty of Chris Moneymaker in the book, as well as the one-of-a-kind perspective of his infamous heads-up opponent at the finale, Sammy Farha. There's even some fascinating input from the now-reclusive Howard Lederer!
Throw in some magic Moneymaker storytelling spice from characters named "Diamond" and "Gamble" – really! – and you've got yourself a bona fide poker page turner.
READ MORE: Interview with 2003 WSOP Champion Chris Moneymaker
My Impressions
Though it did, indeed, take me a while until I finally started the book, I literally BLAZED through it in a matter of days. I simply COULD. NOT. PUT. IT. DOWN! Every free moment I had, my head was buried in its pages. Everything took a backseat to me gobbling up the incredible story.
Like millions of others, back in 2003 I was transfixed by Chris Moneymaker's fairytale story unfolding in front of my eyes through the ESPN broadcasts. For anyone still into poker today, 11 years later, the images are burned into our memories. It's poker's most famous story of all, one which practically goes hand in hand with the non-poker world's association with the game itself. And yet, there was SO much more to the story we witnessed on camera. The fact of the matter is, then, that The Moneymaker Effect makes for a sensational read to the largest possible audience – not just modern day poker fans, but pretty much anyone who has ever heard of THE story. Whether you want to relive your memories of it or learn more about it, this book is for you.
My only reaction upon finishing the book was an insatiable desire to read even more about that seminal moment in poker history. Eric did a masterful job of putting it all together. Having interviewed some poker players and people in the industry myself, I know how time consuming each one can be. I can't even begin to imagine the amount of time and effort he must have poured in obtaining the firsthand accounts of each person quoted throughout the book. Bravo sir!
A Special Author's Inscription
As with many things in poker, sometimes it's all about the timing. I'm happy things worked out that I got to meet Eric in person and ever so thankful he gifted a copy of the book to me. In retrospect, I wish I could've already read the book when I met him so that I could ask him bunches of questions on what the experience was like for him.
In Eric's dedication to me, he wrote "Maybe you'll even be the next Moneymaker…" Well, I don't know about that, but I'd sure as hell like to be known some day as the guy who wrote a poker book this good.