About a week and a half ago, while on my month-long vacation in the U.S., I had the good fortune to visit the Parx Poker Room in eastern Pennsylvania. While looking forward to my day there, one of the exciting thoughts going through my head was "wow, I've written so much marketing copy for sites that offer online poker reviews and bonuses (as part of my full-time job here in Israel); what a rare privilege it is to visit a live casino in person and write up a review for my own site!" I spent about 15 hours at the Parx and, though I ended up down overall for my session, I had a great time in this fantastic poker room.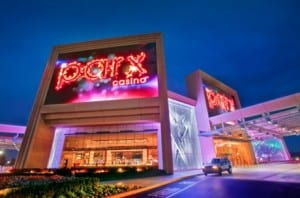 Without further ado, here's my Parx poker room review:
Getting to Parx
I left the New York City area super early in order to avoid rush hour traffic and arrived at the Parx approximately 2.5 hours later (thank you Google Maps!). The first thing that hit me was the massive size of the complex. It took another full minute and a half of driving upon entering the general Parx area until I reached the parking spots in front of the two main buildings. The larger of the two buildings houses the casino, the site's centerpiece. The poker room is located on the third floor of the smaller building.
General Impressions
The numbers don't lie: at 60+ poker tables the Parx truly feels immense and there's plenty of room to walk around among all the tables and soak in the atmosphere. From the moment I got off the escalator to approach the room, I felt as though the place had rolled out the red carpet for me. Every single floorperson, security staffer, and casino employee was genuinely friendly and eager to assist, without being the slightest bit intrusive. It's possible that they all took notice of my Lakers hat and (correctly) assumed I was from out of town, but it honestly seemed as though everyone working at the Parx was just doing their best to help me out and provide me with a warm welcome.
That friendliness certainly extended to the dealers at and away from the tables as well. Without exception, every single dealer I encountered while playing was cordial, happy to chat it up, and ran the game efficiently, quickly, and professionally. Away from the tables, I spoke to a few dealers who were on break and they were more than happy to answer my questions about the room, their own careers as dealers, and generally talk poker.
Grading the Poker
I visited Parx on a Tuesday and poker was certainly in session throughout the day. Even in the morning hours a solid eight tables were running. By the time evening rolled around and the $120 buy-in tournament began, there were 50+ tables running across the room (including both cash and tournament play).
I was pleased to see plenty of non-Hold'em poker games being spread, though mostly at higher limits like $15/$30 and $30/$60.
Interestingly, unique to Parx among all other poker rooms I've ever visited, it seemed like everybody knew everybody! Every time a new dealer came to the table, he/she greeted and was greeted by at least four or five players by name. This proved true both in cash games and in tournament play among players across all ages. That local flavor definitely gives the room a good amount of charm, which I've never really experienced before.
Anything Missing?
Surprisingly yes – the room lacked two things:
1) low limit games
2) outlets to charge mobile devices at or near the tables (though they did offer free Wi-Fi)
With regard to item 1, I was quite surprised that no $2/$4 limit Hold'em was being spread, as I've always seen it being played at every poker room I've ever visited. Also, there were just a couple $1/$2 no limit Hold'em tables going, while all other action at the Parx was for higher stakes, both in fixed limit and no limit play.
When asking a floorperson why this was the case, they gave a pretty simple answer: low limit poker players simply aren't their target audience, as Parx prefers to leave that crowd to patronize the other poker rooms in the area. Fair enough.
Regarding item 2, however, I honestly expected more from Pennsylvania's leading poker room. With such a high percentage of players bringing mobile devices with them to the tables (for poker note-taking purposes and otherwise), it would behoove the room to be outfitted appropriately with charging stations. Many poker rooms in Las Vegas have installed power strips underneath or even directly into the tables themselves. To their credit, they did offer to take my phone and charge it for me at the poker room's front desk area but, especially considering how many phones I saw also plugged in there, it was not an optimal solution.
(Ed. note, March 7, 2016: One of our readers has advised me that Parx has since installed charging stations at all tables. Great improvement!)
Overall
The Parx poker room gets a solid A in my book. With the lone exception of the missing outlets or charging stations, everything about playing at the Parx was phenomenal. I hope I get the chance to go and visit the room again.
I'd be remiss if I didn't also mention that I got to meet the Parx poker room ambassador himself, Matt Glantz! That'll be the subject of my next post :-).