Full Tilt Poker Room Review
Poker Room Reviews > Full Tilt Poker Room Review
Pros
Licensed in Malta and the Isle of Man
Available on Windows, Mac, iOS, Android
Multi-tabling support (24 tables by default on desktops/laptops)
Stars Rewards Program
Cons
No Instant Play
Does not accept US players
Table of Contents
History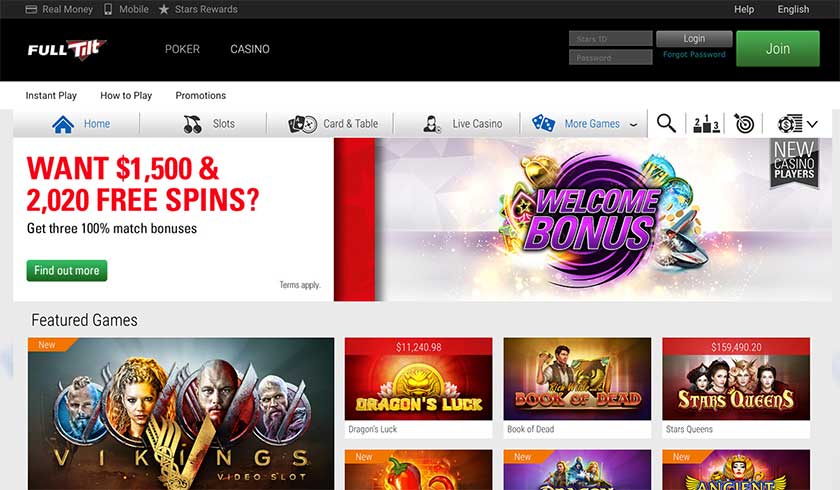 Full Tilt is arguably one of the most storied and controversial poker rooms in the history of online poker. Established in 2004 and owned by Tiltware, LLC, the poker room started its operations during the online poker boom brought about by Chris Moneymaker's WSOP Main Event win. What set the poker room apart from its competitors though was the fact that it was backed by some of the most popular poker professionals at that time. Howard Lederer, Phil Ivey, Andy Bloch, Mike Matusow, Chris Ferguson, and Jennifer Harman were the most prominent name pros involved with the poker room when it started its operations.
Despite its stellar debut, the poker room eventually found itself facing legal issues about half a decade after it started operations. In 2011, the US government filed a case against the company and individuals associated with it (owners/employees Ray Bitar and Nelson Burtnick as well as employees/owners of Absolute Poker and PokerStars) for money laundering, fraud, and the violation of federal gambling laws in the US. Additionally, the FBI also seized domain names associated with the website. Other than these, the brand was included as a defendant in a civil case filed against PokerStars in 2011. Eventually, this case got dismissed when both brands came to a settlement with the US government in 2012.
After the settlement, the Rational Group (PokerStars) acquired Full Tilt Poker and proceeded to relaunch the brand in November of 2012 as just "Full Tilt". Two years later, the Amaya Gaming Group purchased the Rational Group for a whopping $4.9 billion. Amaya continued to operate the brands separately up until May 17, 2016. The company then moved to migrate players from Full Tilt to PokerStars and its old platform ceased to operate.
Live Tournaments
Full Tilt Poker currently doesn't sponsor a live tournament series. With that said, the poker room did have a premier tournament series that ran from 2006 to 2015. While it wasn't really a live tournament series, the Full Tilt Online Poker Series (commonly known as FTOPS) still rivaled more popular live events. This series was held every three months and routinely attracted thousands upon thousands of participants at its peak. With interest in online poker in the decline though, the Stars Group decided to pull the plug on the series in 2015. While it doesn't sponsor or run a live tournament series of its own, the poker room still does have tournaments that reward players with entries to live tournaments run worldwide by its sister brand, PokerStars. These include players being eligible to win coveted Platinum Passes that guarantee holders a seat at PSPC events.
Online Tournaments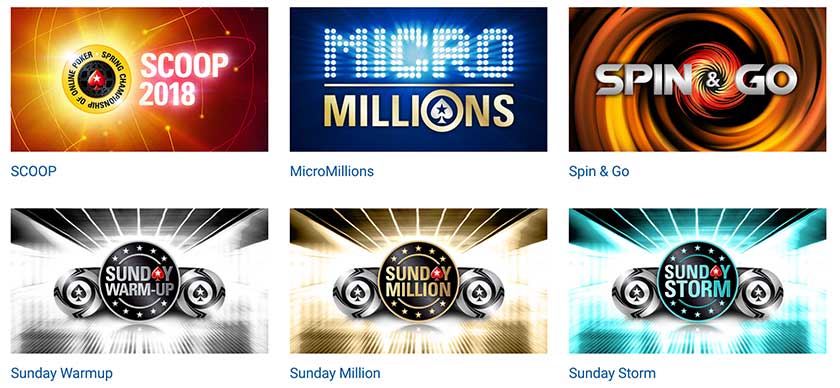 While the Full Tilt Online Poker Series might have ended, the poker room still has plenty of online tournaments to entertain its players, many of which can also be found, as you'd imagine, on its sister brand.
The first that stands out among these is SCOOP or the Spring Championship of Online Poker. Typically held in May, this series encompasses a number of tournaments with millions of dollars in guaranteed prizes for the winners. In fact, SCOOP X, the latest iteration of the series boasted over $110 million in guaranteed prizes over the course of the 15 days (May 6 to 21) that it was held.
For players who find SCOOP's buy-ins to be a little too high, Full Tilt has the perfect solution for them in MicroMillions. This tournament series just wrapped up its 14th iteration over the summer, from July 16-29, 2018. Much like SCOOP, the series featured more than 100 events and millions in prizes. The most important feature of the tournament series though is the buy-ins. Depending on the tables/events, buy-ins can range from as low as $.11.
Players who don't have the time to enter MTTs but still wish to play in tournaments can opt to enter Spin & Go tournaments. Using the Spin & Go format, games on these tournaments are relatively fast paced and have prize pools that are usually randomly drawn. Thus, what makes these types of tournaments compelling is that participants could potentially win prizes that reach up to 12,000 times the buy-in! Depending on the tournament or table they're joining, players can expect prizes for games of this format to top $1 million.
Other than these drool-inducing tournaments, Full Tilt also has a number of daily and weekly tournaments that players can look forward to. As its name implies, the Daily Bigs are guaranteed tournaments scheduled daily. Buy-ins require a few dollars more (depending on the table and the tournament) but are still relatively low compared to that of most poker rooms. As for what day has the most activity, players can count on Sundays to provide them with a host of tournaments to cap off their weekends. Starting off the Sunday poker grind are the Sunday Kickoff and Sunday Warm-Up tournaments, which players can either buy-in directly and/or qualify for by winning satellite tourneys.
Once they've adequately warmed up to the competition, players can then proceed to joining the Sunday Storm, Sunday Million, and Sunday Supersonic tournaments. The Sunday Million in particular has a guaranteed prize pool worth $1 million with the top prize routinely exceeding $100,000. Due to the high stakes though, the buy-in for this tourney can be a bit hard on the pocket, at $215. Thankfully, the poker room also has a Sunday Storm tournament that features a relatively low $11 buy-in and just recently (March 2018), $1 million in guaranteed prizes for its 6th anniversary.
Sponsored Poker Pros
Full Tilt is one of the few poker rooms to boast of having had some of the most popular poker professionals to represent it. Team Full Tilt was composed of more than a dozen poker professionals who regularly played in the poker room and helped promote it. Additionally, the poker room had players who weren't full fledged members of Team Full Tilt but were still sponsored by the site. Finally, there were 'Full Tilt Pros' (numbering more than 150 in total) as well as over 40 non-members that consisted of celebrities, commentators, and announcers, who were all collectively known as the 'Friends of Full Tilt'.
Perhaps the most popular, and some would say controversial, of these poker professionals is Howard Lederer. Known as 'The Professor', Lederer's storied career includes winning two WSOP bracelets and two WPT titles. Of course, Lederer also has faced backlash (and several lawsuits) over his involvement with Full Tilt Poker as its co-founder, one-time president, and member of Tiltware LLC's board of directors.
Other prominent poker professionals who were involved with Team Full Tilt include Phil Ivey, Andy Bloch, John Juanda, Gus Hansen, Erik Seidel, Tom Dwan, Allen Cunningham, Jennifer Harman, Mike Matusow, Eli Elezra and Chris Ferguson.
Welcome Bonus
To help players get more value for their initial deposits, Full Tilt has a welcome bonus package that they can take advantage of. By using the 'STARS600' bonus code, players will get to enjoy a 100% match bonus that can go as high as $600 on their first deposit. To complement this, players can also try using the bonus code 'THIRTY' to get $30 worth of free play.
Devices

Players should have no problems accessing Full Tilt and enjoying what it has to offer. Similar to PokerStars, players can download a dedicated software client to start their online poker experience with the poker room. Also like PokerStars, it's going to be impossible for players to access the poker room through their browsers since the PokerStars poker platform (which Full Tilt also uses) doesn't have an Instant Play feature. If they're on mobile, players can also opt to download the Full Tilt mobile apps either on Google Play or the App Store. While Linux is not officially supported, players can opt to use the Wine compatibility layer to run the poker room's Windows client.
Licensing
As of this writing, Full Tilt has licenses to operate issued and regulated by the Isle of Man Gambling Supervision Commission and the Malta Gaming Authority. These licenses allows the poker room to accept players from Europe as well as countries where online gambling isn't considered illegal. It should also be noted that while its sister brand (PokerStars) is able to accept New Jersey players, this poker room is unable to do so.
Ownership
The Full Tilt brand was initially owned and managed by TiltWare LLC. It launched sometime in 2004 and immediately became a hit thanks to the involvement of poker professionals like Howard Lederer (who also was one of the company's co-founders), Andy Bloch, Chris Ferguson, Mike Matusow, Phil Ivey, and many more. While it had its fair share of issues and controversies, the brand still exhibited strong growth in its early years thanks in part to savvy marketing and strategic partnerships/sponsorships. Moreover, it remained operational in the US after the passage of the UIGEA, which had led many other operators to cease allowing US players to access their sites. As such, the Full Tilt player pool grew by leaps and bounds.
Full Tilt rosy outlook changed abruptly in on Black Friday in 2011 thanks to the US government's crackdown on its operations. The resulting legal troubles the company as well as its founders and board of directors encountered affected the brand's operations drastically. In a bid to salvage the brand, the company settled with the US government. Additionally, this paved the way for the acquisition of the brand by the Rational Entertainment Group (the company that owned PokerStars, which also faced the same lawsuits from the US government).
In 2014, the Full Tilt Poker brand again changed hands when the Stars Group (which used to be known as the Amaya Gaming Group) moved to acquire the Rational Group's assets. The deal was consummated on August 1, 2014 and involved not only Full Tilt Poker but PokerStars as well. In November 2019, Flutter Entertainment acquired the Rational Group and all its brands, including Full Tilt.
Frequently Asked Questions
Question: Does Full Tilt take US players?
Answer: While it used to accept US players, the current Full Tilt has stopped the practice since its debacle with the US government in 2011. With that said, players residing in New Jersey can opt to check out its sister brand PokerStars. Both poker rooms make use of essentially the same platform and have similar tournaments and game offerings.
Question: Does the software allow for playing at multiple tables at once?
Answer: Since it uses the same software as PokerStars, players can expect Full Tilt to offer multi-tabling support. Players accessing the poker room through the desktop client should have no problems buying into as much as 24 tables at once. While it is available on mobile devices, multi-tabling is rather limited. Similar to PokerStars, older devices like the iPod Touch and iPhone 4 only can only support up to 4 tables while the iPad, iPhone 4s and above, as well as Android mobile devices can top out at 5. It should also be noted that table limits (at least on desktop) can be increased or decreased depending on how fast players act relative to the number of tables they have. This means that players can potentially buy-in to more than the default maximum of 24 tables.
Question: Is there a VIP & Loyalty rewards program for frequent players?
Answer: Stars Rewards is the VIP program that players can take advantage of if they want to get extra value for their deposit and buy-ins. For every $1 they spend on rakes and/or tournament fees, players will get 100 reward points. The points players earn will then fill up a progress bar that, when completed, will give them a Chest that can contain up to $1,000 in cash (depending on the type of Chest). Other than cash, Chests can also contain StarsCoin that players can either use for games or exchange for cash (up to $1,000), bonuses, or even buy-ins to tournaments, Sit & Gos, and Spin & Gos. It's even possible for players to use their StarsCoins to win seats at live events/tournaments.
Question: What are the wagering requirements of the signup bonus?
Answer: Unlike with most online casinos, Full Tilt's signup bonus has a different wagering requirement. Instead of giving players the bonus outright, the poker room will require them to first earn a set number of redemption points (180 for US/CA$, 230 for €, and 270 for £) before it credits a bonus increment ($/€/£10) to their accounts. The poker room currently gives players 5 redemption points for every US$1 they spend (5.5 for €1, 4 for CA$1, and 6.5 for £1) in tournament fees or rake generated.
Question: Can I wager my welcome bonus on casino games or on the sportsbook?
Answer: Players unfortunately won't be able to wager their signup bonus from Full Tilt in Full Tilt/PokerStars Casino. As explained earlier, the wagering requirement for the poker room's signup bonus is different. In the same manner, players also won't be able to wager the welcome bonus (or any bonus for that matter) that they'll receive from the online casino on the poker room.