NOTE: AS OF MAY 2020, THE 32RED POKER BRAND HAS BEEN DISCONTINUED
Poker Room Reviews > 32Red Poker Room Review
Pros
Support for multiple tables
Licensed in the UK and Gibraltar
Up to €1,000 in welcome bonuses
6 free entries for New Player Weekly Freeroll tournaments
Cons
No sponsored/affiliated live tournament series
Max number of supported tables (for multi-tabling): 8
Table of Contents
History of 32Red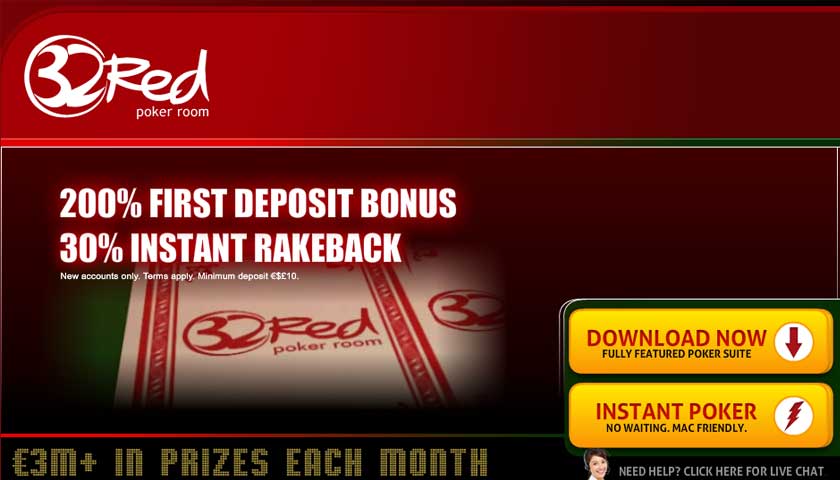 32Red was a British company that started its operations in 2002 and was initially known as an online casino and sports betting brand. In recent years though, the brand has gone on to become more than just a sports betting and online casino. It has also successfully launched brands in the competitive online bingo and online poker spaces. 32Red Poker in particular, has become a particularly well renowned online poker room. Started in 2003, 32Red Poker has weathered tough competition from brands such as 888poker, PokerStars, and partypoker (just to name a few). Targeting mainly casual players in Europe and the UK, the brand has gone on to be quite popular and well regarded in the industry.
As a testament to and recognition of its popularity in the UK market, the Kindred Group successfully moved to acquire 32Red and its associated brands in 2017.
32Red Poker Live Tournaments
Prior to announcing in September 2019 that it was folding its online poker operations, Microgaming counted 32Red among its many partners. As such, it was possible to satellite into MPN Poker Tour live tournament festivals via 32Red online tournaments. Alas, after said announcement was made, the MPN Poker Tour also de facto ceased operations.
32Red Poker Tournaments Online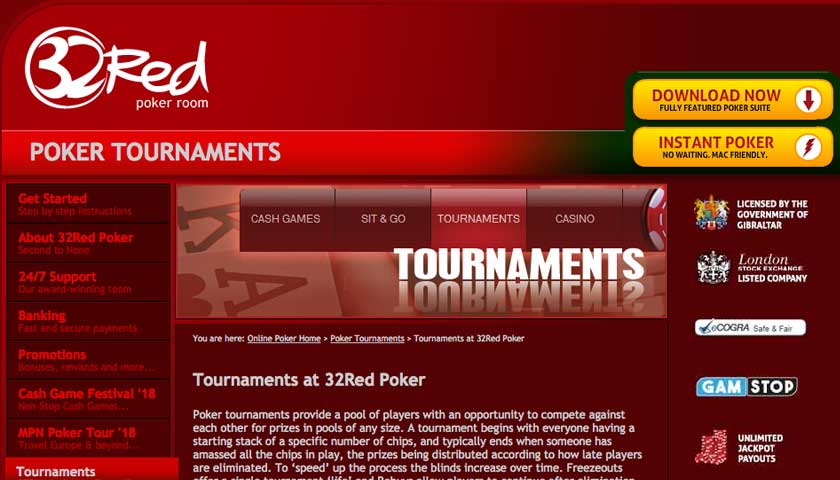 The majority of tournaments offered by 32Red Poker are those of the online variety. The most popular (and arguably the best value) of these are the guaranteed tournaments. These include the Fist Party Flip, and Jakeback Community League Main Events. Other than these, the poker room also has a variety of sit & go tournaments that are ideal for players looking for a more casual gaming experience. There are Regular, Heads Up, Double Up, Step Satellites, Special, and Play S&G tournaments that players should have no trouble taking part in.
Further cementing 32Red Poker's commitment to casual play is the fact that these online tournaments can be accessed without having to download the brand's dedicated poker room client. Once they've accessed the brand's poker room, players can dive right in to all the Blaze, Omaha, and Hold'em games. Tournament offerings include Turbo Rebuys, Treasure Islands, Revitalizing Freezeouts, Big Breaks, Two Squared, Super Turbo Rebuys, and Mount Olympus. If they don't want to shell out money but still feel like scratching the poker itch, the poker room has Play Money Rebuy, Play Money Overlord, Play Money Masters, and Play Money Sunday Drive games that registered players can join for free.
32Red Sponsored Poker Pros
Unlike some poker room brands, 32Red Poker isn't really known for sponsoring professional poker players or even getting ambassadors to represent it. Make no mistake, however, this isn't due to the brand's acquisition by the Kindred Group. Even before the consummation of the 2017 deal, talks to sponsor established players was minimal. With that said, this approach to sponsorship has changed somewhat in the last couple of years. Back in April 2017, Teresa Clark represented the brand as its ambassador in the €1500 Cash Game Festival Bratislava. Playing along with Clark in that event were Edgars Armans and Martin Van Den Brom, both of whom qualified by grinding in the 32Red online poker room.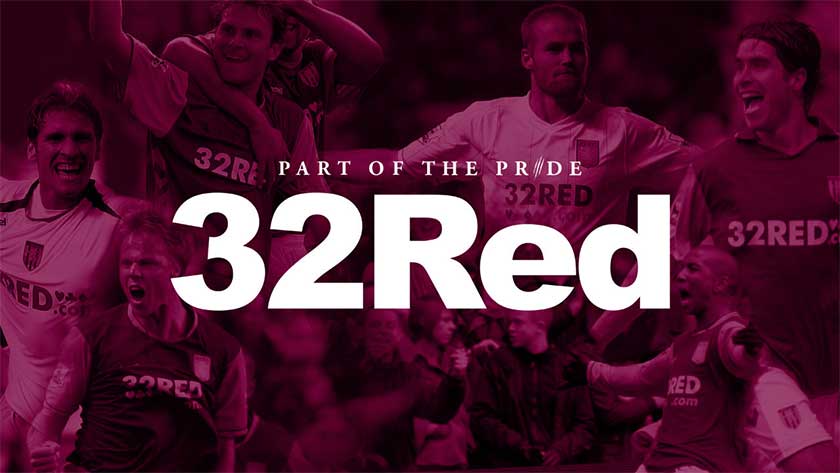 Outside of players, the company has opted to sponsor football teams in the English Premier League. Some of these teams/clubs include Aston Villa, Swansea City Football Club, Crawley Town F.C., Rangers F.C., and Leeds United FC.
32Red Poker Welcome Bonus
One area that 32Red Poker can boast of highly is its welcome bonus offer for its players. By registering for an account with the poker room for the first time, players will have the chance to enjoy a generous welcome bonus offer. On their first deposits, the poker room will give players a 200% match bonus that can reach as high as €1,000. As with most poker rooms, this bonus isn't given outright to players. Instead, the poker room will release the bonus amount in increments of 10% over the course of 60 days. Ensure to check the terms and conditions of the bonus before you signup and claim it.
In addition to the welcome offer, the poker room has a number of tournaments targeted specifically at newly registered players. The poker room will give new players six entries for its New Player €1,000 Weekly Freeroll that takes place every Wednesday. If they're looking to join another rewarding tournament, players can also try out the €500 Guaranteed New Player Turbo, which features an extremely low buy-in. Like the Weekly Freeroll, this is only open to players during the first six weeks post account registration. Additionally, players will need to download the poker room's dedicated client if they want to be eligible to enter these tournaments. The 32Red Casino welcome bonus is different than the poker bonus and you can get a break down of the bonus value with terms and conditions analysis at The POGG.
Accessing 32Red Poker on your devices
Players should have no problems accessing 32Red Poker and its contents on their preferred devices. On desktops/laptops (Mac or Windows), players can either download the poker room's dedicated software (limited to Windows) or access its Instant Play portal on their browsers. Additionally, players who want to enjoy the poker room on the go can also use their mobile devices through the Instant Play portal. Unfortunately, the online poker room doesn't have a dedicated app for either the Google Play or Apple App Stores, so players are limited to using the browsers on their mobile devices. While the Instant Play portal is accessible by any browser with support for HTML5, players should take note that their mobile devices specifications can severely limit the site's performance.
Where is 32Red Poker Licensed?
32Red Poker is licensed and regulated in Gibraltar (through the Gibraltar Gambling Commission) as well as in the United Kingdom (through the UK Gambling Commission). This means that players residing in Europe and the UK should have no problems opening up accounts with the poker room. With that said, players who reside outside of these markets would do well to check on the laws governing online poker and casino gambling in their jurisdictions before they open an account.
32Red Poker Ownership
32Red was founded by Edward Ware and his bio on the website says:
"Ed has a wealth of experience in the betting and gaming industry. He worked for Ladbrokes for 15 years, becoming Managing Director of Ladbrokes International."
Initially owned by 32Red Plc, 32Red Poker is now a brand under the Kindred Group Plc. Founded in 2002, 32Red's first foray in the industry was with its online casino and sportsbook. With the growing popularity of poker in the early 2000s, it eventually started its own poker room in 2003. Unlike its competitors though, the company didn't promote its poker room brand as much. This is understandable considering the competition it was up against during those early years. With brands like PokerStars and Full Tilt Poker leaving America (thanks to the UIGEA) and setting up shop in Europe, the market became congested. Of course, the company still was profitable enough thanks to its strong online casino and sportsbook verticals. In fact, 32Red managed to get listed on the London Stock Exchange under the Alternative Investment Market.
As a company, 32Red continued to grow and was even acquiring other brands by the mid-2010s. The first of these acquisitions was that of GoWild Casino, which boasted of an extensive UK-based player base in 2014. A year later in 2015, the company again announced another acquisition. This time, it was the purchase of the Roxy Palace Casino brand for a cool £8.4 million. Even with these acquisitions, the company grew its gaming revenue to an impressive £48.7 million covering 2015. This year-on-year growth then prompted the Kindred Group (formerly Unibet) to acquire 32Red and its brands for a whopping £175 million ($219 million) at the start of 2017. As of now, the Kindred Group has largely left 32Red Poker unchanged since the acquisition.
Frequently Asked Questions
Question: Does 32Red Poker accept US players?
Answer: As with a majority of online casinos and poker rooms targeted at UK and European markets, 32Red Poker does not accept US players.
Question: Does the software allow for playing at multiple tables at once?
Answer: Thankfully, 32Red Poker has multi-tabling as a feature in its poker room software. This feature was implemented as early as 2008 and allowed players to maximize the amount of hands they could play at once. It should be noted though that regardless if they're using the dedicated poker room software or accessing the Instant Play portal, the multi-tabling feature is only limited to eight tables. Additionally, this feature is only available for cash games. This means that players on Play Money tables won't be able to join other games. What's unique with 32Red Poker's iteration is its inclusion of Mini View. This allows players to view up to six of the tables that they are currently on at the same time.
Question: Is there a VIP & Loyalty rewards program for frequent players?
Answer: 32Red has a 30% Rakeback program as part of its loyalty scheme that players can take advantage of every time they play. Every time they generate $1 in rake, players will be rewarded with 30 Redbacks (Loyalty Points). A single Redback is valued at $0.01 and players will need to accumulate 1,000 of them to cash out $10. Thankfully, Redbacks are credited automatically to players' accounts and can be converted as real-money (their account currency) chips or used as buy-ins for select tournaments. These are easily found on the poker room client since they are indicated with the moniker 'RB'.
Question: What are the wagering requirements of the signup bonus?
Answer: Unlike online casinos, 32Red Poker's welcome bonus has a unique wagering requirement. To get as much as $1,000 in bonuses promised on their welcome offer, players will need to collect Redbacks from the rake generated by their buy-ins to the various cash games, scheduled, as well as sit & go tournaments offered by the poker room. Depending on the amount of Redbacks they accumulate during their first 60 days, the online poker room will give players bonuses totaling either $32 (10,000 Redbacks), $50 (15,000 Redbacks), $200 (50000 Redbacks), $500 (150,000 Redbacks), or as much as $1,000 (320,000) Redbacks. Of course, these bonuses won't be released as a whole amount but rather in increments of 10% over the course of 60 days.
As for the New Player Weekly Freeroll and the €500 Guaranteed New Player Turbo tournaments, players have no need to worry about wagering requirements. In the case of the New Player Weekly Freeroll, the poker room doesn't even require players to deposit any funds to their accounts. Players will get six entries total and be able to play every Wednesday for six weeks after opening their account and have the chance to win the lion's share of a €1,000 guaranteed prize pool. The €500 Guaranteed is more or less the same with the only difference being that players have to shell out €1 for the buy-in.
Question: Can I wager my welcome bonus on casino games or in the sportsbook?
Answer: While they are managed by only one company, 32Red Poker is a separate brand from 32Red Casino and Sportsbook. As a result, players won't be able to use the welcome bonus they get from the poker room for casino games or as wagers on the sportsbook. Conversely, welcome bonuses from the casino and sportsbook can't be used as buy-ins for cash games or tournaments in the poker room. Considering the differences in the wagering requirements as well as the terms and conditions for the respective brands' bonuses, this is actually quite understandable. With that said, players should still be able to use their casino or sports betting accounts to log in to the poker room and vice-versa.