Poker Room Reviews > Unibet Poker Room Review
Pros
Licenses in 9 jurisdictions including the UK, Malta, and Australia
Poker client available for Windows, iOS, and Android
Supports multi-tabling, including in browser (instant play) version
Has been around since 1998
Cons
Does not accept US players
Table of Contents
History of Unibet Poker
Established in 1997, the Unibet brand has been one of the pioneers in the online sportsbetting, casino, and poker industries. Owned by the Kindred Group, this online casino, sportsbook, and poker brand was founded by Anders Strom and operates out of a number of locations in Europe with its base of operations located in Malta. As of this writing, the online gambling platform boasts more than 11 million customers spread out across 100 countries. Over the course of its 2+ decades of operations, the brand has also garnered accolades from respected awards-giving bodies in the industry.
Initially, Anders Strom founded Unibet as a platform for sharing his sporting expertise with other players to help them make informed decisions with their bets. While it was established in 1997, the brand's website only went online in 1999. It initially didn't have a Poker section and functioned mainly as a sportsbook. A few years later, in 2003, the site then added a live betting service. The popularity of online poker in the early 2000s also resulted in the brand putting up its own Poker section, which went live sometime in 2004.
Unibet Poker Live Tournaments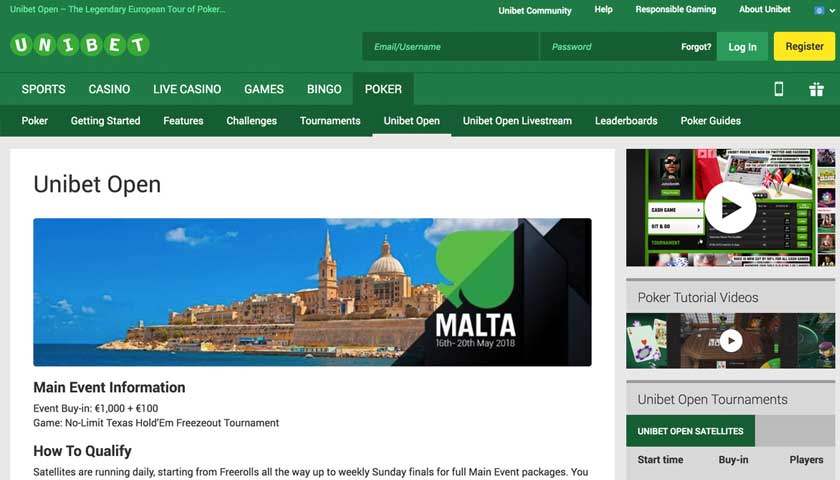 Unibet has its own live poker tournament circuit called the Unibet Open. This started in 2007 as a natural extension of their online offerings. What makes the live Unibet Open tournaments special is the ease with which players can qualify online to participate. As soon as they've opened an account with the brand, players can then satellite in or use funds in their accounts to buy their way in directly to the tournaments taking place in brick and mortar establishments.
The best part about satelliting in to a live Unibet Open tournament via the online Unibet Poker client is that rather than just receiving the buy-in, winners receive a full package, typically including the buy-in, accommodation for the event, travel expenses, and even meals!
A hallmark of Unibet Open live tournaments are the extracurricular activities and player parties. Aimed at making poker a fun experience, there extras make Unibet Open live events that much more appealing to everyone playing on the online network.
READ MORE: Interview with Unibet Open Head of Live Events Nataly Sopacuaperu
Unibet Poker Tournaments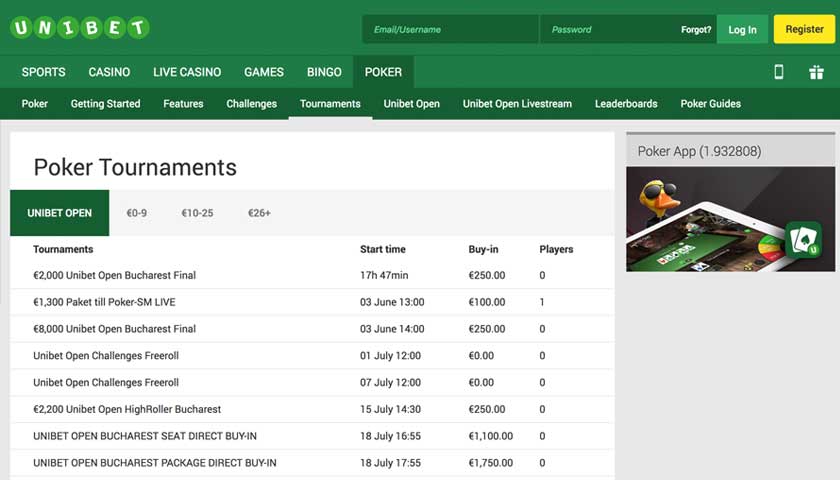 For players who aren't too keen on attending live tournaments, Unibet hosts a number of online tournaments. To ensure that players of all means can participate, the brand categorizes these tournaments based on their buy-in levels. Players can compete in tournaments with buy-ins as low as €1 or as high as €250. Aside from real-money tournaments, Unibet also offers daily freerolls, with prizes including both cash and real money tournament tickets.
In terms of the kinds of online tournaments offered by Unibet, you'll find freezeouts, multi-buys, and guaranteed. As the name implies, freezeouts are tournaments where players buy-in once and are only given one chance at winning. Players who want a bit of a safety net in the event they experience a bad run of cards and get eliminated can try out multi-buys, which give additional opportunities to make it into the money. These tournaments typically allow players to buy in anywhere from two to four separate times into the same tournament. Many Unibet poker tournaments also feature guarantees. There's the occasional overlay, of course, but solid guarantees usually mean a decent number of opponents to play against. More often than not, the guarantees at Unibet are superseded, thus meaning higher prize pools to play for and win.
In addition, Unibet also hosts the quarterly Unibet Online Series of daily tournaments, offering a total of €350,000 in cash prizes to be won, which includes a €100,000 GTD main event.
Unibet Sponsored Poker Pros
For years, Unibet has worked with a team of multiple ambassadors to promote its brand as well as Unibet Open tournament series. These ambassadors consists of poker players with different backgrounds, playstyles, as well as interests and strengths. In no particular order, some current and past ambassadors are Alan Widmann, Alexandre Reard, Daiva Byrne, Dan Murariu, Dara O'Kearney, David Lappin, David Vanderheyden, Espen Jorstad, Fredrik Bergman, Ian Simpson, Quentin Lecomte, Rauno Tahvonen, Scott McMillan, and Sophia White. Interestingly, most of the ambassadors on the list (like Alan "Hotted89" Widmann and Scott McMillan) came from eSports and streaming backgrounds. Of course, the brand's ambassadors also include experienced European poker pros.
Other than sponsoring poker pros, Unibet has also sponsored teams in other sports. Most recently, the brand partnered with the EPL's Aston Villa as well as the Warwickshire Country Cricket Club. Other poker pros who promote Unibet include Alex Rousso, Atanas Gueorguiev, Paul Valkenburg, Alexander Sharov, Andrius Tapinas, Marius Bobinas, Dan Glime, Peter Cekan, Zdenek Habala, Vaidotas Zukauskis, Domas Karklys, and Darius Venckus.
Unibet Poker Welcome Bonus
Players who register with Unibet Poker for the first time will enjoy a generous €200 progressive welcome offer as well as an additional €20. If they're in the UK, newly-registered players can enjoy a higher £500 play-through bonus plus an extra £20. It should be noted that the £20 is given in the form of five poker tickets (worth €24): 4 x €4 Unibet UK Tour tournament tickets and 1 x €8 cash game ticket. Play-through bonuses are going to be activated the moment newly-registered players deposit funds to their accounts for the first time. The brand releases the play-through bonuses in increments and, once cleared, these are automatically credited to players' accounts (their real money balance). For casino players you can get the Unibet Casino signup bonus for new players only.
Accessing Unibet on your devices

As with most poker sites these days, Unibet Poker is available on a number of devices and platforms. Players can easily access the platform's lobby by downloading and installing the Unibet Poker client on their desktops/laptops running on Windows. If they're not too keen on downloading the client, players can also opt to just log-in to their accounts and gain access to the brand's tournaments through their browsers (i.e., Instant Play). If they want to get access to the platform on the go, then players can try to download the Unibet Poker app on their Android or Apple iOS mobile devices. It should be noted though that the apps might not be available for everyone, namely those players residing in countries where Unibet doesn't operate.
Where is Unibet Licensed
Unibet has a number of licenses that allow it to operate in the largest markets in Europe. For the UK market, the poker platform has licenses issued and regulated by both the UK Gambling Commission and the Gibraltar Gambling Commissioner. For other markets in Europe, Unibet has a license to operate Relax Gaming Limited's poker platform issued and regulated by the Malta Gaming Authority. Other than these, Unibet also has licenses issued by regulatory bodies from Belgium (Belgian Gaming Commission), Australia (Northern Territory Government), Denmark (The Gambling Authority under the Danish Ministry of Taxation), Estonia (Estonian Tax and Customs Board), France (Online Games Regulatory Authority), and Italy (Autonomous Administration of State Monopolies).
Unibet Ownership
The Kindred Group was established by Anders Strom in his Earl's Court, London bedroom sometime in 1997. At that time, Strom named the company Unibet and he was its first CEO. The year after, the company managed to get its first license in the UK. In those years, its operations involved taking bets from players over the phone. In 1999, the company went digital with a website that catered to English and Swedish players. The following year saw the establishment of Unibet Group Plc, which came after a change in leadership with the appointment of Pontus Lesse as CEO. That year also saw the company getting its first international license issued by the Malta Gaming Authority. The years that followed saw the company increasing its reach to more than 50 countries by adding support for multiple languages to its website (2001) and getting listed on the Stockholm Stock Exchange (2004). A leadership change in 2005 (with Petter Nylander taking over as CEO) signaled the start of the company's acquisition of other online gambling brands. In 2016, Unibet Plc formally became the Kindred Group and its focus shifted to marketing the 12 brands it had acquired (13 in total, including Unibet) in the last couple of years. 2017 and 2018 saw Kindred continue its expansion with the acquisition of 32Red and the launch of in-house brands such as Storspiller Storspelare and Vlad Cazino.
Frequently Asked Questions
Question: Does Unibet take US players?
Answer: Unfortunately, Unibet does not accept players who are currently based in the US. The brand's poker platform had always been targeted at players residing in Europe. Thanks to this, however, Unibet was able to completely avoid (and even benefit from) the controversy that befell online poker sites and their executives in 2011's Black Friday crackdown.
Question: Does the software allow for playing at multiple tables at once?
Answer: Unibet's apps (Windows, iOS, and Android) all allow players to join multiple tables at once. Players who use their browsers to access the platform can also buy-in to multiple tables. Those players who avail themselves of the instant play option ought to be aware that though multitabling is possible, you'll only be able to view one table at a time.
Question: Is there a VIP & Loyalty rewards program for frequent players?
Answer: The poker platform's loyalty/rewards program is called "Challenges," which offers players rewards for achieving certain tasks. These tasks can even be as simple as being dealt a pair!. Some of the challenges are trickier, of course, for example "succeeding in winning a hand with less than a pair after the flop has been dealt," but they're also more rewarding in terms of the Challenge Points they offer if you're successful at completing them.
Players always have two active Challenge types available to them, one Major and the other Minor, the nature of which was aforementioned in terms of degree of difficulty.
The above Challenge Points scheme is applicable to cash games, while tournaments are somewhat more straightforward, with players awarded a concrete amount of points for each €1 worth of buy-ins they make.
Accruing enough Challenge Points gives players all manner of benefits, including the ability to redeem the points for cash and tournament tickets, as well as extra rewards.
Question: What are the wagering requirements of the signup bonus?
Answer: The progressive welcome offers that players get for registering with Unibet Poker aren't necessarily considered the same bonuses as that of the casino and sportsbook sections, so these don't have any wagering requirements. Depending on the terms of the bonus, these progressive bonuses are released in increments for an amount generated in rake by the player. Case in point would be Fast Poker's €200 welcome bonus. The terms and conditions of the bonus state that it will be given to players in increments of €5 every time the poker platform generates €25 in rake (from the player's actions).
Question: Can I wager my welcome bonus on casino games or in the sportsbook?
Answer: Unibet has separate welcome offers for its casino, sportsbook, and poker sections. Players who register for the poker section won't be able to use their progressive welcome offer on casino games or sportsbook wagers (and vice versa).