It seems like just yesterday that we were eagerly awaiting the Cardplayer Lifestyle Mixed Game Festival V at Resorts World Las Vegas. And now, in the blink of an eye, it has come and gone.
The festival was a huge success by all measures. We saw dozens of excited mixed game players – some of whom traveled thousands of miles – join us for five days to play their favorite poker variants in the popular Dealer's Choice format.
More players took seats throughout the week with limited knowledge of some games, eager to learn. We even had players venture away from No-Limit Hold'em to play mixed games for their first (and hopefully not last) times!
In case you missed them, be sure to check out our recaps from Day 1 | Day 2 | Day 3 | Day 4 as well.
FossilMan Spends The Day With Us
Spending the day at @PokerRoomRWLV, playing the @PokerLifeMedia Mixed game festival w/ @cardplayerlife. Also selling copies of my book. pic.twitter.com/SoCqQEADeU

— Greg Raymer (@FossilMan) July 6, 2023

Day 5 action kicked off at 3 p.m., and 2004 WSOP Main Event Champion Greg "FossilMan" Raymer was already in the room and engaging with players at the start.
Raymer has been a staunch supporter of the Mixed Game Festival since its inception when he won the inaugural MGF H.O.R.S.E. event in October 2021 to earn a PokerStars Platinum Pass.
When play began, Raymer took a seat with host Robbie Strazynski and a full lineup of faces we'd seen all week long. Others came and went as the day turned to night, but Raymer's presence remained a constant.
@FossilMan is in the building for the @cardplayerlife #MixedGameFestival V!

Today is our fifth and final day at @PokerRoomRWLV. Come join us before it's too late! pic.twitter.com/dedhmIqaNa

— Cardplayer Lifestyle (@PokerLifeMedia) July 6, 2023
In case you missed it, Raymer played the WSOP Main Event on Tuesday, Day 1b, and bagged a top-25 stack in his flight. He will play Day 2 today, and we wish him the best of luck. In the meantime, we couldn't be more grateful that he took time out of his summer schedule to play and hang out with us.
The Toughest $4/$8 Game in the World
Raymer's presence was only the beginning of celebrity visits from the poker world.
Poker Hall of Famer and five-time WSOP bracelet winner Eli Elezra took a break from the high-stakes games to play Robbie's stack for a few hands. I couldn't imagine a tougher $4/$8 game anywhere on the planet during that time, but there also may not have been a more fun one.
Surprise!@elielezra1 popped in to play my stack in in the $4/8 dealer's choice streets at @PokerRoomRWLV for Day 5 of our @PokerLifeMedia #MixedGameFestival pic.twitter.com/4TO8Pi2Qmo

— Robbie Strazynski (@cardplayerlife) July 7, 2023
Alek Gilles Is Going To EPT Cyprus
"You got me hooked," said Alek Gillies on Day 2 of the festival. Gillies, a full-time dealer at Edmonton's Yellowhead Casino, has been in Vegas all month, working his first summer as a PokerNews live reporter.
When asked what he meant, he said he had so much fun on Day 1 that he had to come to play again after his shift ended at the WSOP.
Gillies was back on the WSOP grind during the festival's final day. However, he logged plenty of hours throughout the week, each hour giving him an entry into a random drawing for an EPT Cyprus package valued at over $3,000.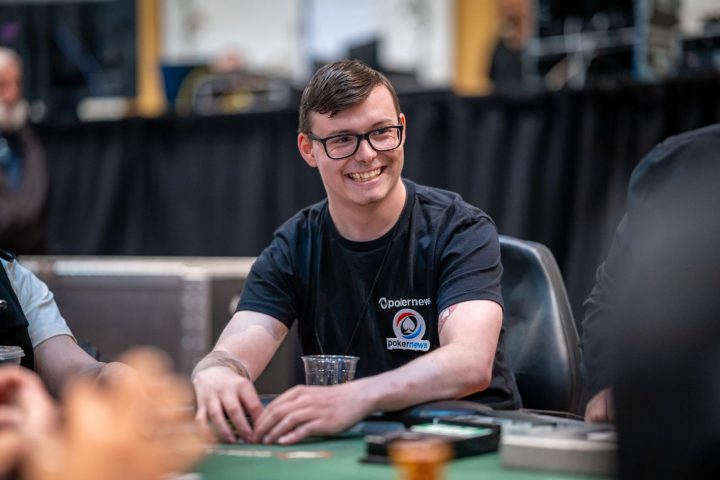 The draw occurred just after 6 p.m., and Gillies was selected randomly, earning a Mixed Game tournament buy-in of up to €550 with roundtrip airfare and four nights' accommodation on the Mediterranean island this autumn.
"I've never been to Europe," said Gilles via text message later in the evening. "I'm super excited!"
Upping the ante: Norman Chad hosts $20/$40 O8/Stud8
One of the greatest aspects of the Mixed Game Festival is that it makes low-stakes mixed games accessible for all. However, we also love that it has created enough demand to accommodate the occasional larger game.
Today is the last day of @PokerLifeMedia #MixedGameFestival V and @FossilMan will be helping us kick off the action at 3pm at @PokerRoomRWLV.

At 6pm, @normanchad will be hosting a $20/40 Omaha 8/Stud 8 game… rumor has it that @FirstLadyPoker and @Jan_Fisher might also be… pic.twitter.com/2Q31MaCYO6

— Robbie Strazynski (@cardplayerlife) July 6, 2023
WSOP commentator Norman Chad made his second appearance at the festival Thursday, helping to close things out with his very own $20/$40 Omaha 8/Stud 8 game. The game started at 6 p.m. with a full table and a waiting list.
Poker Hall of Famer Linda Johnson and Women In Poker Hall of Famer Jan Fisher were among those on the waitlist, arriving shortly after cards went in the air. Both found open seats at a $4/$8 Dealer's Choice table in the meantime, ultimately making it into Norm's game later in the evening.
Who's your money on in this $20/$40 Omaha 8/Stud 8 game at the @cardplayerlife #MixedGameFestival?

We spared you all another picture of host @NormanChad as he battles Poker HOF member Linda Johnson (@FirstLadyPoker) and @WIPHOF member @Jan_Fisher. pic.twitter.com/6rKNYbG4Ok

— Cardplayer Lifestyle (@PokerLifeMedia) July 7, 2023
Pokercoaching.com Player of the Day – Zak Zimbile
New to the Cardplayer Lifestyle Mixed Game Festival V, we are featuring a "Player of the Day" each day during the festival, sponsored by PokerCoaching.com. As a reminder, all Mixed Game Festival V attendees can receive a free one-week membership to PokerCoaching.com Premium just by asking Robbie in person for the special link. Check out this article with the specific details of what that entails.
Our final Player of the Day joined us this afternoon to play mixed games for the first time in his life. Naturally, he sat with Greg Raymer on his direct left.
Zak Zimbile was unafraid, eagerly looking to learn the games he was now playing. Raymer was the perfect teacher, explaining everything and helping Zimbile understand games like Drawmaha-Dugi.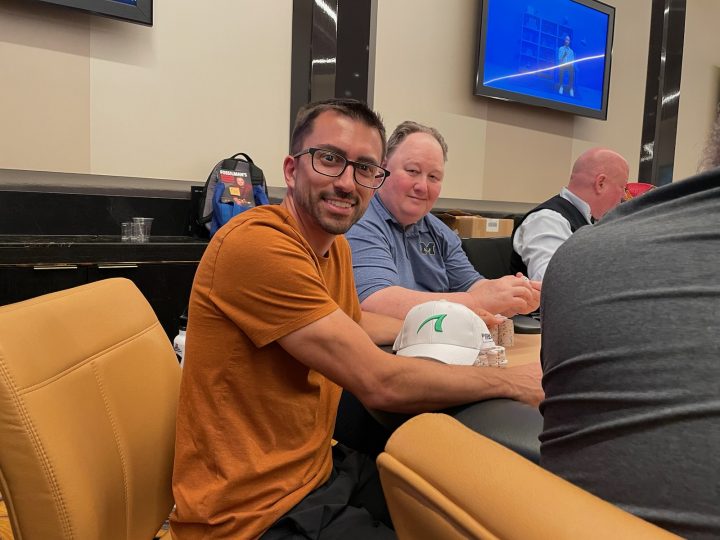 Zimbile has played poker on and off for over a decade but is a CPA by trade. Most of his clientele are gamblers  – poker players and sports bettors – and he's even written articles for Cardplayer Lifestyle about poker players and taxes. He opened his own firm in Las Vegas within the past year and has been upping his poker volume lately, playing cash games three or four days a week.
Zimbile thinks some of the increased volume is due to the time of year. Summer is not only the busiest time for poker in Las Vegas but also after tax season ends. He is enjoying the grind while it lasts but is remembering to have fun, as evidenced by his desire to join us. Off the tables, Zak also loves rock climbing, especially indoors.
Festival Recap
I might have had an amazing time at @cardplayerlife's Mixed Game Festival at Resorts World today. Laughed a lot! Check it out until July 6th. 💓 @MikePatrick98 @Veaner85 @cardplayerlife pic.twitter.com/N8AUeASI3k

— Christina Bradfield (@mauichri) July 4, 2023
The Cardplayer Lifestyle Mixed Game Festival V brought five days of events, giveaways, and $4/$8 Dealer's Choice cash games.
Opening Day kicked off with a pizza party before cards went in the air on two tables. Later that night, four tables were running with more players present and waiting for seats to open.
Extracurricular events headlined Days 2 and 3 with the first-ever Poker Trivia Competition and Scavenger Hunt. Cardplayer Lifestyle contributor and veteran poker reporter Mike Patrick stole the show both days, but unanimous fun was had all around. Several prominent poker players also visited us on Day 3, including "Miami" John Cernuto, Norman Chad, and a trio of PokerCoaching.com coaches, Justin Saliba, Paul Beitelspacher, and Kieran Woods.
Poker Hall of Fame member Linda Johnson and Women In Poker Hall of Fame member Jan Fisher joined us on Day 4, occupying one of the two opening tables for the afternoon. WPT champion and WSOP bracelet winner Dylan Linde took a seat at the other, taking time to talk strategy with his tablemates and autograph his book, Mastering Mixed Games, for anyone who procured a copy.
The @cardplayerlife #MixedGameFestival is still going strong on its fifth and final day.

We've had two $4/$8 Dealer's Choice games going since 3 p.m. and a $20/40 OE game hosted by the one and only @NormanChad.

Come join us at @PokerRoomRWLV! pic.twitter.com/EDB5uG3I1O

— Cardplayer Lifestyle (@PokerLifeMedia) July 7, 2023
The final day concluded with repeat visits from Johnson, Fisher, and Chad. We also concluded the festival by learning new poker variants, making new friends, and forging memories that will last a lifetime.
Thank you to everyone who was a part of such an incredible week. We look forward to the next Cardplayer Lifestyle Mixed Game Festival and hope you do, too. Be sure to join the Cardplayer Lifestyle newsletter to be among the first to find out where and when it will take place.
*Our daily coverage of Mixed Game Festival V is brought to you, with much appreciation, courtesy of PokerStars.