It's hard to believe we're already through four days of the Cardplayer Lifestyle Mixed Game Festival V. Day 4 saw another full slate of action inside the Resorts World Las Vegas poker room. Poker Hall of Famer Linda Johnson, Women In Poker Hall of Famer Jan Fisher, and WSOP bracelet winner and Mastering Mixed Games author Dylan Linde all came to start the day's action.
With a 3 p.m. start time, we got going with three tables, but only two of those tables were new, however. The third (or rather, the first) never stopped running from the day before!
Day 4 of the @cardplayerlife #MixedGameFestival V began with 3️⃣ tables in play, thanks to our grinders that kept one game going all night and morning long!!! pic.twitter.com/JFX4Hmj1gX

— Cardplayer Lifestyle (@PokerLifeMedia) July 5, 2023
Poker Takes Center Stage
Part of the fun of the Mixed Game Festival comes from festival host Robbie Strazynski's extracurricular activities like the scavenger hunt and poker trivia competition. Even folks who don't yet feel comfortable sitting down to try their hands at mixed games pop in to see what all the fuss is about. One such individual was Anish Patel, author of the Final Nine graphic novel, who dropped by to say hello.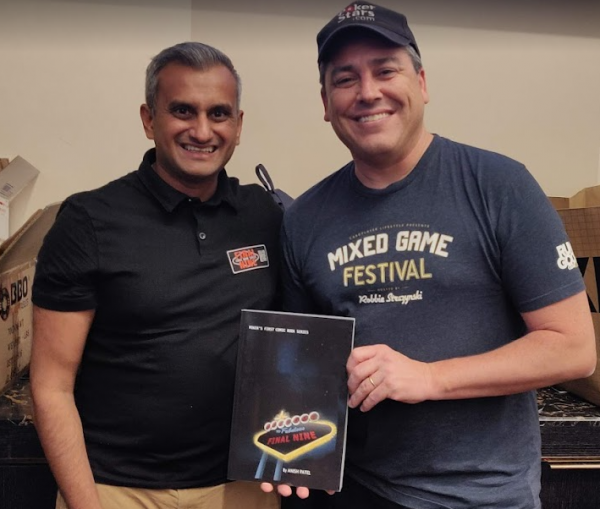 Rumor has it that some more notable "drop-ins" will happen on the festival's final day… stay tuned for tomorrow's recap 😉
Poker Hall of Famer Linda Johnson (@FirstLadyPoker) has sat down at our third table of the @cardplayerlife #MixedGameFestival!

Come to @PokerRoomRWLV for a chance to sit with her or another one of our guests this afternoon! pic.twitter.com/ss1SydLMZp

— Cardplayer Lifestyle (@PokerLifeMedia) July 5, 2023
However, Day 4's focus was all about poker. (And the Winchell's donuts provided by Chuck "Donut Boy" Martin). Fisher and Johnson occupied one of the new tables alongside Robbie and several other players who've been with us all week.
The third headliner of Day 4 at the #MixedGameFestival is none other than @WIPHOF member @jan_fisher! She's got the toughest seat at the table with @cardplayerlife founder Robbie Strazynski on her direct left!!! pic.twitter.com/il7yUqb3M5

— Cardplayer Lifestyle (@PokerLifeMedia) July 5, 2023
Linde helped open the other new table alongside a full slate of familiar faces from the week, including prize winners from earlier in the week, Mike Patrick and Scott Sandoval. Linde spent several hours fielding questions and discussing various game strategies with the table, all while engaging with others in the room and signing copies of his book.
Thanks @DylanLinde for coming to splash around with us in the $4/8 dealer's choice games and sign some Mastering Mixed Games books at @PokerLifeMedia #MixedGameFestival V ❤️ pic.twitter.com/SdXsjTYHAr

— Robbie Strazynski (@cardplayerlife) July 6, 2023
The Theme of the Week: Mixed Games Rock!
One of the coolest things about the Mixed Game Festival is how it allows players to get into low-stakes Dealer's Choice games and learn new poker variants. It's truly incredible that some of our participants have traveled from all over the country – and even the globe! – to get involved, with the MGF circled on their calendars months in advance.
The festival has also served as an introduction to all the games not named Hold'em. I'd like to say I'm surprised that so many people are falling in love with mixed games after playing, but we all know that wouldn't be true.
I'm also not surprised to have seen fellow poker media colleagues make regular appearances here. PokerNews has had strong daily representation, including players like the aforementioned Mike Patrick, as well as Connor Richards, Calum Grant, Roxanne Johnson, Alek Gillies, Yori Epskamp, and Frank Visser.
Best of all, everyone has a new favorite game. We saw multi-board variants, like Squid Game and Watermelon regularly called yesterday to complement the Draw game, Stud game, and Flop game offerings in the stack of placards.
Pokercoaching.com Player of the Day – John Maley
New to the Cardplayer Lifestyle Mixed Game Festival V, we are featuring a "Player of the Day" each day during the festival, sponsored by PokerCoaching.com. As a reminder, all Mixed Game Festival V attendees can receive a free one-week membership to PokerCoaching.com Premium just by asking Robbie in person for the special link. Check out this article with the specific details of what that entails.
There was a clear-cut winner for Wednesday's Pokercoaching.com Player of the Day at the Mixed Game Festival.
Orange County's John Maley (from Fountain Valley, to be exact) had been at his seat for more than 28 hours when we spoke with him at around 9 p.m. It was his new personal best for the longest session he'd played by a long shot.
We have a new Mixed Game Festival record… by far!

John has been in the same seat for over 27 hours playing $4/$8 mixed games.

He's our @PokerCoaching_ Player of the Day(s😉) pic.twitter.com/JOigLy0Y2p

— Robbie Strazynski (@cardplayerlife) July 6, 2023
Maley said he drove in, arriving at 4 p.m. on Tuesday and immediately got in a game. He plays long sessions and intended to stay until the table broke, something that never occurred as the calendar shifted to Wednesday. As a result, he still hadn't checked into his hotel nearly 30 hours later!
Mixed games are where Maley has the most fun. He has played poker for around 20 years now and started exploring games other than Hold'em after the first five years. He loves the mental stimulation and nuanced differences in strategy that each game provides, which he said helped keep him mentally alert through the marathon session.
When asked about his favorite games, Maley said he enjoys those with multiple boards and ways to win. That said, he loves "The Game" (of poker) and is even cool sitting around the table with players who only know how to play Texas Hold'em, noting that we pretty much all got into the game that way. We should be grateful that it can be a foot in the door for new players in mixed rotations like HORSE and 8-Game.
Maley's day job also keeps him around the game, as he is a cage supervisor at Commerce Casino. However, there's not much of a mixed scene at LA casinos, and he credited Las Vegas locals such as Raul Yapor  and "Coach" Donald Shiflett for regularly running mixed games. He also had nothing but love for the room, staff and players at Resorts World.
"They're all great," Maley concluded. Over 31 hours after arriving, his table finally broke and he finally got up and checked in to his hotel room. 😁
Day 5 Preview: EPT Giveaway, Norman Chad Returns, and Greg "FossilMan" Raymer
Today is the last day of @PokerLifeMedia #MixedGameFestival V and @FossilMan will be helping us kick off the action at 3pm at @PokerRoomRWLV.

At 6pm, @normanchad will be hosting a $20/40 Omaha 8/Stud 8 game… rumor has it that @FirstLadyPoker and @Jan_Fisher might also be… pic.twitter.com/2Q31MaCYO6

— Robbie Strazynski (@cardplayerlife) July 6, 2023
Today's the last chance to get in on the $4/$8 Dealer's Choice action at MGF V. We look forward to seeing 2004 WSOP Main Event champion Greg "FossilMan" Raymer and poker commentary legend Norman Chad play today, the latter of whom will be hosting a $20/$40 Omaha 8/Stud 8 mixed game.
Tomorrow is the Final Day of our Mixed Game Festival V where someone will win a @PokerStars #EPTCyprus Prize Package!

Head over to @PokerRoomRWLV for the fun low-stakes dealer's choice cash games that start at Noon!

Info: https://t.co/H8UDgx9vsq#PokerLifeMedia pic.twitter.com/vz1PVrAYNj

— Cardplayer Lifestyle (@PokerLifeMedia) July 6, 2023
Sticking to the week's theme, we have more prizes to give away on the festival's final day. In addition to more swag giveaways, a grand prize drawing will take place at 6 p.m. The winner will win an EPT Cyprus package courtesy of festival sponsor PokerStars valued at over $3,000. Every hour of play throughout the week has earned our players one entry into the random drawing, and the winner will receive:
A Mixed Game tournament buy-in up to €550
Roundtrip airfare for one
Four nights' accommodation
*Our daily coverage of Mixed Game Festival V is brought to you, with much appreciation, courtesy of PokerStars.