Tuesday marked the midway point of the Cardplayer Lifestyle Mixed Game Festival V, and the day was nothing short of remarkable.
A waitlist of nearly 25 players was already on the board at 10:45am in the Resorts World Las Vegas poker room. Players began filing in around 11:00 for the day's pre-poker event, the scavenger hunt.
Fast forward to 4 a.m., and we still had enough players for two tables of $4/$8 Dealer's Choice!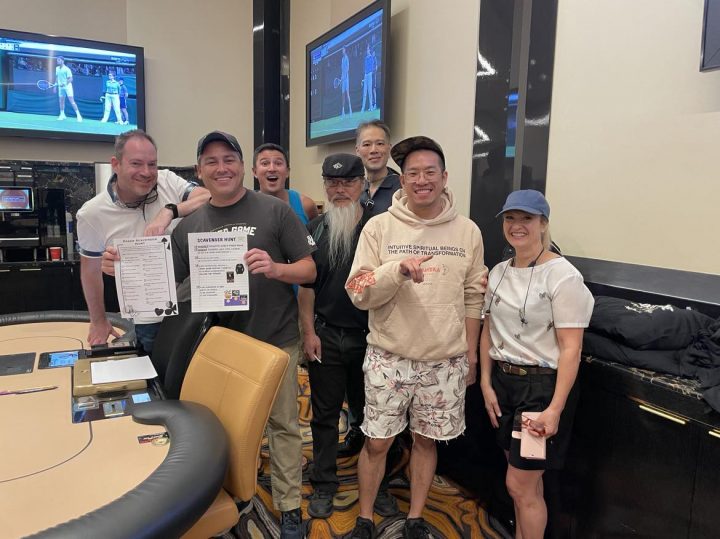 Scavenger Hunt: So Nice We Ran It Twice!
Just short of a dozen players arrived early to chase their share of $100-value prizes. Cardplayer Lifestyle contributor and PokerNews live reporter Mike Patrick went two for two, finishing the competition in just 20 minutes to score another "free first rack of chips," a.k.a., a nice rebate on his buy-ins.
A few minutes later, Patrick "Panda" Chen finished second and chose the "bucket o' swag", that included a library of poker books, a BBO Poker Tables portable table mat, and a Faded Spade deck set.
The third and final prize was the most fun to determine, as both Ruth Sun and Scott Sandoval arrived simultaneously, only to discover that they were both missing one final item on their lists! The two of them scrambled outside to grab a photo of the Encore Resort in a mad dash to complete their hunts.
In the end, Scott crossed the finish line mere seconds before Ruth was able to make it back to the poker room, thus claiming the $100 voucher to the PokerStars Store.
One by one, the remaining players filed in and learned they had missed the top three. Nonetheless, the competition brought smiles across the board and received immediate rave reviews for "bringing out my inner child", and of course "every participant was a winner," taking home a copy of Eli Elezra's biography Pulling the Trigger or a RunGoodGear-produced Mixed Game Festival T-Shirt.
Day 3 of the #MixedGameFestival at @PokerRoomRWLV has been such a blast that we're just catching up now!

Chuck brought us 4th of July donuts to help kick off the day alongside our new fan favorite, the Scavenger Hunt.

It was so fun that we ran two, which Mike and Giancarlo won. pic.twitter.com/HcJXQbjnwT

— Cardplayer Lifestyle (@PokerLifeMedia) July 5, 2023
Chuck Martin was another early arrival who, despite opting to pass on the scavenger hunt, won over everyone's hearts by bringing some Independence Day-themed donuts for his fellow players to enjoy.
Cards went into the air at noon, and action immediately got underway at two tables. A few folks on the waiting list found themselves with some extra time on their hands, so our founder and event host, Robbie Strazynski, ran an impromptu second scavenger hunt. Among the handful of players, Giancarlo Santolin came out on top to earn his own "bucket 'o swag."
Additional giveaways continued throughout the day, with players engaging in blind hold'em flips, needing to be the first to make a nut (high or low) hand, and fulfill other unique at-the-felt requirements to claim some sweet swag.
Ahem… THIS is a "Mixed Game MUG" 😁🍻 https://t.co/JzdmXgzLds pic.twitter.com/ydVoo8cS7J

— Cardplayer Lifestyle (@PokerLifeMedia) July 5, 2023
Some of Poker's Finest Join Us on Day 3
Within the next couple hours, several prominent poker professionals entered the room alongside two tables of $4/$8 dealer's choice and its waitlist.
Some of our friends from PokerCoaching.com– Justin Saliba, Paul Beitelspacher, and Kieran Woods – stopped by to chat with players. It was a repeat visit for Saliba, who – while regularly running in the high roller No Limit Hold'em circuit these days – openly shared that he absolutely loves splashing around in the low-stakes mixed game streets.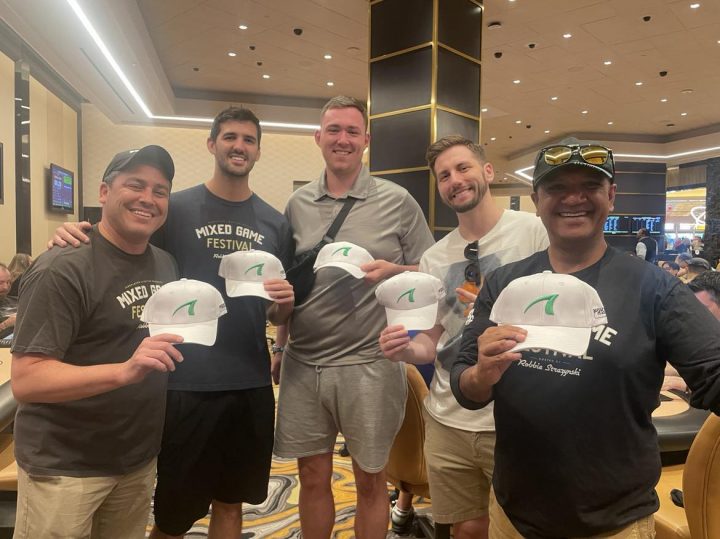 Just before the clock struck 3:00pm, mixed game aficionado and all-time tournament in-the-money leader "Miami" John Cernuto stopped by to show his support for grassroots growth of mixed game poker.
Thanks so much @MiamiJohnC for joining us today at @PokerRoomRWLV for Day 3 of @PokerLifeMedia #MixedGameFestival V!

All-time leader in @TheHendonMob tournament cashes dabbling in the low-stakes cash game streets.#WhoLovesItMore ❤️ pic.twitter.com/lNGMaMQ6ii

— Robbie Strazynski (@cardplayerlife) July 4, 2023
A third table opened shortly thereafter with eight more players taking their seats, one of whom wasted no time putting the table into a frenzy of laughter and lightening up an already enjoyable atmosphere.
Of course, that player was Norman Chad, another longtime mixed game lover and MGF regular. If you missed him, he'll be back on Day 5 (Thursday) to captain a special $20/40 Omaha 8/Stud 8 table.
Table #3 of @PokerLifeMedia's #MixedGameFestival V $4/8 dealer's choice cash games just opened.

Apparently, @NormanChad got lost on his way to @Arbys and decided to join us for a spell at @PokerRoomRWLV 😂 pic.twitter.com/c4crMUpjyb

— Robbie Strazynski (@cardplayerlife) July 5, 2023
Pokercoaching.com Player of the Day – Roxanne Johnson
New to the Cardplayer Lifestyle Mixed Game Festival V, we are featuring a "Player of the Day" each day during the festival, sponsored by PokerCoaching.com. As a reminder, all Mixed Game Festival V attendees can receive a free one-week membership to PokerCoaching.com Premium just by asking Robbie in person for the special link. Check out this article with the specific details of what that entails.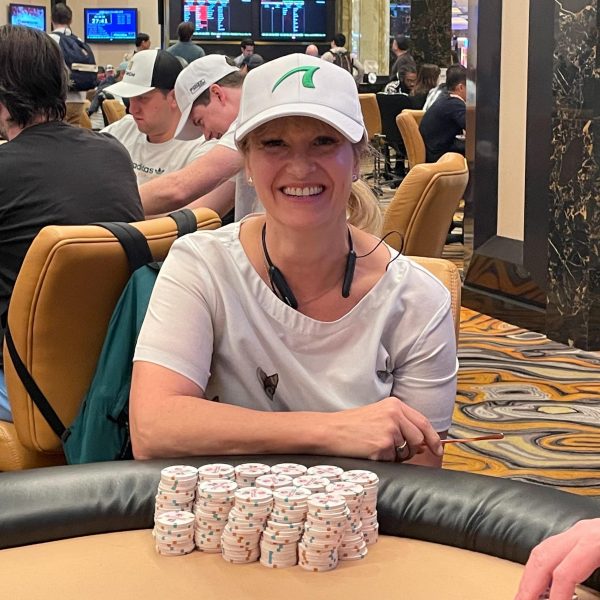 Roxanne Johnson, our Day 3 Player of the Day, hails from Kelowna, British Columbia, a city of around 150,000 four hours east of Vancouver, Canada. She's a retired court liaison, formerly having worked for the Royal Canadian Mounted Police. She has since kept herself busy with other gigs, like her current one as a PokerNews live reporter at the WSOP.
This is her first summer reporting at the Series, but her poker history dates back to pre-Black Friday (2011). She recalls getting into the game through 180-person turbo sit-n-go tournaments on PokerStars and playing regularly on Full Tilt Poker.
More recently in her career, she won a PokerStars Micro Millions event and decided to celebrate with a four-month trip to Europe last year. Her win also earned her an entry to a site-sponsored women's poker boot camp, and she stayed up until 2 a.m. to participate, since the camp was on a North American schedule.
The time discrepancy was inconvenient, but the timing was perfect. Boot camp participants earned a seat into a winner-take-all tournament for a PokerStars Platinum Pass, good for a $25K buy-in at the PokerStars Players Championship and travel expenses. The event took place at EPT Prague while she was in Europe, and she bested the field to earn a trip to the Bahamas.
Her poker past notwithstanding, Johnson didn't get into mixed games until this summer. Having played No-Limit Hold'em primarily, she said her favorite variant so far is Crazy Pineapple due to the similarities with the game she knows so well.
Before jumping back into the action, Johnson took a picture donning a Pokercoaching.com hat and shared the following: "I'm already a member of the site and I love it! They've helped my game so much."
Day 4 is sure to be another fun one today, with more poker celebrities set to make appearances. We look forward to seeing you at Resorts World Las Vegas!
Day 4 of @PokerLifeMedia #MixedGameFestival V will start at 3pm today at @PokerRoomRWLV.

Poker HOF-er @FirstLadyPoker + @WIPHOF-er @Jan_Fisher will be joining us to kick things off.

Every hour of play = an entry into our @PokerStars-sponsored EPT Cyprus mixed game package… pic.twitter.com/QDyCofBeaH

— Robbie Strazynski (@cardplayerlife) July 5, 2023
*Our daily coverage of Mixed Game Festival V is brought to you, with much appreciation, courtesy of PokerStars.