Ed. Note: All event info and images courtesy PokerNews.com
After a one-year hiatus, the NBC National Heads-Up Poker Championship returned with a bang as a top-tier poker event to start off 2013. An invitation-only, made-for-TV tournament, only poker's brightest stars get to play. Past champions include luminaries like Huck Seed (2009) and Erik Seidel (2011). The 64-person tournament is structured exactly like the NCAA basketball championship tournament, and when just two players were left, it was a viewer's dream matchup pitting Mike "The Mouth" Matusow against the game's most decorated player, and the event's first champion (2005), Phil Hellmuth.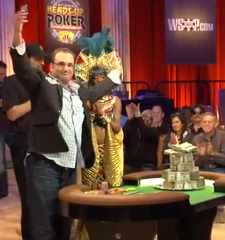 Special Poker Event, Unique Payout Structure
There are three big reasons why poker pros love to get invitations to play in the NBC National Heads-Up Poker Championship. First off, the TV exposure is second to none, save for perhaps that of the WSOP Main Event. Second, there's no rake + there's even a little money added by the sponsor, with players'  entire $20,000 buy-in going towards the event's prize pool as well as a small overlay. Thirdly, a full quarter of the field makes the money, as those who make the Round of 16 already cash for $25,000 apiece.
Those who made the Sweet 16 included Phil Ivey, Barry Greenstein, Tom Dwan, Antonio Esfandiari, and David "Doc" Sands (a last-minute replacement for Daniel Negreanu, who withdrew for personal reasons). Eugene Katchalov and Brian Hastings were two of the four players who made the Elite eight and cashed for $50,000. In the Final Four, Matusow got the best of Scott Seiver while Hellmuth busted Joe Serock to set up a Heads-up Championship match for the ages. Seiver and Serock got $100,000 while the Mouth and the Poker Brat would move on to fight it out for ultimate glory in a battle of "poker's old guard".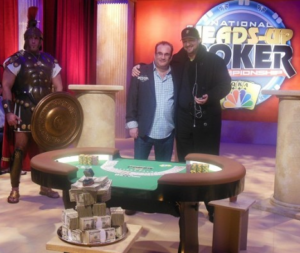 Hellmuth's Lucky Ride Stopped Short by Matusow's Superior Play
In the best-of-three final round heads-up matchup, Matusow scored first blood, but Hellmuth recovered to even things up before the deciding game. In the end, Matusow's diamond flush won the day and first place prize money of $750,000.
Though Matusow and Hellmuth each had to use their full reserve of poker skills to overcome a murderer's row of opponents on their way to the final matchup, it could easily be argued that Hellmuth's ride was far more charmed. When facing "Doc" Sands in the Round of 16, Hellmuth spiked a 4-card flush that enabled him to advance. The 13-time WSOP bracelet winner lucked out again to win game 2 vs. Matusow, hitting a miracle 3-outer when his AK defeated Matusow's KK. But Hellmuth's luck would end there.
Though this title eluded him, Hellmuth is still on a tremendous tournament poker heater over the last few months, plus the $300,000 in runner-up cash probably doesn't hurt either. To his credit, the Poker Brat was quite gracious in defeat, saying "The world doesn't understand how great a guy Mike is. I tip my hat to him."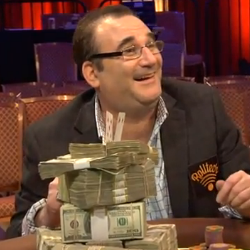 A teary-eyed Matusow summed up his feelings after winning the event as follows: "Yes, it is just a poker tournament, but it means a lot. For guys like me and Phil [Hellmuth], where everyone was making fun and upset that the final was us two, 'Oh Phil and Mike, what are they doing in the final?' You know what, we are the old guys, but where are the young players? They're not here. We are!"
—
For those of you interested in watching the proceedings on TV, NBC will be airing episodes in March.