If your familiarity with poker media doesn't extend back past April 15, 2011, the name Paul McGuire might not ring any bells. Perhaps you have scant recollection of a guy named "Dr. Pauly" or the Tao of Poker blog? Nowadays, the poker media landscape is dominated by a few big players, but back in the days of the poker boom; i.e., from Chris Moneymaker's big win until Black Friday, poker bloggers led the way and helped shape the way we viewed the game. When poker as a spectator sport took off like a rocket, enticing and enchanting new fans worldwide, Paul McGuire was right there on the scene to document the proceedings.
Memories tend to fade with time, and I admittedly struggle to remember the details of how I first became familiar with Paul's work, but I certainly do recall spending a great deal of time reading his lengthy poker missives. To consume the writings of Paul McGuire is to appreciate the work of an incredibly talented scribe. You can't just skim Paul's articles for the highlights, for you'll miss out on the beauty of slowly digesting his unique and eclectic gift for artistic expression.
Paul's final blog post on the Tao of Poker was written back in April of 2012, and it continues to sit there on the blog's homepage, defiantly challenging visitors to dive deep and try to understand what the blog was all about in the first place. I believe that it's important to cherish the work done by poker media's trailblazers, which makes me so happy to have had this opportunity to interview Paul McGuire. Let's take a few minutes to collectively learn about his back story, appreciate his talent, and help his work in the poker sphere live on even today, years after he decided to set his pen down for good.
 Tao translated from Chinese means "the way" so the blog would become a reflection of poker in my daily life.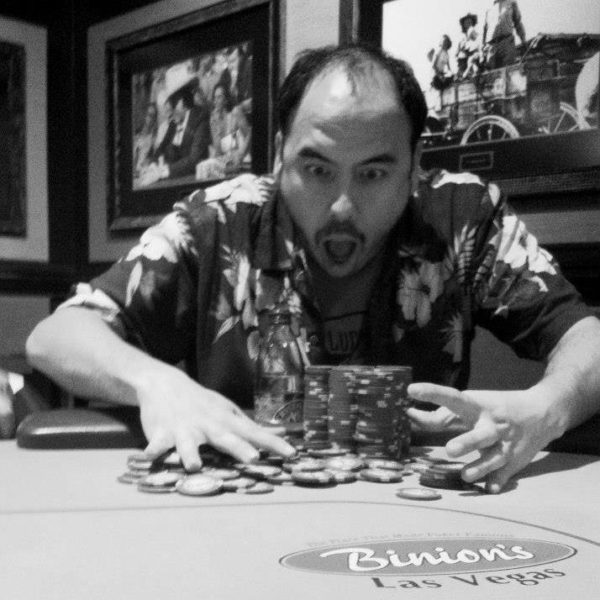 How did you first get into the poker industry?
In 2004, a website owner from Holland read Tao of Poker and liked what he saw. He hired me to write short bios of poker pros. In early 2005 Joe Smith, the owner of LasVegasVegas.com, hired me to write final table recaps of the 2005 World Series of Poker. While waiting for the final tables to end, I live-blogged the WSOP on Tao of Poker. There were only 2 or 3 other outlets providing updates at the time. Ergo, Tao of Poker became an overnight sensation.
What made you decide to stay solo on Tao of Poker blog, rather than become an employee for an established poker media outlet?
To quote Pee Wee Herman, "I'm a loner, Dottie. A rebel."
I couldn't hack it in the 9 to 5 rat race as a cubicle dweller. I'd go on mega-tilt with unnecessary meetings, petty office politics, and endless birthday cake breaks. I do my best creative work when I'm left alone. I've always been anti-establishment. That's the reason why I quit a job in the square world and moved to Las Vegas. I wanted the least amount of responsibility possible, while maximizing fun and adventure and pushing my creative boundaries.
I got lucky. Right place, right time. Tao of Forrest Gump. The Tao of Poker is what Seth Godin would call a purple cow, or a shooting star, or lightning in the bottle. I rolled up to Vegas on the cusp of the blogging boom, just before the Facebook/Twitter social media revolution, and a year or two before everyone bought smart phones. In 2003, Card Player and Poker Player Newspaper were the primary print publications. I read Andy Glazer's tournament recaps and the Tiltboys' Vegas trip reports online, but that was about it. When I showed up in Vegas, I became part of the first wave of internet coverage following Poker Pages.
Describe the beginning of the Tao of Poker journey. One-man show? What goals did you have? How fast did the site grow?
Blogs around the turn of the century were lo-fi and resembled what Twitter is today: micro posts and shared links. A friend from college, Dave Simanoff, authored a journalism blog and he suggested I start a blog about being a writer in New York City. In May 2002, Tao of Pauly was born. Around 2003, I delved into poker and the content shifted drastically to trip reports to Atlantic City and bad beat stories. My art friends incited a mutiny and essentially called an intervention. They forced me to a new blog devoted solely to poker. That's how the Tao of Poker started. Under duress.
In the early days, I wrote about sojourns to Foxwoods and Mohegan Sun in Connecticut or playing in home games around NYC. I didn't have any specific goals. Tao of Poker was a blank canvas, where I had complete artistic control. Tao translated from Chinese means "the way" so the blog would become a reflection of poker in my daily life. Whenever it evolved, it reflected changes in my own life. Poker was the constant, the blog became the mirror.
I was completely unaware of other poker blogs until I found myself linked up on Guinness and Poker Blog. I met Iggy (whom we'd later jokingly refer to as the Blogfather) and got introduced to a few other bloggers.
Happy birthday @Iggylicious! 13years ago we were nobodies…then we got super lucky, caught (poker) lightning in a bottle & became somebody pic.twitter.com/nohQspHry9

— Pauly (@taopauly) May 7, 2017
When LasVegasVegas hired me in 2005, I honestly thought I was going to work for a few weeks and then fly home at the end of the summer and look for a new job. But Tao of Poker blew up overnight. I'm still amazed by Tao's traffic in 2005. I went from a couple hundred hits a day before the WSOP to 10K a day by the end of the first week. By mid-series, Tao pulled in 10K an hour. During the Main Event, traffic went through the roof. High-six figures. The end of the 2005 WSOP marked the beginning of the poker media boom. Magazines, websites, radio shows sprung up overnight. I was an unknown when the WSOP began, but by the end, it was overwhelming. New magazines and websites offered me jobs to cover tournaments in Europe. Strangers were handing me bags of cash to promote online sites I never heard about. It was surreal.
If I had any clue that Tao of Poker was going to be so huge, I totally would have choked. Or most likely, self-sabotaged it. I moved to Vegas in 2005 thinking I'd leave at the end of the summer. That never happened. Instead, I moved into my friend Grubby's apartment in Henderson and never returned to NYC. I've been living on the West Coast ever since.
What sort of job(s) did you have before getting into poker?
I worked in the World Trade Center when I was 17. I had an internship and later a summer job on the floor of the New York Commodities Exchange (COMEX). I was a runner and sprinted from the booth to the trading pit with order tickets. The commodities brokers dispatched invaluable life lessons and taught me how the world really works. After college I thought about becoming a bond trader for a hot minute before I came to my senses and foolishly tried to write the great American novel.
I spent a couple years working security in museums including the Seattle Art Museum and the Metropolitan Museum of Art in NYC. The exposure to fine arts and working with other artists indirectly contributed to my development as writer. Working at the Met was the equivalent of going to art school. Some of the most talented people I've ever come across are museum security guards. Painters, sculptors, musicians, poets, actors, and more performance artists than you can shake a stick at. Most of the guards at the Met are artists who took the job solely for the health insurance. I learned about discipline, dedication, vision, integrity, and what it takes to be original in a derivative, consumer-driven world.
I saw first-hand that it didn't matter what you did as your day job, so long as you utilized the remainder of your waking hours to create art. The security gig paid for rent and art supplies. We all have to make concessions and sacrifices, but job titles and descriptions did not matter. Your creativity is what matters the most.
 Tell us a bit about your personal life; where you live, family, etc.
I live in Los Angeles with my "common-law wife", Kristin. We met at a poker game in West L.A. over 12 years ago, and have been together since. She never tries to change me into someone I'm not, rather, she pushes me to be the best version of my true self. I cannot ask for a better partner and someone who understands the weirdness of being a creative person. I wouldn't be alive today without her, and that's not a joke. She nursed me back to health after a bad car accident in Vegas in 2011. More importantly, she helped me stay clean after I got hooked on painkillers in the wake of that accident. She works in TV production as an editor on a popular show, so I'm stuck living in Los Angeles. It's a small sacrifice to make because her career is flourishing. She took a backseat to me for several years during an epic run in Vegas, so now it's my turn to be on the sidelines cheering her on.
Today is actually my 11th anniversary with @change100. I met her at a poker game in LA. The rest as they say…is history. pic.twitter.com/zWeS9iEyRc

— Pauly (@taopauly) February 14, 2017
I grew up in New York City in a predominately Irish/Jewish working-class neighborhood in the Bronx. I was raised McCatholic and attended Catholic school for 13 years, including Regis High School, an all-boys scholarship school in Manhattan. The Jesuits at Regis were tough mofos, yet I wouldn't be where I am today without that top-notch education. I graduated from Emory University in Atlanta with a degree in political science and philosophy. I skipped class a lot and followed the Grateful Dead. That's how I saw America for the first time. On Dead tour.
I've spent 16 out of the last 21 years living on the West Coast in Seattle, Las Vegas, San Francisco, and Los Angeles.
What other hobbies do you have? Tell us about them.
I won't bore you with crypto talk. I recently started DJing weddings because I love to get people to dance in uncomfortable situations.
I paint a lot, but wouldn't consider myself an artist. In the early aughts, I studied painting with renowned abstract expressionist Charles Andresen. Well, that's sort of a stretch. I did very little painting. Most of the time I sat around, while he told stories about Dubuffet and smoked all of my weed.
How often do you play poker? Home games mostly or in poker rooms? Cash or tourneys?
I miss multi-tabling limit hold'em. I loved cash games and played online poker every day until Black Friday happened. Now, video games are my competitive fix.
My last great home game was in San Francisco a couple years ago, but it broke up when I moved. Aside from the odd home game in LA, I don't play much poker. I'm more of a sports bettor these days. Mostly college hoops and NFL, but I recently got sucked into the World Cup.
Great session of cards. I got to play poker all night in Vegas… anonymously. Can't recall last time that happened. 10-11 years?

— Pauly (@taopauly) November 4, 2014
What would you say were the biggest highlights for you during the glory days of your poker media career?
During the first WSOP Europe in London, Tony Holden introduced me to Al Alvarez, the distinguished poet and author of The Biggest Game in Town. Alvarez said he read Tao of Poker and thought I captured the dark humor of poker very well.
In 2009, I won Dream Team Poker III with Dan Michalski of Pokerati fame. Our team name was "Tao of Pokerati." We both made the final two tables and I almost bubbled the final table. I blew my winnings on Phish's Halloween festival in Indio, CA.
Oh, and high-stakes lime tossing with Otis (a.k.a., PokerStars Head of Blogging Brad Willis). The glory days.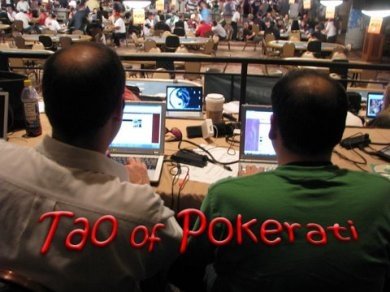 What did you enjoy writing about most in poker – lifestyle/feature pieces, op-eds, promotional stuff, tourney recaps, live/online poker news, or live reporting?
I recently told a writer friend in Philly that I made a career of going somewhere and then not writing about what I'm supposed to write. At this point, that's a given when I'm handed an assignment. My overall strength is that I get people fired up about things. Whether it's playing online poker, visiting the WSOP, betting college basketball, or a following silly band from Vermont… I'm good at getting people excited.
The WSOP made me, so that's always going to be the core inspiration of my writing. During my first WSOP in 2005, there were like six of us. That's it. BJ Nemeth provided stellar live updates for Card Player and the ladies at PokerWire were crushing the chip counts. My role seemed obvious… provide color commentary on Tao of Poker. It didn't take long before I was more captivated with the people on the rail of the final table than the final table itself. If I covered a poker tournament, the final table was the last place I watched. I've always been a fringe person, so the fringes of the tournament room were the most comfortable places for me to operate. That perspective is far more compelling to me than how Ace-Jack snapped off pocket Kings.
After I moved to Las Vegas full time, I became well aware of life as a local. I saw through the façade of Sin City. It's a whole other city, whole other experience. You're aware of desperation, simmering discontent and the disdain the locals have for tourists in a nasty love/hate relationship. There were so many invisible people at the WSOP, mostly the worker bees like dealers, cocktail staff, massage girls, security guards, bartenders, courtesans, bookies, hanger-ons, etc. The fringe became the most fascinating aspect of the WSOP for me. I hung out in the darkest corners of Vegas for many years and made a living writing about it. It was a perfect fit.
When poker media quickly expanded at the height of the boom, and everyone jockeyed for seats at the final table, I headed in the opposite direction. It felt like everyone was looking at the WSOP through the same magnifying glass and writing the same stories. Meanwhile, I had night vision goggles and happily explored the deviant side of Vegas.
In the end, I kept it simple: strive to be the best, don't burn the locals, and tell a good story. The best stories at the WSOP wrote themselves. All those greatest hits posts on Tao of Poker like the donkey blood river and the kitten fields? I don't even remember writing them. It felt like someone else was at the controls. I'm just the typist.
At what point did you start to feel like it was time to move on from poker media into writing about other, non-poker-related subjects?
The Tao is the way. That philosophy allowed me to be flexible with my approach to writing. I was always up for anything and not afraid to try something different. I aspire to be original and different. I hated repeating myself, which was inevitable, but avoided it at all costs. After a while everything on Tao of Poker grew stale and I got sick of my schtick. From a creative standpoint, it was time to move on.
I felt a sense of closure when I finished writing Lost Vegas in 2010, but I officially checked out emotionally a couple days after Black Friday in April 2011. I was in Lima, Peru covering the LAPT Peru when Black Friday hit. The government shut down my business overnight and eight years of work was flushed down the toilet.
Not one to dwell on the past but it's 5-year anniversary of US government shutting down me as small businessman in poker biz. #blackfriday

— Pauly (@taopauly) April 15, 2016
Afterwards, I took a side trip to Machu Picchu. I had an amazing mind-altering experience at the top of Machu Picchu with a cosmic reminder that my journey is a single drop of water in the ocean of life. I was ready to move on anyway, so I embraced Black Friday instead of freaking out. Besides, I had an exit strategy in place. I saved money and had ideas for other books/projects.
I fell backwards into poker. Sorry for the cliché, but I never dreamed about any of this. It all happened by accident. Spontaneous. Serendipitous. The bus drove by and I got on. It was a sick ride, but it was time to get off.
During the first days of the 2011 WSOP Main Event, I was involved in an accident and totaled my car. I downplayed the severity of the accident and my injuries at the time, but it was gnarly. I should have died. Thank G-d for seatbelts and airbags. I often refer to July 8, 2011 as my re-birthday. I was the luckiest person in Vegas that day and took it as a sign. I decided to cash out. That was my last WSOP and the November Nine 2011 was my last final table. Dunzo. Fini.
It was a wild run. I don't know anyone in poker who had more fun than I did from 2004 through 2011. I showed up in Vegas with nothing and eight years later, I limped away a wealthy man. I'm one of the lucky ones.
Any regrets? Things you wish you could have accomplished? Places/events you wish you could've traveled to/covered?
My biggest regret is loaning money to people who never paid me back. I could buy into the Main Event a couple of times if you count all the money I got stiffed between 2004-2011. I was foolish and allowed myself to get manipulated by problem gamblers and drug addicts. They leveraged friendship for a quick buck, quick roll, quick toot. Shakespeare had it right. Never a borrower, nor lender be.
I wish I had gifted that money to struggling artist friends instead. Artists appreciate the value of $1,000 more than a total degen, who donked off my float playing the max fortune bonus in Pai Gow.
I know you've written a couple books and have just published your third one. Why don't you tell us about them?
I wrote two novels and one non-fiction book. Lost Vegas: The Redneck Riviera, Existentialist Conversations with Strippers, and the World Series of Poker chronicled life as a poker reporter in Las Vegas from 2005 through 2008. I earned a lot of money as a blogger, but felt that I didn't have anything concrete to show my NYC art friends. It's not like I actively seek out their approval, but I felt like I achieved commercial success through superficial means. I decided to write a book about my experiences in Las Vegas. It didn't matter if it was any good, but I needed an artifact to represent the insanity.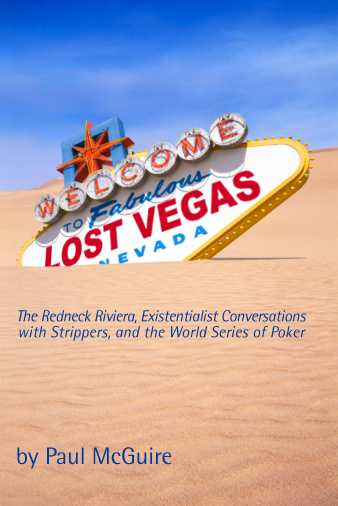 Lost Vegas was published in 2010. In 2011, a French version hit the marketplace. Very few American authors are published in France every year, so I took that as a sincere honor. Benjamin "Benjo" Gallen wrote an excellent translation and he's the reason I'm a rockstar in France. Okay, maybe more like Jerry Lewis. But you get the point. The French appreciate the written word more so than the average American, who hasn't read a book in years.
Jack Tripper Stole My Dog was published in 2011. I wrote that novel in 2002 in the wake of 9/11 while living in New York City. It's low-brow, borderline erotica. But I look back today and I see so much darkness in between the lines. It's not about 9/11 at all, but I captured the sentiment of NYC at the time.
I had been working on Fried Peaches for the last couple of years and the e-book finally debuted in June (with the print version ready to roll in November). I write fast, but edit slow. Fried Peaches is a rock-n-roll novel and an homage to all my musician friends. I had too much fun researching it and really didn't want to stop writing it. It's a road story that takes place in 30 days. Here's the tagline: "Ed 'Monty' Montgomery wrote a one-hit wonder song in the 1990s with his Seattle grunge band. Twenty years later, he's stuck in a dysfunctional indie rock group playing the same 15 songs every night with musicians half his age. Lonely, creatively bankrupt, and struggling to relate to his millennial bandmates, Monty flies under the radar because everyone around him is too self-involved to notice his raging addiction to painkillers. Lost in a pharmaceutical haze, Monty needs to end the destructive cycle before the nonstop partying catches up to him. Fried Peaches is the story of Monty's last 30 days on the road as he reckons with his past mistakes and struggles to envision his creative future in an industry he barely recognizes anymore."
Fried Peaches ebook is now available on Amazon. Buy @PeachesNovel here: https://t.co/bMrH26zOeX

— Pauly (@taopauly) June 12, 2018
 What else are you up to these days? What's the day-to-day like for you?
I'm currently writing a non-fiction book about following Phish in the late 1990s. I recently finished a screenplay, a space-western that takes place in an orphanage located on one of Saturn's moons. It's like Great Expectations meets Star Wars meets A Fistful of Dollars.
I'm inching closer and closer to going off the grid. My new thing is going out in the real world without my phone. It's a freeing experience. I recommend it. I went from someone who lived their entire life online to going days at a time without looking at social media. I'm a happier person and far more productive when I'm not a slave to the machines. It drives my friends and family nuts because I forget to check my phone for days at a time. If I didn't have books to sell, I'd become a complete ghost.
To what extent, if at all, are you still involved in poker? Just a fan? Any desire to ever get back into it? #onemorematch style…
I'm waiting for California to legalize online poker so I can play every day again. Otherwise, I'm on the sidelines playing PUBG and Fortnite like so many other gaming addicts in America.
Every spring, I'm greeted by another offer to reboot Tao of Poker from an online gaming entity. There's also a high-stakes pro who has been itching to get me back to covering the WSOP. They half-jokingly offer $50,000 to reboot the Tao. I politely decline their generous offer, despite the temptation to relive old glory days.
I love poker. Almost too much. For seven years, my entire life revolved around the WSOP. And it was a sensational journey. I hold a reverent respect for the WSOP and love it too much to not give it my full attention and devotion. I'd love to go back and cover the WSOP someday, but I could never half-ass it. I've always been a "balls to the wall" person. Sadly, I'm too lazy these days. I've lost the fire. Besides, I'm a dinosaur. I'm a longform writer living in a short-attention-span-meme world. Who even reads books anymore, let alone writes them? I might as well be an opera singer. At least I'd score some cool costumes.
My best days are behind me. I'm cool with that. On the Grateful Dead's tour of Europe in 1972, two double-decker buses (named Bozos and Bolos) transported the band and crew from country to country. One of the buses had their seats facing forward, racing head first into the future. The seats on the other bus faced behind and those passengers were fixated on the past.
I'm on the bus with the seats looking forward.
Alright, the stage is yours – any parting message, tips/advice to people who want to get into the poker media industry?
I feel like Lester Bangs in Almost Famous trying to dissuade William Miller into becoming a music journalist. Why would anyone in their right mind want to work in poker media? I ended up in poker media because I had nowhere else to go!
If you want a job in poker media, it helps if you're already rich or your family has money because wages are scant. Some days you're better off pulling espresso at Starbucks. The grunts covering the WSOP are running around begging Seth Palansky for food comps, while the fat cats who own the media giants sail on yachts and spend extravagant holidays at five-star resorts. Those opulent lifestyles are funded by the blood, sweat, and tears of the poker media proletariat. If you want to make money, become a bankster and go work for Goldman Sachs. If you want to be famous, eat Tide pods or get into porn or livestream a video game.
If you going to work in poker media, you have to love poker. I mean absolutely love the game of poker. Because if you give it enough time, people will disappoint you. If your love of the game and intent is pure, then it will supersede the dark side of the industry. That's what I respect the most about this site, Cardplayer Lifestyle. You truly love poker. It's genuine love and adoration. And it shows.
Floor reporters at the WSOP for PokerNews gets tons of guff for being bad. I've done that job and it's the hardest gig in poker. Overworked, underpaid, underappreciated. But you're in the trenches. You see stuff and hear things you can never explain to friends back home. That experience pays off down the road. The min-wage WSOP field reporter is an ideal entry level job in poker and it's like boot camp. A rigorous way to separate the dilettantes from the legit reporters. Writing is the easy part. Staying out of the gambling pits and staying sane is the difficult part. It's the Vegas grind and the Groundhog Day effect of the WSOP that will destroy you. However… if you can survive a full WSOP, then you displayed the required mental toughness and the physical stamina to thrive in poker media.
To reference Almost Famous once more:
@MicheleLewis My philosophy in poker + music is summed up by the immortal words of Lester Bangs "Never make friends with the rock stars."

— Pauly (@taopauly) June 30, 2012
And like Hunter S. Thompson said in Fear & Loathing, "Never burn the locals." Stick to those two mantras and you'll do fine. In the end… don't trust anyone, never buy a piece of pro who is soliciting action in the press box, and whatever you do, take care of your shoes.