Poker by the Book: An Introduction
There are lots of ways to learn about poker. You can talk with friends, analyze hands, watch training videos. Or you can just play. This series, "Poker by the Book," looks at poker literature—fiction, nonfiction, essays, journalism—to see what this compelling little game can teach us. Interested? Then read on!
For me, there's only one place to start.

"The Best Poker Book Ever Written"
About five years ago, for my birthday, a friend gave me Al Alvarez's The Biggest Game in Town. Nice. A poker book, I thought. Maybe I'll read this someday.
The book sat on my shelf for a while before I gave it a try. And I'm glad I did. The Biggest Game has been called "the Bible of poker literature," "a classic," "the best poker book ever written."
But why is it so good?
Everyone has their answer. Here's mine: Al Alvarez.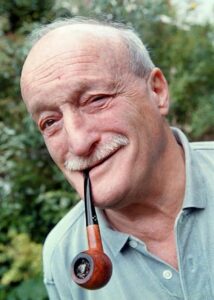 Alvarez, now 85, is an English poet, novelist, and critic. His nonfiction books explore suicide (The Savage God), mountain-climbing (Feeding the Rat), divorce (Life After Marriage), and swimming (Pondlife). The guy can write!
An attraction to life on the edge—to risk—led Alvarez to Las Vegas in 1981, where he covered the World Series of Poker for Harper's Magazine. The result, The Biggest Game in Town, is an eloquent experiment in literary journalism that's packed with insights about poker, gambling, human nature, Vegas, and American society.
Let's take a look.
A Poker Prose Poem
At 188 pages, The Biggest Game often reads like prose poetry. Alvarez's portrait of the early Vegas poker scene is precise, lyrical, romantic, and playful.
There's Benny Binion, 77 years old, "a genial, round-faced, roundbellied man, like a beardless Santa Claus in a Stetson, benign and smiling."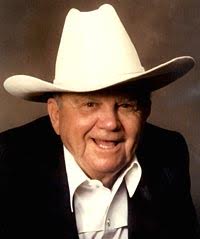 There's Johnny Moss, 75 years old, "his eyes hooded and bleak, his face like saddle leather, deep lines carved from his nose almost to his chin, his rather elegantly shaped mouth retracted in permanent distaste."
And there's Doyle Brunson, poker's Godfather, whose "sweet smile, soft face, and great, portly frame, in its brown sports shirt and trousers flowing like a brown spinnaker, gives him the air of the benign medieval abbot of some easygoing monastery."
These are wonderful, apt descriptions. Somehow Benny does resemble a beardless Santa Claus. Somehow Doyle does look like some happy-go-lucky churchman. These titanic high-rollers and many others—Jack Binion, Amarillo Slim, Jack Strauss, David Sklansky, Stu Ungar, and Chip Reese—are vivified throughout the book. And so is the city of Las Vegas.
Entering Dreamland
"The casinos lie out there on the baked earth like extravagant toys discarded on a beach, their signs looping, beckoning, spiraling, and fizzing recklessly, as in that moment of glory just before the batteries run down."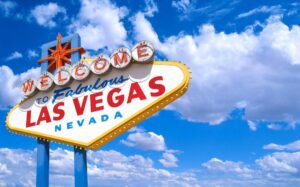 Las Vegas is also a character in The Biggest Game. The city "strips," "feeds," and "seduces" its inhabitants, changing their very perception of reality. Think about the mentality of a successful poker player. How can someone casually win and lose fortunes in mere minutes? What it takes, Alvarez learns, is an otherworldly indifference to cash.
"Money means nothing to me," explains Chip Reese. "If you really cared about it, you wouldn't be able to sit down at a poker table and bluff off fifty thousand dollars. If I thought what that could buy me, I could not be a good player. Money is just the yardstick by which you measure your success. In Monopoly, you try to win all the cash by the end of the game. It's the same in poker: you treat chips like play money and don't think about it until it's all over."
Everything about Vegas is unreal—the poker chips, the exotic backdrops, even the people.
Poker Misfits
"A lot of people don't fit in where they are, but Vegas takes anybody."

—Mickey Appleman
The city takes the hordes of grizzled regulars who hunch over their chips and snarl "Shut up and deal." It takes prostitutes. It takes a man so obese that "his tiny, bald head seemed to belong to another body entirely; he looked as if he were trapped in an overinflated balloon." And it takes David Sklansky and Mickey Appleman, two savants who are unable or unwilling to live in traditional society.
Sklansky, the author of The Theory of Poker, has long embraced his role as poker's eccentric intellectual.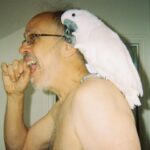 Appleman, after leaving the business world to work at a drug rehab clinic, left that job for Vegas. Strangely, he found more solace in playing poker than in working with addicted and underprivileged youth. "I suffered from depression—I was so entwined with my inner world I never had a change to enjoy myself," he told Alvarez. "For me, activity was the answer. I took up gambling after I finished with psychoanalysis, and the depressions never returned."
Hidden in Plain Sight
"His eyes unfocused, and for a moment he seemed lonelier than anyone I had ever met—as though loneliness were the element he moved in, like a fish in water."
While The Biggest Game appears to be about poker—and it is—it's also a deeply personal exploration of loneliness, depression, and marginality. These are prominent topics, I think, because Alvarez has been thinking about them his whole life. As a young man, he struggled through a career change, a disastrous first marriage, and the suicide of his friend and almost-lover, the poet Sylvia Plath. He attempted suicide himself in his thirties.
Fortunately Alvarez recovered to live a long, full life. But he remains attracted to those peculiar people who are insiders in Las Vegas and outsiders in general society. They're everywhere.
One afternoon, he writes, I shared a lunch table in the Sombrero Room with one of Binion's dealers. He was a skeleton-thin young man with large, hurt eyes behind large, thick glasses. His name, according to the plastic tag on his shirt, was Ronnie. There was a book beside him on the padded bench, and on the table were a loose-leaf file and a calculator. When I sat down, he was shuffling through the papers and punching figures into the calculator with a speed and dexterity that seemed inappropriate to the hurt look in his eyes.
He nodded contentedly at my press badge, but when I asked him which game he had been dealing he answered vaguely and seemed disappointed. He closed his file and watched me patiently while I ate, and then, when I filled my pipe, he pulled out a cigarette and waited for me to light it for him. Finally, he said, "I guess you don't know who I am." I looked at his name tag again and said, "Ronnie." His eyes deepened behind the thick lenses, and he smiled diffidently. "Used to be Suzie," he said. He riffled through the file and extracted an old clipping. The headline said, "SEX CHANGE DEALER RETURNS TO BINION'S HORSESHOE." He told me he had been in the navy—in the Caribbean during the Cuban missile crisis—but when he got out nothing went right. Between 1970 and 1976, he made thirty-six attempts to kill himself with sleeping pills, but in the hospitals nobody seemed to understand—not even the psychiatrists. In 1970, he had had a sex-change operation in New Jersey. Later, as Suzie, he came out to Las Vegas and became a dealer. "I did all right," he said. "But somehow it didn't solve the problem."
"Which problem?" I asked.
His huge eyes fixed me, unblinking. "Loneliness," he said.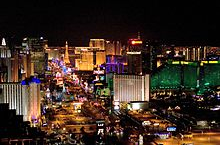 There's something both redeeming and disheartening about Ronnie. His story is there, on the page, demanding to be seen and understood. We may be tempted to skip these paragraphs to read about big pots and bigger personalities. But Alvarez insists that we pause to consider someone who blends into Binion's like a shabby chameleon. The implication is that some of the most powerful stories are all around us, easily missed, hidden in plain sight.
Recommendation
Filled with concrete detail and poetic description, The Biggest Game in Town is one of the best poker books you'll read. It's my personal favorite. What makes the book so successful is that Alvarez knows his limits. As a professional writer and amateur poker player, he doesn't preach strategy. Instead, he crafts wonderful portraits of Vegas gamblers from an almost-forgotten era.