Update January 31, 2016: Ari has just won the 2016 Aussie Millions Main Event!
Update October 22, 2014: Ari has just won WSOPC ring #7!
It's possible you haven't yet heard of Ari Engel, but the 29-year-old has been grinding his way up the poker and online poker ladders ever since he became of legal gambling age. With over $1 million in live cashes to his name, Engel's latest conquest has been finishing atop the 2013 WSOP Circuit National Leaderboard. The three WSOP Circuit rings he won this year bring his career total to 6 (good for a 2nd place tie on the all-time list), and he's got his sights set on winning his first bracelet at the just-started 2013 WSOP. What makes Engel unique, however, from his professional poker-playing colleagues is that he's a practicing Orthodox Jew. A lifelong poker fan and Orthodox Jew myself, it was a special personal thrill to connect with Ari, who was kind enough to agree to be interviewed for this article.
Give us a little background info about yourself Ari.
Ari Engel: I grew up in a typical Modern Orthodox Jewish household. My father is a rabbi and my mother a Jewish Studies teacher. I have 2 siblings who are both married with 1 child each. My brother is a rabbi at UCLA and my sister works in Jewish education in New York. When I was young, my family moved around a lot. Before I was 3 we lived in Canada and South Africa. From then until I turned 11, we were in Melbourne, Australia. We then spent a year in Jerusalem, Israel followed by 2 years in Annapolis, MD. I spent my high school years in Chicago attending Skokie Yeshiva.
Following high school, I studied at Mevaseret Tzion Yeshiva in Israel for a year. For the following 2 years I attended NYU and graduated with a double major in Finance + Management and Organizational Behavior. After college, I moved to Brooklyn and spent my early years as a poker pro playing online there. In 2008, I moved to Vegas and then, when Black Friday hit, I began spending a lot of time in Toronto. I currently split my time between Las Vegas, Toronto, and the road.
How did you get into poker? When did you start taking it seriously and decide to go pro?
AE: During my 2nd year of college at NYU, my roommate was Andrew "browndog19" Brown. He was (and is) a great poker player, and I barely knew how to spell poker. Andrew taught me everything a beginner should know and much more. I began to play very low stakes while in college. I didn't make any serious money during this, but did gain a lot of valuable experience. After graduating college, I got an entry-level job. I stopped playing much poker except for a weekly home game with my college friends with a $40 buy-in.
During one of these games, Andrew and another friend were raving about a new site where there were tons of weak players. They convinced me to sign up and start playing on a sports book site that had recently opened a poker room, Bodog. Four days after signing up to Bodog, I started thinking about quitting my job for 6 months to see if I could make it in poker. A few days later I gave my 2 weeks notice.
You originally rose to prominence in poker playing online. Nowadays you can be found grinding the live poker circuit (and doing quite well!) Do you still consider yourself primarily an online pro, or more a live pro now?
AE: I started playing online and I still consider myself first and foremost an online player. It's hard enough making a living in the poker world of 2013, but when you combine that with the extra expenses associated with traveling the circuit, it becomes close to impossible. The ability to multi-table is key to being a profitable pro.
Having said that, I'm a huge frequent flyer forum and blog junkie, and often times I travel at a fraction of others' costs. I also find it easier to play a full day of live poker compared to doing the same online. Combine that with the ability to play against weaker opponents in the live arena (a $300 tournament online is significantly tougher than a $300 tournament live) and live starts seeming a little better. I've found the best thing for me is to go back and forth between the live and online arenas.
Are you more of a cash game or tournament player (or both)? Would you consider yourself to be a Texas Hold'em specialist or have you added other games into your repertoire?
AE: I started with cash games, but now primarily play tournaments. I play mainly No Limit Hold'em, but I've played heaps of hands of Pot Limit Omaha Hi/Lo and No Limit Omaha Hi/Lo. Occasionally I play in Pot Limit Omaha and H.O.R.S.E  tournaments. I'm competent but not great at those games.
Since Black Friday you've set up residence in Canada so that you can continue playing on PokerStars. Now that online poker is legal and running in Nevada, and soon to spread on a state-by-state basis, do you see yourself moving back to the States?
AE: I'm taking a wait-and-see approach to legalized poker in the U.S. For the time being, it looks like it might be a little while off before we see a "Sunday Million" open to US players. Until that time comes, it's hard to imagine not spending a lot of time outside the U.S.
You're known for wearing a yarmulke (skullcap) at the table. Orthodox Jews like you and me are required to cover their heads at all times. Why not wear a hat (to stand out less)?
AE: Growing up in a post-Holocaust world, I think its important for Jews to be proud of who they are. I may not be the most religious person out there, but I certainly am not embarrassed of my heritage. The poker world is a very tolerant world and I'm happy with the way I've been treated by it. However, to the extent that there are bigots out there who might not like me wearing a yarmulke, that's one more reason why I love wearing one. A nice side benefit is those bigots tend to play very poorly against me.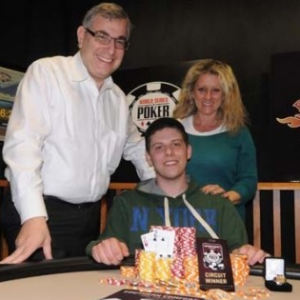 Poker is most certainly not a traditional occupation for Orthodox Jews. How did your friends and family first react when you decided to go pro?
AE: While I'm fairly sure my parents would rather I be a doctor/lawyer/accountant/rabbi, they have been very supportive of my career. Given their conservative backgrounds and beliefs, it still sometimes shocks me how supportive they have been. While I hear horror stories from other poker players, I am very grateful for the support I have received. One of my most enjoyable moments in poker was winning my 5th WSOPC ring with my parents in the audience.
How do you deal with the challenges of keeping kosher while traveling so much, especially to areas without much of a Jewish population?
AE: In the U.S., its fairly easy. There is always a supermarket close by stocked with kosher goods (because so many products just happen to be kosher) even in areas without many Orthodox Jews. Having said that, I usually bring along food that travels well (e.g., beef jerky, oatmeal, dried fruit, rice cakes, etc.)
Do you enter into tournaments if there's a chance play may extend into Shabbat?
AE: When it comes to playing poker on Shabbat, I recommend that anyone interested ask their LOR (local Orthodox Rabbi). I certainly can't speak for the religion or for anyone else, but I can speak for myself. And I'm comfortable with my choice to play on Shabbat.
Orthodox Jews are typically known to live in homogenous communities. How have you adjusted to essentially having to go at it alone due your extensive traveling?
AE: One of the things I looked forward to most about leaving home when I was 18 was leaving that homogeneous community that I had constantly lived in. Walking down the streets of Manhattan as a college freshman anonymously was a breath of fresh air for me. I've yet to return the close knit circles of an Orthodox community – and don't miss it much.
Do you ever sometimes see yourself as a Jewish ambassador (i.e., a "light unto the nations"), on the public stage that is professional live poker?
AE: If you highlight and bold the word, then, sometimes, I guess yes to some extent. I don't particularly like the idea of my (one person's) actions being representative of a whole nation. It seems to me a lot of hate has its origins in this idea. Nonetheless, as one of the few Orthodox Jewish poker players, I'm happy to be somewhat of an ambassador.
As a young player, seeing Mike Matusow wear his Star of David or skip the first WSOP Europe because it was on Yom Kippur left me with a good feeling. So, if I can do the same and pay that feeling forward to an up-and-coming Jewish poker player, that would be great.
Do you see yourself continuing to play poker as a career indefinitely?
AE: Yes I do. I can easily imagine a life path where I move into a different direction down the road, but for now it appears like I'll be happily playing poker for the foreseeable future.
What are your poker plans and goals for the summer?
AE: I plan to play tournaments during this WSOP, but, given the nature of tournaments, often times I could bust early so I'll play cash and/or Sit 'N' Gos later in the day. Almost all the tournaments I play will be in the $500-1500 range.
Before we let you go, what advice would you give to recreational players who want to go pro?
AE: Amateur players need to ramp up their aggression to stand a chance. When you're thinking about calling a pre-flop raise, you should strongly consider 3-betting/4-betting instead. If you're banking on showing down winners and getting chips that way it will be extremely hard to accumulate. Rather, the goal should be trying to get chips without showdowns.
Thanks Ari for your time and Shabbat shalom to you!