Back in April, I had the privilege of attending the World Poker Tour Season XV Tournament of Champions. It was my first time having been present at a WPT event, so it was quite special to get acquainted with the famed "WPT Family" in person after years of following their careers from afar. While on-site at the Seminole Hard Rock Casino in Hollywood, Florida, I was fortunate enough to have interviewed almost every member of the company's main cast, from CEO Adam Pliska right on down the line (you can watch the videos here). Due to time constraints, however, there was one person who I unfortunately wasn't able to coordinate a sit-sown with: Tony Dunst. It has taken months, but I'm grateful that the planets have finally aligned and that I'm now getting the opportunity to interview him.
Usually, when I do my interview prep, I try hard to craft a set of questions that will remain "evergreen" over time, such that the interview remains relevant months or even years later to someone who may come upon it for the first time. With Tony, however, I had to practically scrap the entire script and exchange it for a new one, as a few major changes took place for him and within the company in the wake of Mike Sexton's departure to become Chairman of partypoker.
With that introduction, I'd just like to take a moment here to thank Tony so much for his time, especially considering the hectic schedule he has fulfilling his duties across the globe in his new role. I enjoyed reading what you had to say in response to all my questions, and I'm sure that my readers will as well.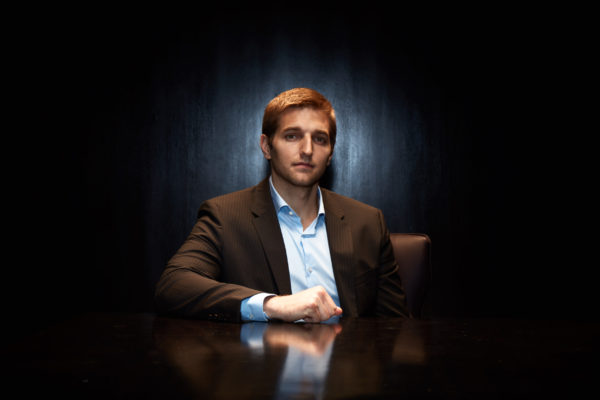 You started in your original role with the WPT about six-and-a-half years ago as the host of the Raw Deal. For those unfamiliar, can you explain what the Raw Deal is all about on the WPT broadcasts?
The WPT Raw Deal is a segment designed to take an in-depth, analytical look at the play or behavior we see during a WPT event. During most of the show, we want to keep the action moving, but the Raw Deal allows for a detailed but entertaining take on something we witnessed at the final table.
Who came up with the idea for the segment in the first place? How did you try to make it unique and stand apart from the rest of the show?
The idea for the segment is a product of the team at WPT headquarters. When I heard about the plans to find a WPT Raw Deal host and the type of person they were looking for, I felt I could be a great prospect and gave it a shot.
I always conceived the Raw Deal as a segment that mixed in popular, engaging elements of a sports highlight show and a late-night comedy show. I wanted the segment to articulate what people were doing right and wrong at the table in an insightful manner, but I also wanted to be funny for people who know and love poker.
Obviously there have been some big changes at the WPT over the past few months, namely the "passing of the torch" from Mike Sexton to you at the commentary desk, and Phil Hellmuth taking your place with the Raw Deal segments. You've filled in for Mike before many times and have been with the WPT for a while, so that transition seems pretty natural. Phil's a newcomer to the WPT family though. What is it that you think makes him a great fit in your former role?
The key to the Raw Deal is sharing what you really think about how someone played a hand, and anyone who's watched televised poker in the last 15 years knows that comes easy to Phil.
Welcome to the #WPTfamily, @phil_hellmuth! pic.twitter.com/Sj46vOPpCo

— World Poker Tour (@WPT) September 10, 2017
Not sure many people know this, but you and Phil also have another thing in common, namely that you're both from Wisconsin. How far back does your relationship go? Are there any interesting Dunst-Hellmuth stories from the past that you'd like to share?
I didn't really know Phil in person before he joined the WPT, so unfortunately I don't have any stories. Like most people, I just knew him as a prolific player and promoter of poker. Now that he's with the WPT I'm sure we'll spend more time together; recently I saw Phil at a WPT Foundation charity poker tournament benefiting Children's Hospital of Philadelphia, where we raised over $800,000 for pediatric brain tumor research and had a great night in the process.
This year's @ChildrensPhila All In for Kids Poker Tournament Presented by WPT Foundation was an absolute blast! Most importantly, the event raised $800,000 for efforts to end pediatric brain cancer! #CHOPPoker #ForBreakthroughs pic.twitter.com/o8lC55P2aj

— World Poker Tour (@WPT) December 1, 2017
One of the perks of working with the WPT is that you really get to travel to a lot of places. What are some of your favorite stops along the tour and why?
I always love Borgata in Atlantic City because it's the East Coast mecca of poker and their fields are huge every year. Playground Poker Club in Montreal is probably my favorite combination of property and city on the entire circuit, and WPT Amsterdam is during the peak of spring and located in the heart of one of Europe's most scenic cities.
Are there any locations that you'd love to go to but haven't yet – with the WPT or on your own? What type of experiences are you looking for in each new place you visit? Sightseeing? Food? Local culture?
A few that jump out to me are Japan, Germany, and Brazil. I'm fortunate that I'll be attending WPT Berlin this January, so I'll get to satisfy my curiosity about that city. We've recently started holding events in Japan and Brazil, and although we don't have a WPT Main Tour event in either country yet, I'll be looking for any excuse to visit. What I prioritize really depends on the place. Somewhere like Japan would likely be about food and photography. In Berlin, I'd like to explore the history and spend time with some of the many German players I met traveling the circuit in Europe. In Brazil, I'd like to lay on the beach and meet the locals.
While you're on the road, traveling from one WPT destination to the next, it's pretty clear that you're constantly busy working while on the set, and enjoying being a tourist during downtime. But what about when you're at home? What sort of hobbies do you enjoy?
I actually don't have a home, so that's a tricky question to answer. I'm traveling so often for work that I don't have a lease or keep an apartment, and instead live out of my suitcase. As for my hobbies, I like working out and playing tennis; I try to read regularly and stay informed on current events; I gamble on anything I think has an edge; I love hanging out with co-workers and the players from the tour; and a ton of time is dedicated to watching sports.
Down time at the shoot so @TonyDunstWPT and @VinceVanP_WPT got a ping pong game going. Who you got? pic.twitter.com/O3iNuMGwSD

— Ging Masinda ? (@GingMasinda) September 9, 2017
It seems like the poker world is always buzzing lately with talk about "appealing to recreational players," "what's the state of the game?", and "have all the live tours stopped catering to the pros and high rollers like they used to once upon a time?" How does the WPT fit into that picture – in other words, who do you see as the target audience for your product? Poker fans? Recreational home game players? Top high roller pros?
The WPT is proud to offer tournaments, events, and products for players at every skill level and bankroll. Of course, the WPT Main Tour stops are the most publicized, but WPTDeepStacks and WPT500 events offer a chance for players to compete for big prize pools without having to risk so much upfront. We also have ClubWPT and PlayWPT for the online and social player. ClubWPT is great for casual players who feel more comfortable paying a monthly online subscription for access to all the poker they can handle. PlayWPT is our social gaming platform that features a competitive environment and authentic poker experience. Then we have LearnWPT, our poker strategy arm. LearnWPT is an awesome way for players advance their poker game through lessons from experienced players.
It was recently announced that the season-ending WPT Tournament of Champions will be moving to the Aria, in Las Vegas. That venue is obviously no stranger to hosting WPT events. What excites you the most about that news and do you foresee it as a potentially permanent home for the TOC?
I can't speculate about a permanent future location of the WPT Tournament of Champions, but I can confidently say that ARIA has become my favorite poker room in Vegas. Any time I'm in town I end up stopping by to play there. I think they'll do a great job attracting players for the WPT Tournament of Champions, and I think the ARIA as a marquee name in Vegas is the perfect setting for our season-ending tournament.
You're a former champion, which makes you eligible to play in the TOC. Are you planning on doing so or will you be sticking to commentary this time around?
One-hundred percent! If it goes well, commentary will be someone else's job.
Indeed, having primarily focused in this interview on your prominent role with the WPT, let's not forget that you cut your teeth in this game and burst onto the scene as a player first and foremost. In fact, last year was a banner year for you as a player, having finished 2nd in the Aussie Millions Main Event and winning your first WSOP bracelet. Do you have any specific short-term or longer-term goals that you're aiming to achieve as a player (outside of winning boatloads of money)?
I try to set goals that focus on process instead of results, so I don't have goals that are like "Win tournament X-Y-Z." To me, the guys who stay competitive are the ones who stay humble and always work to improve their game. I'll admit that focusing on playing my best poker isn't the priority that it once was, so every couple years I aim to get some coaching from one of the great players that I'm friends with, to keep me from getting out of date. I would be embarrassed if I was on camera talking about how people should play their hands, but didn't have the ability to stay competitive in the game.
Ran pure and got it done. #WSOP #partypoker pic.twitter.com/dPAup1MobD

— Tony Dunst (@TonyDunstWPT) July 10, 2016
In closing, what is your overall forecast for poker in 2018? What are you excited about?
I think 2018 will be a strong year for live poker tournaments. The health of the broader economy and boom in the Crypto-currency markets has given many poker players — both recreational and professional — extra money to gamble with, and we're seeing field sizes grow in higher buy-in tournaments. From WPT's perspective, we're excited about our continued global expansion in 2018, starting with our first ever event in Germany (WPT Berlin) this January. Plus, as I mentioned before, I'm really looking forward to the upcoming WPT Tournament of Champions at Aria; which has made it's name for hosting high-roller tournaments with their popular streams on PokerGO.