Over the last few years, much effort has gone into creating social gaming experiences that players can get excited about. Indeed, in many ways, companies have had huge success in tapping into the "gaming" culture via social media platforms such as Facebook. If you've ever indulged in playing a game like "FarmVille" (don't worry, I won't tell anyone) then you'll know the addictive power this type of entertainment is able to produce.
Of course, there have been successes in the online gaming sphere as well. There are a ton of online gaming and poker apps available that try to offer players the experience of a live casino from the comfort of their home.
However, these games always run into the same problem. The reality is that casino gaming and poker rely on the idea of a scarcity of chips (i.e., they actually have some sort of value) to generate excitement. The ability to simply buy back in to the game once you are "virtual chip broke" has always been a serious impediment to the "gambling" experience. After all, what's the fun if the chips really and truly mean nothing at all?
The New Concept: Paying for Play Money Chips
Enter the new "PlayWPT" social casino for mobile, desktop, and Facebook released by the World Poker Tour. According to a recent press release from the World Poker Tour (WPT), the currency on the platform will be "strategically limited, creating a more competitive environment and ultimately a more authentic poker experience." In plain English, this means that PlayWPT will attempt to recreate the rush of playing real-money poker by having players pay for their play money chips.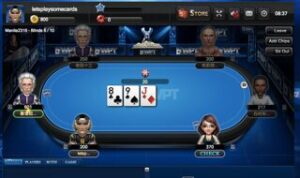 At first brush, this arrangement will probably make many players recoil in horror. I, too, will admit that my first reaction was a heavy dose of skepticism. However, after some reflection and trying the product, there is a lot to love about the gamble (pun intended) that the WPT is taking by developing this concept.
Targeting a Different Market
It's important for the hard-core poker playing public to remember one very important fact: not everyone is a member of our ranks. There is a huge pool of people who view poker in the same light that they do any other gaming experience. For proof of this, look no further than the fact that Zynga Poker has active player numbers that pre-Black Friday PokerStars would kill for.
For this group of gamers – termed "recreationals" by industry folk – gaming is an expense that they are willing to pay for, irrespective of the potential for a return on investment. For them, paying to get play money chips is no different than paying to upgrade their World of Warcraft character. It's the sense of competition – of something being at stake – that stimulates them.
In this context, shifting the money expenditure away from being the focal point of a poker game doesn't seem like such a crazy idea at all. There is no reason why this model can't work for the people who are looking to engage with poker and casino games in the same way they do any other video game.
For this target market, then, requiring a "buy-in" for play money chips and championing the idea of leaderboards are simply ways of adding a sense of urgency and value to winning and losing those chips. It spices things up a little bit and gives their bragging rights just a little more luster than before.
We did it! @PlayWPTGame pic.twitter.com/DRPn2q5BSd

— Donnie Peters (@Donnie_Peters) August 29, 2016
Entertainment from a Proven Name in Poker
Of course, even that "game changing concept" wouldn't matter if the game itself wasn't fun and worth playing. That's why it's also important to remember that another key factor in the launch of the new product is that it's backed by the World Poker Tour, which has an outstanding reputation in providing excellent poker entertainment experiences.
WATCH: Interview with WPT Ambassador Mike Sexton
In other words, while innovative, this concept is not being attempted by a random startup that has no experience creating quality poker experiences for players. I'll readily admit that if that were the case, you would have a much more difficult time convincing me that this is a viable model – or even to bother looking at and reviewing the product in the first place!
Accordingly, PlayWPT graphics and gameplay do indeed create an in-game experience on par with what social gamers have come to expect.
The Next Poker Boom?
To die-hard poker players and fans, every new industry innovation usually boils down to a single question: "Will this lead to the next poker boom?" Overall, I think the introduction of PlayWPT could generate a small uptick in the overall interest in poker from the gaming community. That being said, the idea that play money games – no matter how spiced up – could spark a new poker boom is far-fetched. Nonetheless, this certainly can't hurt.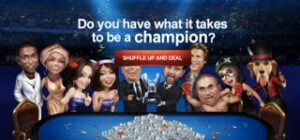 Ultimately, by having players invest some of their cold, hard cash to obtain play money chips, PlayWPT has created a "middle ground" between playing for play money on the one hand and traditional "gambling" real money poker on the other hand. This is something new, and the WPT's efforts should definitely be applauded.
After all, it stands to reason that, eventually, a small percentage of recreational players will "catch the bug" and make the leap into the real money arena after honing their skills on PlayWPT.
Here's hoping.