This poker blogger's favorite poker TV show, High Stakes Poker, is finally back for its 7th season! The producers of the show have decided to "shuffle the deck" as it were, and have made some changes, most notably in replacing host Gabe Kotter Kaplan with Saturday Night Live alumnus Norm MacDonald.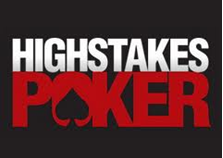 Now don't get me wrong – I'm a BIG Norm MacDonald fan. I loved him as the anchor of SNL's Weekend Update and eat up all of his stand up routines, including his infamous roast of former President Bill Clinton. And I know that Norm is one of the big "celebrity poker players", always at the charity events, etc. All that being said, however, that does NOT necessarily make him a good choice as a poker commentator (at least not on paper). While Gabe Kaplan might've been a bit "old school", he's been a staple in the poker world since the 1970s, having played in thousands of cash games and tournaments as well as plenty of WSOP events. His hand analysis was not only steeped in humor, but also carried some strong poker expertise along with it. Also, I, for one, happened to love his humor and will greatly miss him. Let's give Norm a chance though and hope he can prove this doubter wrong and make season 7 enjoyable.
Also, the bastards geniuses at Full Tilt Poker unfortunately decided not to allow their stable of poker pros to participate on this show. This means no Phil Ivey, no Patrick Antonius (sorry ladies), and no Tom Dwan (I hate the guy, but I'll miss him), among others…
Poker fans will still have plenty of big name pros to root on, namely, Doyle Brunson, Daniel Negreanu, Johnny Chan, Antonio Esfandiari, as well as other, newer, faces like Vanessa Selbst, 2010 WSOP Main Event Champ Jonathan Duhamel, and Jason Mercier.
Anyhow, who knows?! Perhaps the new lineup means Negreanu will finally be able to break his High Stakes Poker losing streak?! Good luck Kid Poker, we're rooting for you here at the Cardplayer Lifestyle poker blog!
We hope to upload each new episode of High Stakes Poker after it airs and provide our fans with recaps and hand analyses – so keep checking back with us at Cardplayer Lifestyle each week!