It was almost a year ago that I finally got to meet pokerfuse founder Michael Gentile for the first time, but that was certainly not the first time we connected. Our relationship began with and strengthened over the years via numerous email correspondences in which we spoke about goings on in the poker world, website design, search engine optimization, social media, video syndication, and the general business of running a poker site.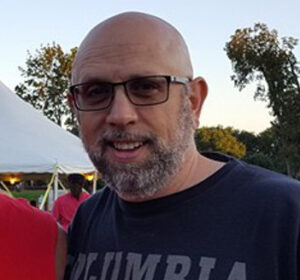 Mike and I have something relatively unique in common in that we decided to create poker sites whose operations weren't dependent on affiliate revenues. To me, that's something that makes pokerfuse's staying power in an ever-changing industry that much more impressive.
You can imagine the smile on my face when I was introduced to Mike in person for the first time, back at the 2016 PokerStars Caribbean Adventure. We truly hit if off, enjoying numerous excellent conversations together that stretched deep into the night.
I'm so happy that Mike was willing to take part in our Get to Know the Poker Media series. I feel that many engaged poker fans likely share a sentiment of wondering "who and what is behind pokerfuse?" It's a great story, and I'm glad Mike elaborated on it, as well as his interesting career, in this interview.
Enjoy the read!
How did you first get into the business of poker media and for how long have you been doing it?
The first poker article I ever wrote was for pokerfuse on April 15, 2011 on the events of Black Friday. It was the day pokerfuse was launched. The site was already in the planning stages with a targeted launch for summer 2011, but given the circumstances, we decided to push up the date and go live.
What moved you to found pokerfuse in the first place? What was the original goal you had for the site? Has that changed over the years?
The idea of pokerfuse came from the lack of reliable information that was available about online poker. At the time, so many of the sites that did cover online poker were affiliates that suppressed information that could jeopardize their lucrative business deals with the online poker operators. The way the poker media handled the cheating scandals at Absolute Poker and UB are a couple of examples of the lack of integrity that was prevalent in the industry at the time. Our goal with pokerfuse was to provide honest, reliable information to the poker community, and while the focus and scope of our coverage has evolved over the years, that goal has not.
As a popular poker site, people are quite familiar with the pokerfuse brand. You've also started up a couple of other poker ventures, like F5poker and Poker Industry PRO, Combonator, and RotoTracker. Can you tell us some more about those brands?
F5poker shares interesting content and social media posts from around the poker community in a lighthearted tone.
Poker Industry PRO is a business intelligence service for the global online poker industry that provides a suite of information and data features.
Combonator is a study tool for Texas Hold'em that allows players to analyze a range of hands by digging into the number of combinations of different valued hands, assessing range equity and balance and examining board textures. Plus, it's got a really cool video!
RotoTracker is a game selection and bankroll tracking service for daily fantasy sports players that allows them to identify their strengths and weaknesses by game types, buy-in levels, sports, DFS provider, and more.
What is it that you love about poker that keeps you so interested in the game?
I like how the game influences me. It helps foster my critical thinking, teaches me to separate results from the decision-making process and encourages me to approach life with more of a strategic risk/reward outlook.
What sort of job(s) did you have before getting into poker writing?
I worked as a comptroller for a commercial construction contractor, managed internal controls for a large insurance company, provided network and desktop technical support, shot and edited wedding videos, and I have been a licensed real estate professional for more than 20 years.
That's quite an eclectic employment background! What skills and experiences from the other jobs you've done in the past do you feel have helped you most in the poker world as a publisher?
When operating a small business, you tend to wear a lot of hats, so experience and knowledge gained throughout my professional career have helped tremendously in that regard. Outside of general business experience such as accounting and marketing, I think my time as a real estate broker was very beneficial. For example, being familiar with interpreting the legal language in real estate contracts was definitely a big help in understanding legislative proposals concerning online poker.
Tell us a bit about your personal life; where you live, family, etc.
I was born and raised in Chicago and currently live with my wife and two teenage daughters (though one is away at college) in the northwest suburbs.
How often do you play poker? Home games mostly or in poker rooms? Cash or tourneys?
I rarely play poker much anymore. When I do, it is usually a home game.
What's the biggest misconception people have about poker writers/writing?
I think there is a general misconception surrounding bias. I have heard people in the poker community express their expectation that poker media be unbiased, and in my opinion that is not possible. Even selecting what topic to write about involves a certain amount of bias. There is also bias in selecting what angle to take when covering those topics.
It really comes down to the motivation of the writer and the media outlet, in my opinion. Looking at the content through a prism of intent helps me better understand where an author is coming from and why the piece emphasizes some aspects while de-emphasizing others, or even why it exists in the first place. I actually tend to view most forms of communication in that manner.
So many poker players do a great job of incorporating that way of thinking at the tables, but at times we all struggle with applying certain skill to other aspects of our lives.
What other hobbies do you have? Tell us about them.
At this point in my life, my biggest hobby is watching TV series. I enjoy them more than movies because I think the writers have more freedom to explore depths in characters and plots that wouldn't be possible within the time constraints of a film.
HBO is the stone-cold nuts and it has ruined me for network television for the most part. I can still find enjoyment in some sitcoms, but as a rule of thumb, I don't do dramas that air on the big four networks. There is one exception, I somehow got hooked on This Is Us and I really like it.
What do you enjoy writing about most in poker – lifestyle/feature pieces, op-eds, promotional stuff, tourney recaps, live/online poker news, or live reporting?
I don't think my personal enjoyment is tied to any specific category of writing. I take satisfaction in presenting information that is interesting, helpful and entertaining. Sometimes that can happen is in an op-ed, sometimes in a feature, but it can also happen by taking a different angle on a news item or just finding humor in a Tweet.
@pokerfuse Thanks, guys. I'd been wondering what #GrindNation was all about other than the hashtag… good work!

— Robbie Strazynski (@cardplayerlife) October 19, 2016
What's something you still haven't yet done/accomplished in poker that's on your bucket list?
The concept of a bucket list is kind of foreign to me. I understand what it is and why people make them, I just don't look at life that way I guess. Even outside of poker, I don't have such a list. I guess if I had to pick something it would be to play in the World Series of Poker Main Event.
You got into poker at pretty much a historic "low" time and have "survived the last 5+ lean years". By all indications, poker seems to finally be back on track for growth now. Where would you like to see yourself and your sites over the next 5 years as far as the poker industry is concerned?
The last five years have been a wild ride. It is hard to imagine what the next five hold. From a business standpoint, I hope we find ourselves in the middle of another poker boom. What that would mean for our sites is hard to say, but it would likely mean that the game has become more widely accepted and hopefully as a society we can learn some of the valuable lessons the game has to offer.