Whether you're more familiar with the name "David Huber" in the byline of a poker article or, alternatively, "dhubermex" in a couple of the most popular online poker forums, if you've ever read the man's words, it's clear just how much David enjoys the game we all know and love. I've had the pleasure of chatting with David numerous times both via instant messaging and on Skype, and I can confirm that his passion for poker is the real deal (and that he has an awesome voice!).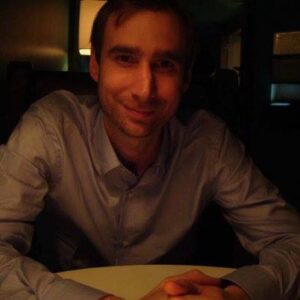 More than poker writing just providing a living for David, it clearly provides a creative outlet for him to express himself, which is something I can appreciate and relate to on a personal level. To me, David appears to be someone who truly lives a "Cardplayer Lifestyle". It's people like him who I desire to learn more about, to both see what we have in common as well as what makes him and his story unique.
David put a lot of thought into his answers, as evidenced by the fact that what you'll read below represents the third draft he sent me. I, for one, found David's story to be uniquely enchanting and quite enjoyable, especially everything he had to say about his career prior to entering the poker world.
I hope you enjoy reading this latest installment of our "Get to Know the Poker Media" series.
How did you first get into the business of poker writing and for how long have you been doing it?
My first poker-related article was published in October 2005 at PocketFives and I've been writing about poker ever since.
What poker outlets have you written for and which has been your favorite (one-time or ongoing) gig over the years?
Since 2005, I've written for: PocketFives, PokerPro Magazine, Pokerfuse, PokerUpdate, Tournament Poker Edge, PartTimePoker, Poker-Babes, Poker-Vibe, and right here at Cardplayer Lifestyle. I've also managed the forums at P5s (2008-2011) and FlopTurnRiver (2014-2015). My favorite has always been PocketFives because that's where I started posting when I began taking online poker seriously in 2005.
What is it that you love about poker that keeps you so interested in the game?
I haven't been a professional online poker player since December 2007, but the news and current events associated with online poker are very intriguing to me. Never before has there been so much informed information (especially regarding poker "lifestyle") available to fans.
It's people like Joey Ingram who keep me motivated to churn out quality editorial content that focuses on some of the most important (and least discussed) current poker events.
I also have a great deal of respect for proponents of regulated online poker in the United States who have worked tirelessly for the better part of a decade to bring legalized online poker to the U.S.
What sort of job(s) did you have before getting into poker writing?
I got my start as a high school teenager at a local radio station (KCTI – Gonzales, Texas) spinning records for a "Training Wage" that was 25% less than the minimum wage at the time. From there, I hopped across the map and worked my way up to News & Sports Director for KIXS/KLUB radio in Victoria, Texas when I was 19. I also worked quite a few bar-tending side jobs in beer joints while I was climbing my way up the small-town radio ladder.
Quite honestly, I thought radio would be a lifetime career pursuit, but then a friend, Sam Skoog, offered me the GM position at a local restaurant in Port Lavaca, Texas called The Kettle. I worked there until my father — who had been battling significant health problems related to diabetes — passed away. Once that happened, I was ready for an adventure abroad, got in touch with my Spanish professor, Raphael Venegas, who was bringing a group that summer, and moved to Mexico in 1997. I have lived here ever since.
When I moved down here, I planned on getting a job as a bar manager, but while studying to learn Spanish at the Centro Bilingüe in Cuernavaca I met Dr. Marco Antonio Adame Castillo through the school's current Academic Coordinator, Francisco Cisneros. Dr. Adame was just getting big in the PAN party political scene at that time, and was the shot-caller at the Anglo American institute. Despite the fact that I had zero teaching experience aside from some volunteer grade-school tutoring, he offered me a full-time position at the Anglo Americano, and basically let me hand-pick the ESL classes I wanted to teach. I was one of three "gringos" among 100+ instructors, 30+ employees and 2,000+ students. The money was horrible (about $2.75 per hour), but I immersed myself, began outsourcing the Anglo's services to companies, and soon had a full schedule and about 20 instructors dedicated to that end of the business.
By the time Dr. Adame became a Congressman, I was yearning for more action and had quickly become bored with the small-town lifestyle of Cuernavaca. I wanted to move an hour's-drive north to Mexico City where there were 20 million people! I did that and began working as an ESL instructor for one of the hundreds of schools in the city. They assigned me and a few other gringo teachers to the LatAm PepsiCo HQ, which at the time was part of TRICON (Pizza Hut/KFC). My first student there was Ernesto Sánchez, who was VP of Human Resources at the time.
After about a month, more executive students at the company had begun requesting me and there had been some issues with the other teachers (who were pretty much nutjobs who did stupid crap like fall asleep in the lobby, gripe nonstop about their experiences in Mexico, spend half their check on gas money or taxis instead of taking the subway or buses, and cancel without notice). This doesn't mean there weren't great ESL instructors here then — because there most definitely were — just that your run-of-the-mill "English teacher" during that time provided very low quality in my opinion.
So, PepsiCo axed the school and hired me directly. With that contract now part of my portfolio, I got an appointment at the U.S. Embassy and basically told them they'd be a fool not to hire me as a freelance ESL instructor; for some reason that turned out to be the right tone. I walked out of the first meeting in 15 minutes with an agreement to teach in the Department of Agriculture section. A side-story related to this: I didn't realize until a while later that the work I was doing here at the Embassy usually didn't get paid until 60-90 days after I invoiced. Ernesto knew this, and hired me to personally tutor his 7-year-old at his home while I awaited the other paycheck.
One of my students there was Benjamín Juárez Trueba, who quickly informed me that I was the fool and that the real money for me wasn't in teaching, but rather document translations and real-time interpretations. So he handed me a big Oxford Spanish-English dictionary (which I still have to this day) and allowed me to self-train by translating documents for free in between my classes. I then went back to Ernesto and asked him if I could have the same deal at PepsiCo and work on translating their promotional material for presentations when U.S. execs came down; he said yes.
Within weeks, it seemed like everyone I ran into at either place had more stuff to translate, and I quickly became proficient in PowerPoint, Excel, and Word. My English classes morphed into spending 100% of my class time translating, and I began outsourcing that service. At my peak, I was making about $800 per week for 10 hours of work, which allowed me the luxury of volunteering at the Anglo Americano offices, rewriting their in-house proficiency exams and taking a few classes to keep my chops up.
I had gotten married and had twins in the process, and my ex-wife had encouraged me to shift my focus to ad agencies, real-time Focus Group interpretations, and Voice Acting.  It was a smart move, and before long we were pretty much close to $0 in net worth as a family, which for a young-ish couple with kids is like sitting in hog heaven.
More time passed, and by 2004, I was becoming increasingly bored with translation work. I was doing some live-mic Focus Group works for $150/hour for Crest, but once I saw my English words spread across road signs and official tourist attractions, I felt validated enough that I didn't see anything else I wanted to achieve in that line of work.
Catching the poker bug did NOT go over well with my wife at the time, who pleaded with me to keep doing translations and voice acting here in Mexico City since I had established plenty of contacts. But online poker would give me a shot at more personal validation, so I changed career paths and donated $700 (in 14 $50 deposit increments) on PartyPoker. I was a losing player until I started reading Steve Badger (Play-Winning-Poker), Shirley Rosario (Poker-Babes), and Justin Bonomo's (ZeeJustin´s) material.
Care to expand a bit more about your personal life and hobbies?
My twin sons (Joshua & Kevin) are 12 years old. My typical workday involves researching various topics within the poker and gaming industries and putting my thoughts to a laptop screen.
I have a couple of friends who have children about the same age as my own. We get together to play dominoes or watch the Poker Life Podcast episodes twice a month.
Having been divorced for almost a decade, I do quite a bit of online dating. I may not be an endboss at it like Mark Herm is, but I'm still amazed at how easy it is for a 40-something gringo living in Mexico City (whose nickname is Ugly) to have game. If I can do it, anyone can.
I hang out with my twins when they have time for me — but they keep pretty busy with school, friends and programming/installing Minecraft mods for their classmates at $20 dollars a pop. Basically most of my free time nowadays revolves around deciphering which Match.com mate is most likely to laugh at my jokes, and going from there.
I think I've narrowed that down to 45-50 year old Virgos whose idea of a "cool night out" is video games and delivered pizza, but every now & then I'll meet a divorced 30-something wanderer who believes in aliens and the afterlife… so who knows? If you want to know more about my online dating experiences, I've written 5,000+ words on the topic over in PocketFives OT.
My mom gripes at me every time I tell her I've linked to that recount (she doesn't like the replies after it), but then I remind her that forum validation is more important than her feelings… and then we don't talk for a week or two. Lucky for me, winning her back has always been relatively easy. 🙂
Let's switch gears. How often do you play poker? Home games mostly or in poker rooms? Cash or tourneys?
I rarely play poker nowadays and when I do, I typically lose. The profit-making aspect of poker play passed me by around 2007 when "Fold To Win" tournament strategy lost its effectiveness. I may be one of the few who got out of the game as a pro player in the middle of a bankroll boost, as I've seen plenty of players with far more talent than I have stick around at higher stakes for too long and lose their entire bankroll as a result (or worse, get themselves into impossible makeup).
In my particular case, I KNEW that I didn't want to put in the extra work necessary to adjust my poker skills and increase expectation, so the choice to move over to the "poker writing" side of the industry made sense.
Contrary to what some players might believe, poker writing doesn't pay too much, especially if you're a freelancer. Do you do any other sort of work, writing or otherwise?
Haha, well we're living in a real-world scenario where each individual must be responsible for maximizing his or her talents. I'm not sure if anyone in our industry is gung-ho on throwing a pity party for poker writers — especially given how challenging the environment has become for many employers (and let's not forget high-volume players).
While the environment for poker writers is constantly evolving, I haven't had the lights cut off yet. As a result, I haven't had to read through Alas Babylon again to learn the finer details of salt-curing meats and tying them to a string along the ceiling so the rats don't get to 'em because the power to the fridge is out… so shout out to me I guess.
I DO write content for websites in other industries, namely WordPress, Video Games and Top Trending (yes, including the size of Terry Bollea's penis in relation to the size of Hulk Hogan's dong) and the events that are transpiring in the Gawker suit.
In my view, a freelance writer who is willing to cover various industries has a lot going for him or her. Most of the Top Trending articles that get requested focus heavily on keywords (and other aspects that so-called SEO geniuses do to "game" the system). From my experience, if you're good about listening to the SEO exploits of certain Content Managers who work for Top Trending news websites, you can easily speedrun loads of ghost-written, keyword-heavy content for about $2,500 a month working 20 hours per week — and still have 10 minutes near the top of each hour to take care of your business.
However, not every writer — myself included — is willing to do that unless they're starving. I enjoy writing informed content that is based on cited material and knowledgeable discussion similar to what takes place on the Poker Life Podcast hosted by Joey Ingram and poker forums like TwoPlusTwo and PocketFives.
What do you enjoy writing about most in poker – lifestyle/feature pieces, op-eds, promotional stuff, tourney recaps, live/online poker news, or live reporting? (and why)
I enjoy writing informed editorial pieces more than anything else I do professionally at the moment. There is a certain amount of personal "validation" that goes into writing an article you're proud of which far outweighs something you can do in your sleep for the same price.
Watered-down or informed poker content… which attracts more people to poker? Read @PokerUpdate op-ed here: https://t.co/gMOK5zGnRD

— David Huber (@dhubermex) November 24, 2015
What's something you still haven't yet done/accomplished in poker that's on your bucket list?
My goal in the poker industry is to once-again witness a groundswell of activity and interest in the game. I was fortunate enough to have experienced the "Golden Era" of online poker a decade ago, and I believe we're not far off from another mainstream surge in interest (despite all the negative news we hear on a daily basis).
I watched @Joeingram1's interview with @alex_dreyfus as well – @dhubermex's recap and analysis is spot on. #goodwork https://t.co/5dpIEwxSB1

— Robbie Strazynski (@cardplayerlife) December 20, 2015
I believe PokerStars' promotional efforts within the eSports industry will pay huge dividends, as will Twitch Poker streamers, training sites such as Doug Polk's Upswing Poker, and of course the top "online poker news" podcast at the moment, the Poker Life Podcast. In my opinion it's not a particularly bad time to be established in the online poker/gaming/eSports industry, but we'll see.
Alright, the stage is yours – go ahead and let loose about something you just HAVE to get off your chest.
Thank you very much for the opportunity, Robbie. 🙂  I would like to personally thank you, as well as PokerUpdate Editor Shira Stieglitz for originally supporting my idea to write Poker Life Podcast recaps. I believe that Joey is covering THE biggest news stories in poker, hosts shows with THE biggest personalities and is THE future of poker talk show programming.
I'd also like to sincerely thank Adam Small and Dan Cypra over at PocketFives for my time working with them over the years writing the Online Tournament Review articles each week. The PocketFives brand has always been about recognizing the achievements of online poker tournament players, and it's still a privilege every Monday to hype the weekend's biggest winners.
Thank you very much, Robbie.