At the start of 2014, one of the 10 poker goals I set for myself was to "have one monster cash game or tournament win". In that post, I laid out the reasoning behind calling this a "goal", rather than a hope. Having worked so hard, for so long, on my mental game of poker, I reasoned that it ought to only be a matter of time before all that effort would align favorably with positive variance to bestow upon me one monster poker session. Last night, just in the nick of time before the end of the year, it finally happened. The reason for writing up this poker blog post is not to gloat about winning or how much I won, but rather to celebrate the attainment of a goal I've worked hard towards and explain what I felt like to finally experience the "peak" run good. After all is said and done, it's not about the destination, but rather about the journey. This is something I believe all poker players, both recreational and professional, can potentially learn from.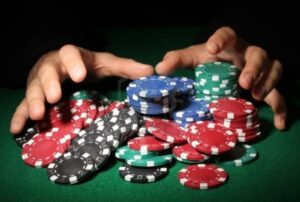 Beyond the Money, Two Other Reasons Why My Monster Poker Session Felt So Good
As much as I've worked towards the goal of having a monster poker session, the fact of the matter is that there was no telling when it was actually going to happen. To have the good fortune of winning huge "in surprise fashion" just makes it that much sweeter. Moreover, while I had made having a monster session one of my poker goals for the year, there's just a couple weeks left to 2014 and frankly I had pretty much already resigned myself to believing that it just wasn't going to happen. You can only imagine my feeling of fulfillment right now.
In addition, as I detailed in another poker blog post at the beginning of the year, I've been coming off a huge bankroll management mistake that took me two years to fix. To have finally clawed my way back to profit from the depths of a huge hole was incredibly cathartic. Ever since, I've still been an overall winner but only marginally, with the pain of having been down for so long still lingering and the threat of returning to overall loss still very much present. After last night's monster win, I think I can finally close the book on that awful bankroll memory.
How Did the Monster Poker Win Materialize?
Goal-wise, aside from running well, I believe the main factor in last night's session having been so successful is that I was ready to maximize my winning potential in the first place.
I was playing at my Dad's game, otherwise lovingly known in my circles as "the crazy wild game". While there's certainly a lot more potential variance there than at the traditional No-Limit Hold'em home game, the skill factor is still plenty high (I'd actually argue it's a lot higher) when having to face a murderer's row of Dealer's Choice games consisting of: Omaha, Omaha hi/low, follow the Queen, badugi, badacey, cross, elevator, the Big L, the Big A, "Bomba", bundles, tic tac toe, double Texas, rotten pineapple, SOHE, anaconda, 7/27, numbers, Kings and the little ones, roll your own, Jacks or better – trips to win, 7-Card Stud, and 7-Stud hi/low. Oh, and most of those are "declare" games to boot!
Just like everyone else at the table, I bought in for 50 big blinds. Lost that pretty quickly. My second buy-in, for another 50 big blinds, disappeared about 20 minutes later. The third buy-in, for another 50 big blinds was the charm. From that point on, I simply could do no wrong at the table last night.
As you can imagine, In many of those aforementioned action-packed games it's almost impossible to mount a bluff. Yet, I managed a few, in multiple different games. It was the kind of night where everyone at the table sees a cheap flop in Omaha hi-low and I then find myself holding the nut-nut. It was the kind of night where on the third draw I pulled one card to hit the nuts, beating out and stacking a 6-badugi. It was the kind of night where every single hero call I made was the right one. It was the kind of night where I made a number of big laydowns and showed them to the astonishment of others still in the hand (okay, maybe "astonishment" is a bit of an exaggeration, but they sure as hell had disappointed looks on their faces when I wouldn't call).
In short, I was on my A+ game and firing on all cylinders, able to minimize all losses (save for one notable error) and maximize every winning hand for value. Everything just worked! More than the actual amount of money I won, it was the "being in the zone" and watching my stack just keep on growing throughout the night that made me realize I was fulfilling my goal of having a monster session.
So, How Much Did I Win?
First off, you've got to remember I'm a recreational poker player, not a professional. So we're not talking tens of thousands of dollars here.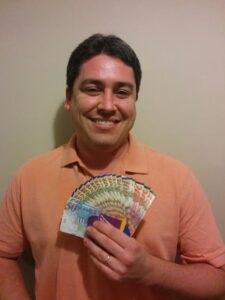 Secondly, you've got to remember that I live in Israel. Sure, we play 1/2…but we use shekels (NIS), which have an exchange rate of about 4:1 to the dollar.
In absolute terms, my 2,170 NIS (about $550) in winnings is not a gigantic sum of money. However, when you take into account the fact that a typical win or loss at my standard home game is about 300 NIS ($65), the relative magnitude of the win becomes far clearer.
I can't recall any player ever walk away from a home game I played in with that much money in profit. My own previous record winning total for a home game (1,800 NIS = $460) was just over 20% less + that session took place over three years ago. Mind you, I play in home games on average approximately 3–4 times a month for about 5 hours per session.
So, when you take all of those factors into consideration, it's undisputable that last night's session qualifies as a true monster win.
One More Monstrous Win – for Charity
Longtime fans of the Cardplayer Lifestyle poker blog know that I'm a big proponent of harnessing the power of poker for charity. The rule in my Dad's game is that anyone who wins tithes 10% of their winnings to charity, so last night I was also able to make my largest ever single-session charity poker donation. While 10% of one's winnings might sound a bit steep to some, remember that there's no rake in a home game + I'm always more than happy to give charity if it means I'll be ending up winners on the night.
2014 Poker Goal #4 – accomplished!