DISCLAIMER: In the interests of full disclosure and this blog post being as objective as possible, readers should note that at the time of this writing I personally own a few shares of Facebook stock and I work full-time in the online gaming industry. The opinions I express in this blog post, however, are completely espoused from the vantage point of a poker player and most certainly not of a stockholder, affiliate, or "industry insider".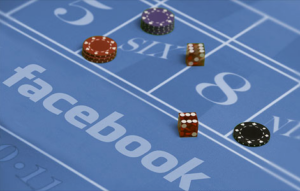 Last week, Facebook made headlines when it began accepting real money wagers for the first time via the Friendzy app. The app is only open to players from the U.K. over the age of 18 and offers slots and bingo games. Many tech and gaming industry experts have speculated that Facebook will attempt to continue tapping online gambling as an additional revenue source. It would thus naturally stand to reason that the social network, which boasts over 900 million users at last count, would be likely to take a stab at online poker in the near future.
As this post's Shrek-inspired title indicates, however, I think it would be a big mistake for anyone to make even a single real money online poker deposit via Facebook. While Facebook has made considerable amounts of money from hosting social games (think Zynga Poker), real money poker is a different animal altogether. Online poker players have certain needs and expectations when it comes to rooms they play in that, in my opinion, Facebook simply couldn't meet.
Existing Online Poker Rooms Are Better in Three Critical Areas
A Facebook real money online poker room would almost assuredly leave something to be desired in the following three essential areas of operation:
Customer support: Who would you complain to if you had a technical problem making a cash withdrawal? Would there be a phone number to call? Live chat assistance available 24/7 in multiple languages? With all due respect to Facebook and its immense resources, customer service doesn't seem to be a priority for them. For a poker site to be successful, it needs to care about its customer base and offer top-notch support.
Privacy protection: What hasn't already been written, discussed, and debated regarding Facebook and privacy concerns? A Google search for "Facebook privacy" yields over 10.5 billion results. While live poker is much more of a social game, online poker players famously value their privacy. Remember how long it took Isildur1 to reveal he was Viktor Blom? If you're an online poker player and want your identity to stay anonymous, I don't think Facebook would be the best place to ante up.
Experience in gaming: Facebook is a truly incredible success story. In just a few short years, it has managed to become a world-renown, multibillion-dollar giant of a company. Nonetheless, it has absolutely zero experience as far as operations of online gaming for real money are concerned. Unless they make moves to hire away poker industry experts to guide them in-house, or alternatively completely outsource a future online poker offering via a partnership with an existing operator, there's simply no way Facebook would know how to properly run its own online poker room.
On top of these must-haves, to have any hope of actively and effectively competing against other online poker industry titans, Facebook would need to maintain dedicated internal and external marketing departments, roll out a calendar of player promotions, and possibly begin working with affiliate sites.
This would all add up to Facebook needing to undergo a full-fledged expansion of their business into a heretofore unknown, and completely unrelated, sector to them.
Can you see Facebook doing any of these things? I sure can't.

At the End of the Day…
The simple fact is that there's a reason PokerStars has historically proven to be the most successful poker site: online poker is the ONLY thing they do. Each and every single one of their true competitors runs poker rooms as only part of its other online gaming offerings, like casino, bingo, sports betting, rummy, etc.
Bottom line, no matter how much money and how many potential users Facebook may have, that alone isn't enough to create a good online poker room. If they ever attempt to try and prove otherwise, I for one will be staying far far away.