Caesars Entertainment and 888 have announced an expansion of their existing partnership to also include the U.S. market upon eventual legalization of online poker there. As some readers may recall, the partnership between Caesars Entertainment and 888 stretches back to before Black Friday. Up until now, there had only been an agreement in place between the 2 online gaming companies to collaborate on Web-based gaming products like online poker specifically for the U.K. market.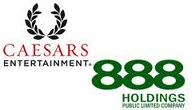 According to the terms of the deal, Dragonfish, a subsidiary of 888 Holdings, will power Caesars Entertainment online poker brands, such as the World Series of Poker, in the United States upon eventual legalization. The press release issued by 888 further stated that "…the agreement will allow the launch of a real money offering immediately as either federal or state based regulation is finalized and upon licensing by gaming authorities." [Ed. note: Italics added] This statement is especially noteworthy since, up until now, the main talk of Caesars Entertainment moving into U.S. online gaming has been on the federal level.
It appears to this poker blogger that this partnership is indeed built to last. Caesars Entertainment is a literal giant as far as its land-based gaming and casino marketing experience in the U.S., while 888 has been a known big name in the online casino industry almost since its inception.
Thus, the two companies' strengths appear to complement each other perfectly. This has proven true for about 3 years thus far in the U.K. and there's no reason why this success shouldn't extend to future online gaming promotional activities in the United States when laws and regulations are finally passed at either the state or federal level.
It should be noted that 888 already applied for the appropriate online gaming licenses in the state of Nevada back in December of last year.