Let's Play Some Poker, Girlfriend!
I'd like to start this with a confession. I wanted to like this book, but I was prepared to have to sugarcoat my review of it.
The good news is that I don't have to sugarcoat anything. Amanda Botfeld's A Girl's Guide to Poker is a fabulous book! It makes me want to go to a local casino and play poker. And those who know me understand what a rarity this is.
I've been writing about the poker biz (everything but strategy, obviously) for about 15 years. At the end of any work day, after reading and writing about poker, the last thing I want to do is play poker.
A Girl's Guide to Poker is anything but your average poker book. It is not dry, long, or difficult to read. It is also not boastful or condescending in any way. Rather, it feels like a friend jotted down some notes – some very detailed notes – to help me fall in love with a game that she already loves.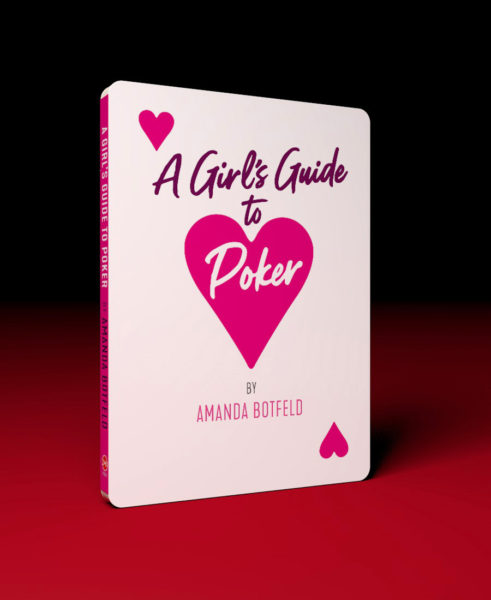 A Girl After My Own Heart
After spending 15 years trying to convince men in poker to call us women, not girls, I wondered why a well-educated woman would market her book as a "girl's guide."
As it turns out, Botfeld penned the book as if talking to friends. She explains in an early chapter, "This book is the cool, chic, poker-playing friend you've always wanted." And as any good girlfriend knows, girls can call each other girls.
The first sections of the book explain Botfeld's journey to poker, from her dad's love of the game to her first adventures at the tables. I immediately related to her difficulties with math, her trouble with dense poker books, and her desire to break it all down. Add in that she was a research associate working in Washington D.C. and went on to write about politics, and I knew that she was a girl – woman – after my own heart.
Telling a Good Story
About two dozen pages into the book, Botfeld explains why the key to good poker is storytelling. "Telling a coherent story is how you play the game instead of how you play your cards."
Evidently, this also pertains to writing a good poker book. What Botfeld successfully does in her book is to tell a story. She weaves her personal story in with the narrative about how to become a poker player, and she does so by strategically placing facts and figures in with her unique voice. She uses humor and anecdotes but also manages to get right to the point in every chapter.
NEW: A Girl's Guide to Poker author @amandabotfeld knows what it's like to be the only girl in a poker room playing mid-stakes cash games.

In this post, Amanda shares her experiences, and calls out for other girls to join her at the poker tables.https://t.co/00QuZHdPjD

— Robbie Strazynski (@cardplayerlife) January 12, 2020
Her book is also a solidly formatted story. She starts with a "Where to Start" section, logically, and takes players through everything from the very basics – what is that button for? – to poker jargon to explanations of position power and bet sizing.
The layout of A Girl's Guide to Poker is perfect for her target audience. The book is 8" x 6" and barely 200 pages. Nearly every page of it includes illustrative photos and/or specially-framed points. There are red boxes with special messages to highlight key information, and there are pink circles containing "pro tips."
For example:
"Pro tip: Remember the three deal breakers: blinds, competition, rake. If a poker game isn't good to you in these three categories, stand your ground! A bad game is fine for a fling, but you won't be able to build a solid future."
Red box: "Most games where you can sit down with 100 big blinds have the Girl's Guide blessing."
"Pro tip: Flush draws on the flop will only complete by the river around 35% of the time."
Red box: "Reraise sizing is its own science! Think anywhere from 3x-5x."
A Steady Progression Toward Poker Success
Botfeld takes players from the simplest of terms and concepts to fold equity and bluff-catching. Further into the book, she tells more detailed stories that require a bit more thought.
And just when you think she is getting in too deep for a beginner's book, she brings it back. She touches on money management and even provides a Vegas guide. She offers opinions about the best places to play cash games – Mirage for beginners, Mandalay Bay for the fancy country club feel, Excalibur for fun on the cheap – including her favorite, Aria.
Bonus sections of the book continue with a guide to dating poker players, what to bring to a casino – jacket, phone charger, gum or mints – and how to handle wait lists and chips in poker rooms. She gives the most important rules of playing live poker, such as tipping the dealer and knowing that verbal commitments are binding.
Throughout the book, there are quizzes to help anyone wanting a little something to test their reading comprehension and make sure they're grasping the most important points.
Keeping in Touch with a New Friend
A Girl's Guide to Poker is not just for women. Men who want to transition from watching poker on TV to playing at a casino will benefit greatly from the book.
Women will find the same. And if they're anything like me, they will end the book feeling like they made a new friend in poker.
If I had to summarize my feelings about the book (which I should do since I just brought it up), I would say that it's an easy but thorough read. She breaks down complicated concepts into parts of a story that she tells to a friend. And she makes it all fun.
I'm off to my local poker room. Talk soon, girl.