This month, BetMGM have a very special series of live and online poker events taking place as the $1.3M guaranteed 'March Poker Mania' thrills poker fans and players alike. With a raft of online events on the schedule, three major American pro poker personalities will be taking part.
To preview the events, we have already laid out what players can expect to register for online as BetMGM have put together a comprehensive offering. Live poker players will not be left out, however. In fact, it's quite the opposite, as each player — Darren Elias, Matt Berkey and Andrew Neeme — will be out and about in their respective U.S. states to meet and greet players.
We caught up with the trio of modern poker legends in order to find out what they're looking forward to bringing to the party.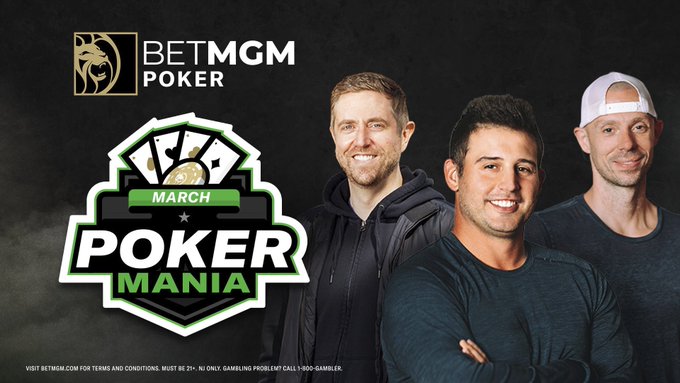 New Jersey, Big Prizes!
"It's the first of many BetMGM series to come."
In New Jersey, players will have the chance to interact with BetMGM Poker brand ambassador Darren Elias. Born and raised in the Garden State, the four-time WPT Main Event winner will host a BetMGM Sportsbook meet-up at the Borgata Hotel, Casino & Spa on March 24th as well as playing in the live Spring Rebound Poker Tournament by BetMGM and Borgata Poker on March 25th. The event has a $1,000 buy-in and a massive $100,000 guarantee and plays out with 8-max tables from the first card to the last.
Elias himself cannot wait to play.
"I'm really looking forward to this festival in New Jersey," he says. "We'll be hosting nearly $500k worth of guarantees throughout the week including a live tournament at Borgata. It's the first of many BetMGM series to come as we are introducing BetMGM live tournaments at our MGM properties to accompany our online product.  I see a lot of potential with these sorts of events in the future.  This is just the beginning."
The BetMGM Sportsbook meet-up at Borgata Hotel, Casino & Spa on March 24th is also going to be great fun. Elias is a fan of both sportsbetting and poker, which go together so well.
"I've certainly noticed the synergy and cross-over between sportsbetting and poker worlds throughout the years." Says the four-time World Poker Tour winner. "This event is special because we have timed it with one of my favorite periods of sports, the NCAA Basketball March Madness Tournament. We've even created a $1,000 bracket-style heads up tournament capped at 32 players to run alongside the basketball tournament."
The live Spring Rebound Poker Tournament by BetMGM and Borgata Poker will see a $1k buy-in and $100k guarantee also. Elias is a massive fan of the venue.
"I'm really looking forward to playing live poker at the Borgata once again," he told us. "This Spring Rebound Event will be my first event there since pre-Covid times.  The demand for live poker in the US and especially on the East Coast is overwhelming.  I'm thrilled to help the Borgata bring back bigger live events this year and give the players what they've been clamoring for."
The 8-max format is one that Elias, who has recently starred in high rollers on the other side of the country in Las Vegas, is a big supporter of.
"I believe all tournaments should be played 8-handed at the max both for strategic and comfort reasons. While we will likely start the tournament 9-handed to accommodate the maximum number of entrants, we will get to 8-handed as soon as possible. Look for future BetMGM tournaments to be 8-handed as well when staff and space is available."
Pennsylvania Brings Black and Gold Riches
"Being from Pittsburgh is a badge of honor."
Meanwhile, over in neighboring Pennsylvania, high stakes pro and content creator Matt Berkey – a self-proclaimed "Yinzer" – will stream March Poker Mania events starting on March 24th and provide online poker giveaways to the audience. The Pittsburgh native will also live stream several cash games, and handicap college basketball on the Solve For Why YouTube channel.
Matt Berkey is a 'solve for why' poker players are seen as heroes to millions worldwide these days. Having built an impressive reputation at the felt, Berkey is one of many players whose integrity come ahead of anything at the felt and he shares strong ethics with both Neeme and Elias. The native Pennsylvanian is really excited at the tournaments scheduled over the next few weeks.
"I'll have over $5,000 worth of giveaways throughout the duration of my streams." He grins. "They will mostly be $50 tournament tickets, but anyone who busts me from an event will receive a $200 tournament ticket. I'm definitely excited to turn the stream into more of a meet up game feel with the cash games, with that being said the streams will still be more traditional since I'll be playing an MTT each day as well and monitoring that throughout the stream."
Berkey loves coming from the City of Bridges and has a cultural adoration for his home town.
"Being from Pittsburgh is truly a badge of honor," he says. "Everything from our rich sports heritage to our place in history as the backbone of the industrial revolution, to the arts and sciences; there's just so much culture in this tiny, once soot-covered steel city. I bleed black and gold and couldn't imagine it ever being any other way."
The Solve for Why pioneer has grown his poker strategy brand immensely in the past six years and is very proud of his achievements in this key area of poker development.
"Solve for Why has been a real labor of love. Though we've managed to grow year over year since forming in 2016, the industry demands that we are constantly adapting and reinvesting in the product to ensure we are offering the best strategies and theories our team can develop."
Berkey explains that a new development will see in-person live academies change and become… even louder!
"One of the most recent changes is our live, in-person academies, which will change to a Poker Out Loud format. During gameplay, each individual will be wearing noise cancelling headphones and be tasked w/explaining their thoughts/strategies in real time. I truly think it will be an eye-opening experience for anyone who is attempting to the next level in their poker pursuits."
Detroit Calling for Poker Players of All Levels
Last but by no means least of the talented trio, Michigan native and longtime poker vlogger Andrew Neeme will host the BetMGM Poker Cash Game Meetup at MGM Grand Detroit on March 23rd and a college basketball hangout at the BetMGM Sports Lounge in the same venue the very next evening.
He's excited about playing online, too, and will be excited to take part from his hometown.
"Online gaming regulations require you to be physically located within a state's borders to play online," he says. "I'll be streaming the BetMGM March Mania series from the Wolverine State."
Neeme recently bought a share of the Lodge Poker Room in Texas, and his legendary hosting skills will be on display at the BetMGM Poker Cash Game Meetup at MGM Grand Detroit on March 23rd.
"If there's any location in the US that is long overdue for a 'Meet Up Game', it's Detroit. I grew up in the suburbs and have put in plenty of hours at MGM Detroit on the grind." Neeme says. "But it took us a long time to get on the same page with regards to filming an event in the poker room. Brad Owen and I finally made some good progress in 2020, just in time for Covid to shut everything down. Now that we finally have the green light, I'm super excited for what's undoubtedly going to be a very fun event in Detroit."
With Detroit front and center during March Poker Mania, Neeme admits that is delighted that the city is getting the recognition it deserves.
"Anytime I can have an excuse to capture Detroit for the vlog is a good one," he smiles. "The city has come a long way over the past decade or so. There are loads [of places] to explore in downtown Detroit, from Greektown to Midtown to the Riverfront to Corktown; there's a great mix of history and new bars, coffeeshops and restaurants to spend time in."
With the college basketball hangout at the BetMGM Sports Lounge taking place on the following evening from the Meet Up Game (MUG) it's going to be a busy one for the YouTube legend.
"The sportsbook hangout during this event is a great idea. MUGs are fun but so much time is spent around the poker tables, making sure you're playing somewhat correctly, and your time and conversations with people can be limited since we like to make sure at least one of us makes it to every table. Sweating the games, firing some small bets together, and just hanging out is a very fun change of pace before hopping online that weekend and firing at the online tournaments."
Neeme is a sports fan himself, but like many from Detroit, can remember glory from its sporting past.
"During my time, most of the Detroit sports teams have experienced championship glory at some point – let's not mention the Lions at this juncture," he says. "I was a student at Michigan State University when the Spartans basketball squad captured the national championship in 2000. South-eastern Michigan is a massive sports market and Detroit is an awesome sports town. With everything on my plate between content creation, MUG hosting, and now card club ownership, I don't have a ton of time to follow every game, but I always root for Michigan teams to do well."
During a busy March Poker Mania, we're rooting for each of BetMGM's terrific trio of players to enjoy their time welcoming new and existing players to some of the most fun tournaments and events to take place at the live and online poker felt so far this year.
For additional details on the upcoming live and online events, you can visit BetMGM's official poker page.