Each year, Las Vegas poker rooms host a massive amount of poker rounders and poker tourists at their respective casino venues.
One of the most common questions asked by vacationing poker enthusiasts when traveling to Sin City is, "What is the best place to play poker in Vegas?"
In this article, we'll take a look at a few of the more popular poker rooms and provide beginner tips on what a poker tourist needs to know about playing poker in Vegas.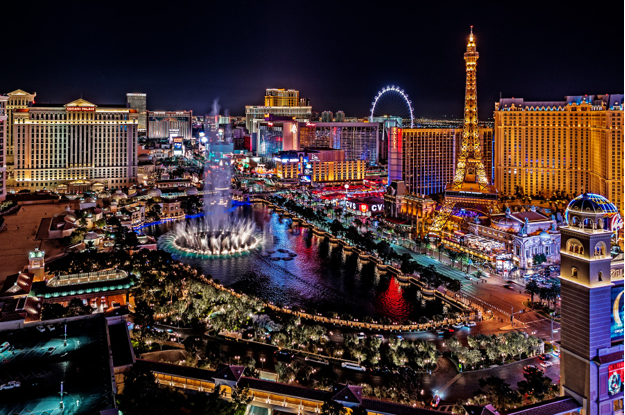 South Point Poker Room (at South Point Hotel & Casino)
A local poker fan favorite, the South Point poker room checks many of the important boxes for game availability and daily tournaments while satisfying the needs of pros and recreational players alike.
Fixed Limit Texas Hold'em, No Limit Texas Hold'em, and Omaha Hi/Lo
Mixed Games, Stud, and Omaha Hi upon request
Stakes ranging from $1/$2 blinds to $8/$16 Fixed Limit and $3/$5 NLHE
Daily Tournaments with buy-ins ranging from $60 to $150 (rebuys allowed)
Regular live tournament guarantees from $1,500 to $15,000
On top of this, South Point runs numerous promotions that pay out cash prizes such as "High Hand" and "Hot Card" hands that allow any player at a table to get lucky and pick up hundreds of dollars instantly.
Poker room seasonal promotions coincide with the NFL football, NBA basketball, and MLB baseball seasons and likewise award prize money based on any number of in-game events. These promotions are usually random in that they award a small cash prize to a specific seat that is selected (via a drawing) within the South Point poker room.
As one might expect, the various cash games and daily tournaments at South Point tend to attract more players during the annual World Series of Poker as well as during big ticket bouts, fights, concerts, events, and games that are hosted locally on a seasonal basis.
Not many Vegas-based poker rooms can recreate the genuine buzz that poker generated during the boom years of 2002-2008, but South Point does occasionally achieve a full poker room thanks to its daily tournaments. During lower-traffic weeks, South Point is an underrated venue where casual players have an opportunity to win one of the room's promotional hands in a laid back, personalized environment.

Aside from South Point's dedicated poker room, overnight deluxe lodging service, bingo hall, spa amenities, dining options, movie theater, and bowling center, the casino is an annual host of rodeo events sponsored by the ABBI (American Bucking Bull, Inc.) and PBR (Professional Bull Riders).
Wynn Poker Room (Encore at Wynn Las Vegas)
Each year, the Wynn Poker Room (located within the Encore sister property that is situated on the Las Vegas Strip) plays host to several prestigious live tournaments under the auspices of the World Poker Tour (WPT).
These massive live tournaments often require a buy-in of thousands of dollars and can sometimes award total prize pools that exceed $10 million (not to mention one of the best poker tournament trophies in the market if you happen to win first place)!
In fact, the WPT is scheduled to host a $40 million guaranteed live poker tournament – yes, one World Championship event – near the end of the 2023 calendar year. The series itself spans over the course of three weeks and attracts a generous blend of professionals and celebrities.
If you happen to visit the Wynn Poker Room at Encore when a marquee event is NOT taking place, you can enter one of two weekday tournaments or opt for the weekend rebuy events. Each "featured" live poker tournament at the Wynn Las Vegas has a guaranteed prize pool of at least $10,000. The nightly $160 NLHE rebuy event starts at 5:00pm local time and correspondingly offers a $10,000 event guarantee.
Cash games at the Encore include Texas Hold'em, Omaha, Omaha Hi/Lo (Eight or Better), Mixed Games, and Seven Card Stud.

Tourists and locals alike can use the Wynn self park garage on Level 2 and take the pedestrian bridge to the Encore, which will lead them directly to the poker room. The Wynn Poker Room operates 24 hours a day, seven days a week, but will have limited game availability when major tournament series are taking place.
Horseshoe Casino and Paris Casino Poker Rooms (World Series of Poker)
There's nothing quite like the annual World Series of Poker, which attracts more than 100,000 poker tourists to Las Vegas during the summer months.
In 2023, the World Series of Poker Main Event attracted a record-breaking 10,043 entrants and offered a $12.1 million cash prize to the eventual winner – Daniel Weinman.
If you've never seen a poker room filled with thousands of contestants competing for millions in prize money, the Horseshoe (formerly Bally's) and Paris Casino poker rooms are a real life example of organized mayhem.
Cash games, multiple bracelet tournaments, satellite qualifiers, featured tables, TV crews, and all the physical poker props you can imagine make their way to the annual WSOP at the Horseshoe and Paris. And there are even a few "budget" WSOP tournaments that have a buy-in of under $1,000 if you'd personally like to take a shot at fortune and fame!
Operating under the Caesars Entertainment umbrella, the Paris and Horseshoe poker rooms are truly a sight to see in the summer. However, if you're arriving during the "off-season," there are still a few daily tournaments at the Horseshoe's Hall of Fame Poker Room with relatively low buy-ins that locals and tourists can take part in. But these daily events truly pale in comparison to the sheer scale of the World Series of Poker.
Tips for Playing Live Poker in Vegas
If you're new to the Las Vegas poker experience, you'll be well advised to take some of the following tips into consideration in order to make the most out of your poker playing experience:
Budget Poker Players
A live poker player who is operating on a relatively small budget will be faced with the inevitable reality of high rake games at poker rooms. If you're looking to enter a cash game with $50 to $200, then your best bet might be to find a very low stakes Fixed Limit game and see if you can stretch that experience into a few hours at an actual poker table. Even then, there will be plenty of live Vegas poker games that are simply out of your budget unless you're willing to risk at least $500 in a single session.
For tournaments, a budget Las Vegas poker player will want to keep a keen eye on the difference between freezeout and rebuy or re-entry tournaments. A live $60 live poker tournament might sound attractive at first for a budget poker player (even if only $40 of that goes towards an actual prize pool), but you'll want to look for a freezeout tournament at every opportunity. The reason for this is that the action in rebuy (or re-entry) events tend to be on the looser side during the first levels, and you're much more likely to be faced with a decision to commit all your chips if your opponents have already contemplated multiple reloads.
Lodging Poker Players
If you're aiming to enjoy a weekend poker vacation in Las Vegas, you'll be glad you decided to stay at a hotel-casino that has a busy poker room on its premises.
Even during the down season, transportation to and from different casinos can be expensive while parking can be hectic and convoluted if you haven't arranged for this ahead of time. And while walking to different venues might be an enjoyable activity during mild weather months as a one-off, traveling from one poker room to another by foot is often pretty much out of the question unless you wish to spend more time hoofing it than actually sitting down at a table playing poker.
Some casinos may offer poker room rates for individuals who are planning on spending quite a bit of their time playing in the casino's poker room (this depends on availability as well as the stakes you play). Therefore, it is recommended that you go through the process of obtaining a proprietary membership card – also known as a Player Rewards card – before you make your way to the poker room.
With this said, it is still relevant for poker tourists to keep in mind that they will likely receive superior Player Rewards for participating in casino-style table games or trying their luck at one or more slot machines than they will for live poker play. While high poker rake can make up for a certain percentage of revenue per square foot of gaming space for a hosting casino, it is no secret that slot machines and pit games are generally more profitable for the venue than poker rooms – with very few exceptions.
Poker players should "stay where they play" or "play where they stay" if they wish to engage in marathon sessions. Otherwise, you'll find yourself paying extra to get to and from your cozy hotel room. On the other hand, if the poker room is located in the same hotel you're staying at, you can conveniently request that your meal be sent directly to your room after wrapping up a session or be sent to the poker room before starting to play.
Visiting Poker Players (Poker Tourists)
As a general rule, you might want to avoid Las Vegas poker games as a tourist if they happen to be filled with competitors who treat each hand as if they're starring in their very own Rounders autobiography.
Stay away from venues where you perceive that you might be playing against several local pros who are familiar with each other and who might be participating in a daily or weekend routine of extracting maximum value from lesser-skilled poker tourists.
Perhaps it's one thing to be the "sucker at the table;" and perhaps it's another thing entirely to be the triggering mechanism that results in a group of poker onlookers showing up just to witness how much you're punting (a.k.a., losing as an inferior-skilled player) at a specific poker table.
Be wary of digital communications that might or could occur solely as a result of your presence, and attempt to patronize a Las Vegas poker room that does NOT consistently form a part of a professional poker player network. Also note that freezeout tournaments with dozens of contestants will be less prone to such a scenario than the private or RSVP games that occur within some Las Vegas casino poker rooms.
Enjoy Poker in Vegas
Although there are far fewer poker tables at Las Vegas poker rooms by physical count compared to two decades ago, Sin City is still considered to be a global hub for live poker play.
Low-stakes games, high-stakes games, daily tournaments, marquee poker festivals – they're all a part of the mix, and the poker atmosphere at some Vegas poker rooms can be intoxicating in itself.
Enjoy poker in Las Vegas by planning ahead of time when it comes to lodging, dining, shows, parking, local transportation, and bankroll.
Make the most of your Vegas poker playing experience by ensuring the time spent is both entertaining and worthwhile if you're a poker tourist, and be sure to appreciate the ultra-high traffic real money poker action if you're in Vegas during a seasonal live poker tournament series.
Finding the best place to play poker may be subject to the existence seasonal events, but you'll be glad you planned ahead and prepared for your own, unforgettable experience in a live Las Vegas poker room.
Have fun at the poker tables and enjoy your stay in Las Vegas!