We've known for a while now that the 2023 WPT World Championship festival will be happening at the Wynn Las Vegas this December. However, until just recently, there were no additional details as to the schedule and guarantees. All that has changed, as the WPT has released a full schedule for the series, including their mind-blowing plans for the Main Event.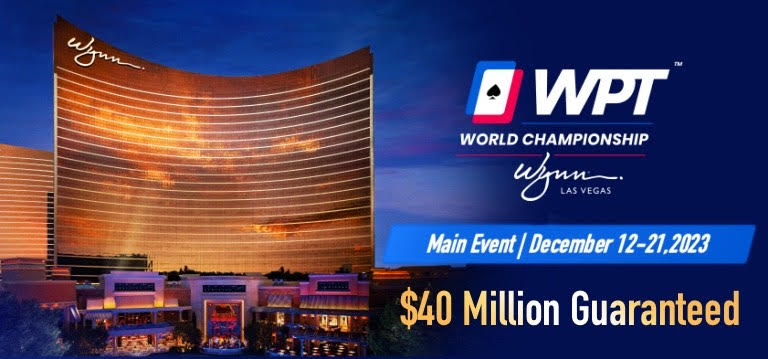 The World Poker Tour and the Wynn will apparently be going all out on the Main Event, as the tournament will feature the largest single-event guarantee in poker history: a whopping $40,000,000. For comparison, the guarantee for last year's (inaugural) WPT World Championship was $15,000,000 and, when first announced, there were serious concerns about a potential overlay.
What ended up happening came as a shock to the organizers and the general poker public alike, as the event almost doubled the initial promise, awarding a prize pool of $29,008,000. This year, the WPT has decided to go even bigger, throwing caution to the wind and giving the Main Event an astonishing guarantee of $40 million!
This is by far the biggest guarantee for any live poker tournament, and calling it ambitious would be an understatement. Since this is a $10,400 event, it will need to attract at least 4,000 runners to hit the target, and that's no small feat for a five-figure buy-in event.
Even so, it's this publication's opinion that the World Poker Tour will once again see massive success, and that they'll not just hit, but also beat the guarantee. We've thought of seven reasons why.
1. Pulling Out All the Stops
The WPT knows that putting together an event like this and offering such a massive guarantee is a very ambitious thing to do, to say the least. They know the market and what to expect, so they're not taking this lightly.
Last year's inaugural festival was a tremendous success, and the WPT World Championship Main Event was the crown jewel. Now, they want to take things to the next level, and they're putting everything they have into it.
Tons of resources are going towards marketing the event. All of the company's ambassadors have already started promoting the Championship, and the organization will be sure to tackle this thing from every possible angle to ensure it is a success. Given the fact we're talking about one of the biggest poker tours in the world that employs some of the best and most experienced people in the industry, we wouldn't bet against them.
2. WPT Global Will Help Fill Seats
For the 2023 event, WPT Global will play an important role in helping prop up the player numbers and send many players from outside of the US to Las Vegas for the Main Event.
The operator has already started running regular satellites for the WPT World Championship, and players can start their journey towards the big one for as little as $5. So, it's safe to assume that there will be at least a few players at the Wynn living their poker fairytale.
On top of this, the room has boosted its already generous welcome bonus to include WPT World Championship satellite tickets, with those making bigger deposits receiving tickets for direct qualifiers. With well over three months to go before the kickoff, it's a safe bet that WPT Global will be awarding seats to at least a few hundred players, if not more.
3. Live Milestone Satellites to Award at Least 300 Seats
Last year, the WPT saw a lot of success with the unique milestone satellite format. These tournaments feature a structure where a player needs to reach a certain predetermined chip count to win the seat. Once they do, their stack is removed, and the rest of the field continues to play following the same format until all seats are given away. This format, quite different from regular poker tournament satellites, proved to be wildly popular with players, who will undoubtedly be eager to give it a go again this year to try and claim their main event seats on the cheap.
For the 2023 Main Event, Milestone Satellites are set to award at least 300 seats, but this number could end up being significantly higher if there is enough interest, of which we have no doubts whatsoever.
Milestone Satellites feature a buy-in of $1,100, but there are also Double Play Milestone events with a more affordable buy-in of $400 that award two $1,100 tickets to each winner, which can be used to enter Main Event qualifiers.
So, these live satellites will ensure at least 300 seats, but we believe the final number will probably be even higher, as many of those present at the Wynn will be looking to take a shot at a seat in the tournament with the largest guarantee in poker history.
4. Live Poker Is on the Rise
Live poker has been through a rough period, but it's back with a vengeance! If there were any doubts about it before, the 2023 WSOP Main Event blew those out of the water, becoming the largest-ever in the history of the Series, finally breaking the elusive 2006 record.
The Main Event attracted 10,043 players, and it featured the same buy-in. Granted, it's hard to compare the WSOP Main Event to any other tournament, as that's the one everyone wants to play, but plenty of other live poker events have been breaking attendance records left and right, too.
All of this indicates that players are hungry for action, and live poker is booming once again. It could be the influence of numerous vloggers and quality live streams driving this trend, or it could be something else, but bottom line: we're confident that the WPT will reach its goal come December.
5. $10,000 Isn't That Big These Days
This may seem like a bit of random reason, but the fact of the matter is that paying $10,000 to play in a poker tournament in 2023 just isn't the same thing it was 10 or 20 years ago. To be sure, it's still a substantial amount, but $10,000 is much more "affordable" than it used to be.
What this means for the WPT Main Event is that more players who don't usually play as high will be likely to take a shot and go a bit outside of their comfort zone to join the battle at the felt. After all, last year saw almost 3,000 entries with a much smaller guarantee and the event being completely new. So, in a way, it's not really that big of a leap.
6. Side Events Will Help Bring Numbers Up
The $10k Main Event is far from being the only tournament on the December schedule. Leading up and around it, there are quite a few more affordable events, including a $600 NLHE tournament with $1,000,000 guaranteed and a $1,600 Mystery Bounty with a $2,000,000 guarantee attached to it.
Creating a big schedule consisting of a mix of affordable tournaments on one side and high roller events on the other (including a $1,000,000 Big One for One Drop) will go a long way towards filling those Main Event seats.
It's safe to assume that many players will head to Vegas to play in some of these cheaper events, and some of them will end up parlaying some success into the Main after deep runs. After all, they'll already be there and will have a chance to "freeroll" a shot at big bucks.
7. The Matt Savage Seal of Approval
We'll wrap the list up with an exclusive quote from Matt Savage, the Executive Tour Director for the World Poker Tour:
"I believe we will hit the guarantee because the Wynn did such an incredible job last year from top to bottom, and it was the most talked about event I've ever been a part of."
Those who have been around poker even a little bit know that Matt Savage enjoys a reputation as one of the best and most respected tournament directors in the business. He's been around for years, and he's the go-to guy whenever someone has a question about tournament rules or policies. Once he makes a decision or shares an opinion on these matters, it is rarely questioned.
All this is to say that he's the kind of man who wouldn't give such an endorsement if he didn't truly believe it to be true. If Savage is confident the Main Event will make its guarantee, he probably has a very good reason for it.
As long as everything goes according to plan, we're confident the WPT will achieve its ambitious goal in December, beating their $40 million guarantee and host yet another epic Main Event. As poker fans, we can't help but root for them to succeed, as it is events such as these that help keep that flame burning and the poker dream alive!