If you've been planning an Atlantic City poker vacation, we've got some bad news for you: whereas right now it's still business as usual for the casinos, tomorrow the entire city will be a ghost town. New Jersey Governor Chris Christie has issued mandatory evacuation orders for the area. The casinos and all local businesses will be shuttered down tomorrow afternoon, with all traffic in and out of the region expected to be brought to a halt by 4 p.m. The reason for the closure? Hurricane Sandy.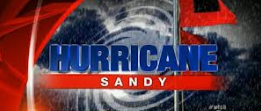 With a state of emergency in effect, Atlantic City gambling is slated to come to a grinding halt for just the 4th time ever since casinos opened on the New Jersey shore back in 1978. Pointedly, the 3rd time happened just last year when Hurricane Irene struck the area.
Meteorologists seem to agree that Hurricane Sandy holds the potential to be far more dangerous than Hurricane Irene was, as it appears to be exhibiting the worst characteristics of both a tropical storm and a nor'easter. Indeed, aside from hurricane-force winds, floodwaters have the potential to reach up to 10 feet high and cause devastating damage.
A quick survey of the major Atlantic City casino websites reveals that only the Tropicana and Revel have so far posted relevant information in advance of the hurricane, with the Tropicana stating it will be closed until Wednesday, October 31st. Surely other major hotel resorts, such as the Golden Nugget, the Trump properties, the Borgata, and the Caesars' properties are likely to follow suit in the coming hours. While it's unclear how long exactly each casino property will be closed for, they'll be off limits so long as the evacuation orders are in effect.
If you already have reservations in place at an Atlantic City casino for the coming week, you're advised to try and contact your establishment directly via phone. If this becomes impossible due to higher than usual caller volume, as is expected, our advice to you is to try and get updated information via the resort's Facebook page or Twitter feed.
Update Oct. 29th: The megastorm is also causing disruptions at two of the country's largest casinos in Connecticut, Mohegan Sun and Foxwoods. While no mandatory evacuation orders are in place yet, there have been a number of closures and cancellations and rumors are flying re: price gauging at the hotel resorts.
Update Oct. 30th: Foxwoods and Mohegan Sun, as well as all 12 Atlantic City casinos remain closed until further notice. Casino losses in Atlantic City are being estimated at $5 million per day of closure. For those of you looking for a bit of an escape to still play poker in the area, the 11 casinos in Pennsylvania remain open and fully operational, according to a spokesperson from the Pennsylvania Gaming Control Board.