The World Poker Tour Rock N Roll Poker Open is in the books, with Andrew Wilson running away with the title for $785,000 and his first WPT title, while Chad Eveslage took over the lead in the WPT Player of the Year race with his 3rd place finish.
We have winner! Andrew @BowieEffect Wilson is the 2022 @WPT RRPO Champion after a tough heads-up battle against Josh Kay. He earned $785,800 and put his name on the Mike Sexton WPT Champions Cup.

Congrats Andrew!

Updates: https://t.co/K8MFeOHar8 pic.twitter.com/5AIzsOGTH7

— Seminole Hard Rock Poker Open (@shrpo) November 30, 2022
It's been an amazing week all around with the perfect combination of an incredible tournament series put on by the World Poker Tour and its incredible team, and an outstanding venue in the Seminole Hard Rock Hollywood Hotel & Casino.
My first time here has been memorable for many reasons, and I can't wait to come back, a sentiment echoed by many players, such as Raminder Singh, who cite this venue as one of their favorites, too.
Here's a look at my five favorite things about the Seminole Hard Rock Hollywood Hotel & Casino (in no particular order).
My Spacious, Luxurious Room
As you may have seen in my opening piece about what I was looking forward to, a room in the famous Guitar Hotel was on the list. Unfortunately, with the high demand here this week, that wasn't possible. However, what I did receive was even better!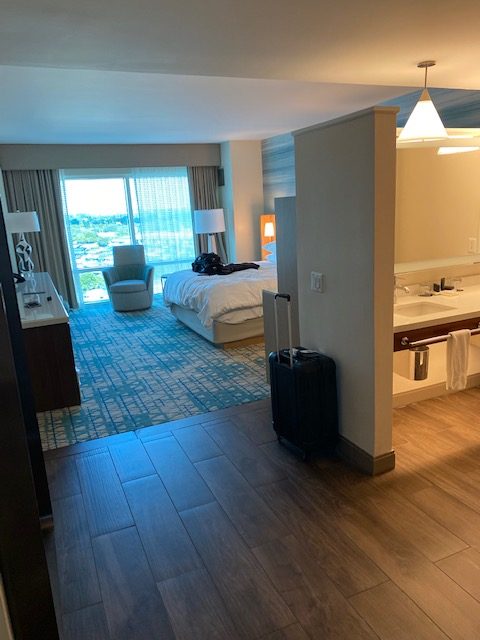 I was set up in the original Hard Rock Hotel, which has been fully renovated with luxurious, spacious rooms, of which I had a plush king bed with super cozy bedding and pillows, a large bright bathroom with a deep bathtub and shower, a 55-inch smart tv, a comfortable desk with plugs, HDMI and USB ports, and a small sitting area in front of a large window…with a view of the Guitar Hotel!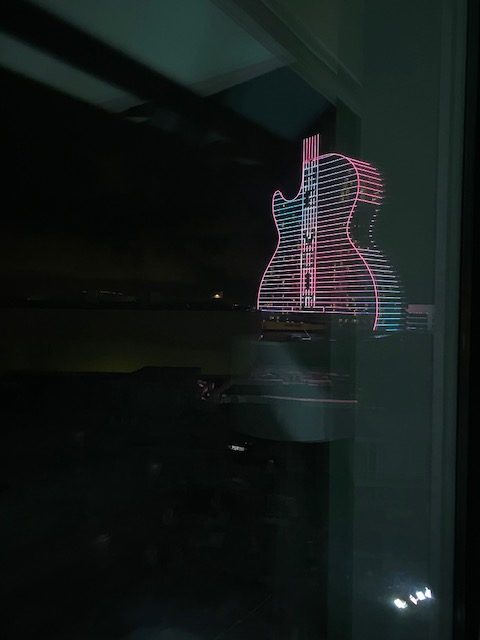 If you're staying in the hotel, how are you supposed to see it and marvel at its architectural glory?
Plentiful Food and Beverage Options
Any good casino resort has an abundance of options in this area, and the Seminole Hard Rock Hollywood more than qualifies.
Starting with a food court containing options such as pizza, burgers, hot dogs, Chinese food, and a kiosk of healthier options, there are plenty of choices for times you need to grab and go.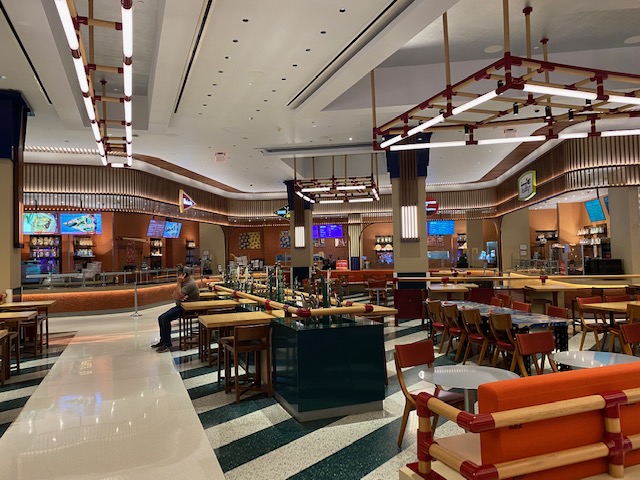 Then scattered throughout the property are plenty of contemporary restaurants, including Rise, where I had many a good and quick breakfast, The Bol, a quality spot for delicious Asian cuisine, and of course, the Hard Rock Café, to name just the places I enjoyed personally.
As for fine dining, there are plenty of great options as well, including Abiaka Wood Fire Grill overlooking the massive pool area (more on that coming up…), Cipresso, which serves Italian-American fare, and the Council Oaks steakhouse bringing diners top-quality steak and seafood.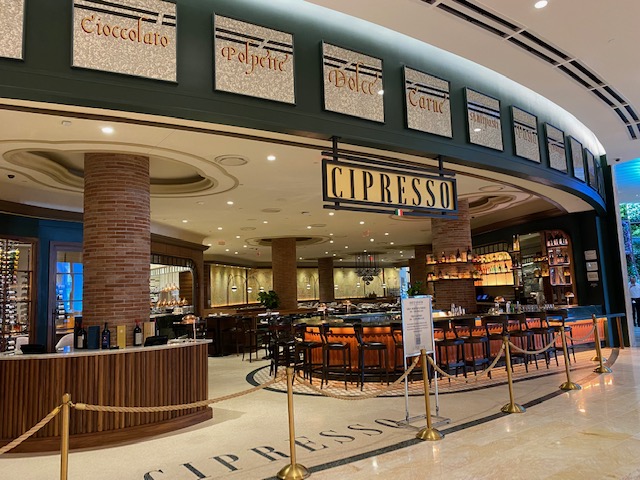 When it comes to bars, lounges, and other spots for a beverage, they too are spread throughout the property with options for all tastes, including a pair of nightclubs, classy cocktail lounges, and a pair of sports bars, both on the casino floor, and the PLA sports bar in the shopping area not far from the poker room which also offers interactive gaming for patrons.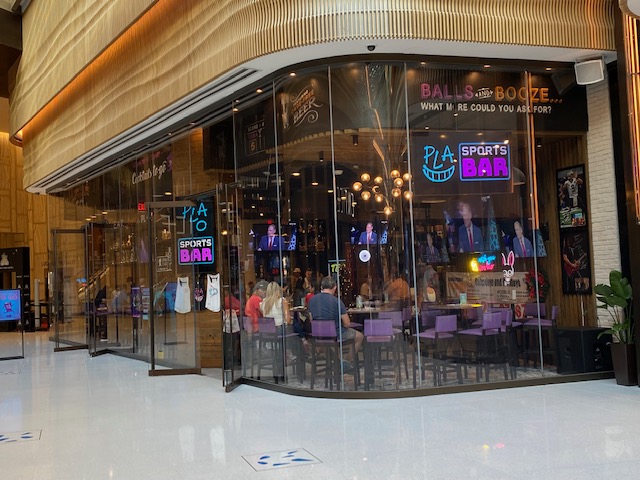 The Seminole Hard Rock Hollywood Poker Room
I mean, what's a poker trip without playing some poker right? Along with my first foray into the incredible SHR Hollywood poker room, of which I did a full review, a second session was far more successful, which allowed me a trip to South Beach the following day on other players' dimes.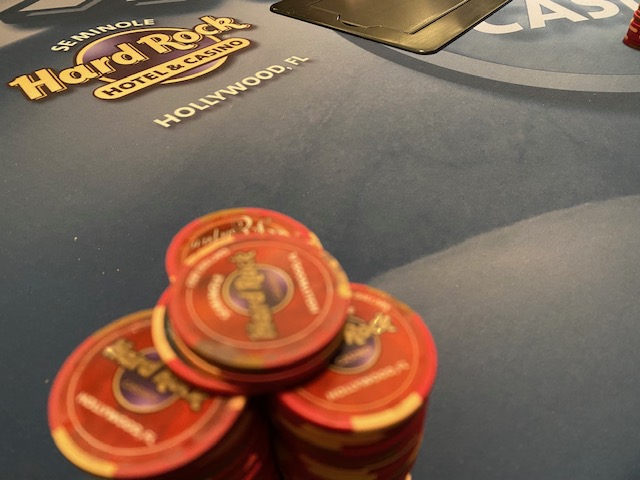 The room instantly became one of my favorites anywhere, and I'll be looking forward to my next session here ASAP.
The Pool(s)
A resort without a good pool is no resort at all. Based on my evaluation of the pool here, I can safely say that the Seminole Hard Rock Hollywood is a RESORT!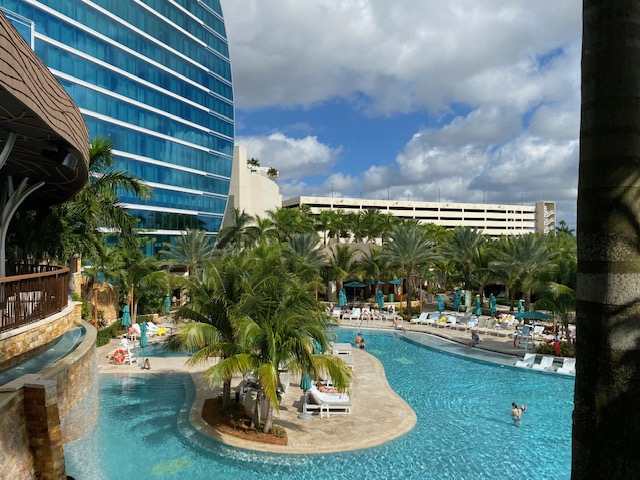 A sandy beach area, loungers, cabanas, palm trees, waterfalls, multiple crystal-clear pools, and even little tables for writers to put their laptops on! All in the shadow of the Guitar Hotel, and that's only the main pool area!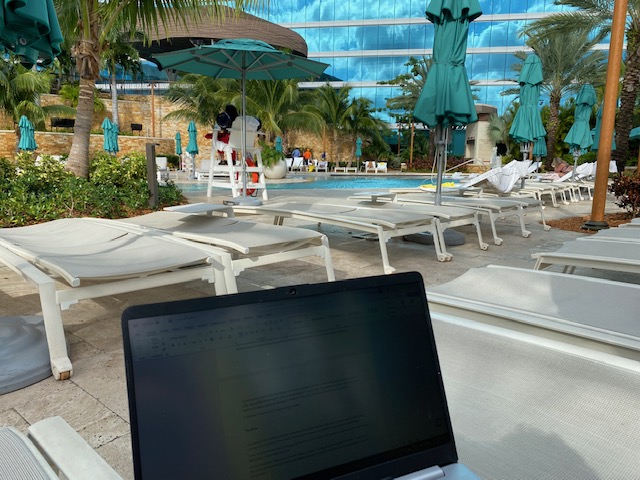 The secondary pool area at the opposite end of the property near the original Hard Rock Hotel was under construction but promises to be re-opened in January 2023, offering more fun in the sun for visitors to the resort.
Cool Music Memorabilia Everywhere
A staple of any Hard Rock Hotel, casino, or cafe is the amazing amount of music memorabilia filling every corner of the property. With a space as massive as the Seminole Hard Rock Hollywood, the amount of cool stuff to check out could fill a museum.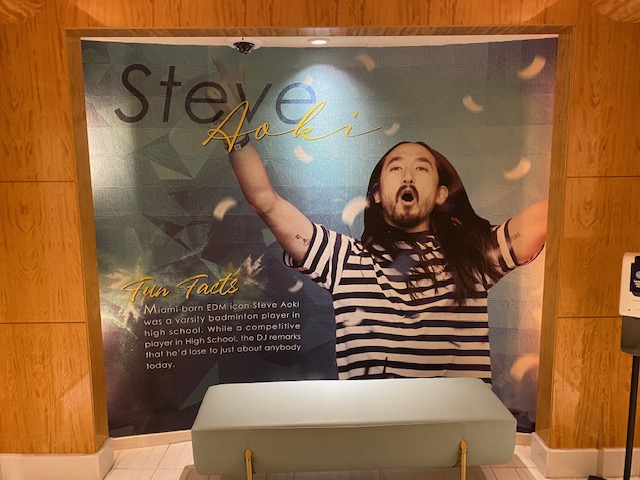 Along with being greeted by a mural of WPT ambassador Steve Aoki at the elevators on my floor, I had a great time scouring the property, trying to find items from my favorite artists, and was happy to find a guitar signed by the late Taylor Hawkins of the Foo Fighters.
Instruments, outfits, and even vehicles can be found throughout the property, each bearing a plaque explaining their significance.
On top of that, visitors to the Guitar Hotel are greeted in the lobby by The Oculus, a massive 35-foot high waterfall that transforms into a musical show, as songs by artists such as the Police, David Bowie, Maroon 5, and many more are synced to the waterfall and a massive screen behind it, providing a very cool water and light show every 20 minutes.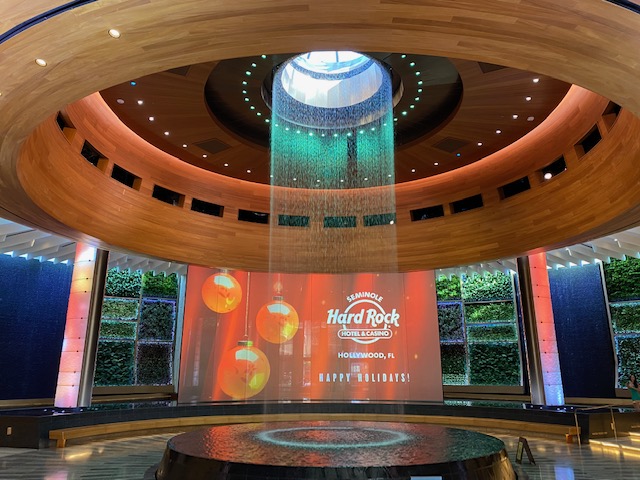 Honorable Mentions
While those were my favorite things that I got to experience first-hand, there's still much more worth discussing, starting with the massive casino floor which includes over 3,100 slot machines, and nearly 200 table games with stakes for all players.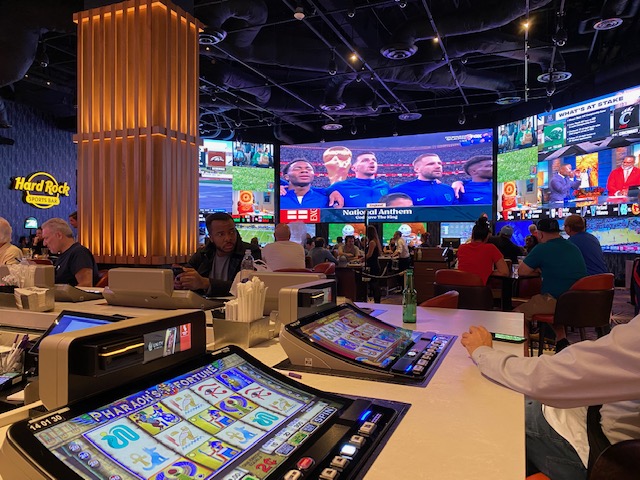 Just off the casino floor is a full shopping area with several high-end stores, a cigar shop and of course the Hard Rock store to grab merchandise to remember your trip by.
There's just so much to enjoy at Seminole Hard Rock Hollywood. With multiple WPT stops and their own series throughout the year as well, it's a location that should be at the top of any poker player's list of places to visit.