Over the past couple years, Sunday has become the most important day of the week for tournament poker players, with the largest (and most lucrative) Texas Hold'em tournaments being spread by top poker sites like PokerStars and Full Tilt Poker on that day each week. Today, PokerStars ups the ante with a $5 million guaranteed Sunday Million tournament, celebrating the fifth anniversary of their marquee weekly event.
Typically, first prize for winning the Sunday Million is a few hundred thousand dollars. Today, though, is different, as PokerStars is guaranteeing no less than $1 million to the tournament winner. With overlays like that, it's no surprise that PokerStars' best and brightest pros will be playing, as a $1 million payday is the kind of money that means something to even them!
Just like every week's Sunday Million, the buy-in remains at $215, and there are still plenty of satellites running where you can earn a seat for as little as $1 or 100 frequent player points (FPPs). The action begins at 2:30 pm Eastern time.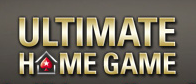 This poker blogger, however, will be taking part in a different PokerStars event instead, as the big Ultimate Home Game managers' freeroll will also be taking place later today. My group of Home Game buddies will be cheering me on, so it's sure to be fun regardless of how I do. As of right now there are over 14,000 players I'd have to defeat, but if I win, I'm going to take everyone to Vancouver where we'll show Daniel Negreanu and Jonathan Duhamel a thing or two about how to really play poker! Ah to dream…