Back in 2010, a zip line was installed in Downtown Las Vegas that allowed tourists from all over the world to travel up and down the area's famed Fremont Street faster than ever before. Now, it seems that MGM Resorts International wants to recreate the experience closer to the heart of the city, right on the Las Vegas Strip. The casino gaming company has submitted plans to the city's authorities to run zip lines across two of its properties, Luxor and Excalibur.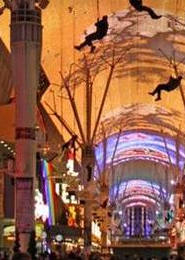 Project consultant Greg Borgel described the planned zip line as "an attraction between Luxor and Excalibur for people who don't want to walk… or perhaps for folks who have decided that bungee jumping is a bit too rich for their tastes".
Size, Scope, and Pricing
Current plans have over half a mile of zip line being strung between Luxor and Excalibur, and then extending down towards the Las Vegas Strip. Riders would launch from either the top of the Luxor pyramid or the middle turret of Excalibur's main entrance to begin their descent.
Each zip line cable would be capable of carrying up to four people at a time, thus allowing small groups of friends or colleagues to race one another to the end of the line
No information is available yet on what it will cost to ride the new zip lines, but chances are it will be similar to the costs of the Fremont Street version ($15–$20). One thing's for sure though – Las Vegas poker players who choose to ride the zip line will learn a whole new definition of the term "downswing"…
FAA Approval Needed
Interestingly, the ambitious project will also require the review and approval of the Federal Aviation Administration (FAA); i.e., the same governmental body in charge of the nation's fleet of airplanes and flight schedules. Kinda makes you wonder whether zip liners will be required to go through TSA-style security procedures before taking flight over Las Vegas, eh? 🙂