With sweeping views of the Atlantic Ocean, glitzy hotels, and a shimmering nightlife, Atlantic City is a practical paradise for partiers and vacationers alike. If months of sitting at home as a result of the COVID-19 pandemic has got you feeling more wanderlust than ever, look no further. There's no better time than now to start saving, planning, and researching your next escape — and what better place to unwind after a long year than with some fun in the sun?
Our guide to Atlantic City has everything you need to know — packing lists, seasonal details, and must-sees — before visiting America's Playground.
When to go
By and large, the summer months are considered peak travel season for Monopoly City. Given the current state of the travel industry, Summer 2020 may be out of reach, but you can still score some pretty incredible deals by booking ahead of time or opting for an off-season adventure. In addition to hotel deals and savings specials, the boardwalks are much less crowded and Spring months like March and May offer up just enough sunshine, minus the humidity.
Bottom line: Rates typically drop right after Labor Day, so be on the lookout if you're planning for a budget-friendly trip!
How to get there
Atlantic City International Airport is located just 9 miles away from the city center, offering both luxury and budget-friendly flight options. Getting to the city from the airport is made simple either by taxi, rental car, or bus service.
Additionally, travelers can fly into Philadelphia instead, and take the hour and a half train into AC for just $10. From Penn Station, you can take the train to Trenton, NJ for $21 and connect to AC's RiverLINE service.
If you're road-tripping, consider taking US Highway 9, which is a toll-free (but sometimes more congested) route.
What to bring
Atlantic City is all about beachside fun, so you'll certainly need the beach basics, but don't forget these travel essentials:
Bathing suit(s) — beaches and pools are as far as the eye can see in AC!
Beach towels — make your mark deckside or reserve your spot on the sand with a recognizable towel.
Sunscreen — keep your skin looking fresh for a fun night out!
Sunglasses — the ideal functional and fashionable accessory.
Robe — elevate your vacation vibe with a summery silk robe (most luxury hotels will provide one, so this one is optional!)
Portable phone charger — capturing the scenery and connecting with travel partners will be much harder with a dead battery, plan ahead.
Evening attire — break out your best for AC's nightlife, and make sure to pay attention to any dress codes for clubs and restaurants on your must-see list!
Casual wear — sandals, shorts, and a tee are all you really need to enjoy a stroll on Atlantic City's infamous boardwalk.
Money — no trip to Atlantic City is complete without a visit to one of the city's state-of-the-art casinos! Make sure to budget for your trip ahead of time, you won't want a tight budget getting in the way of your fun while you're there.

What to do
With so much to see and do in America's Playground, it's a good idea to keep some "musts" in mind as you draft up your itinerary!
The Boardwalk
No Atlantic City vacation is complete without a stroll (or several) on the city's iconic boardwalk. Built in 1870, the AC boardwalk is now home to dozens of amusements, storefronts, and restaurants. Throughout the year, the boardwalk serves as the backdrop for local and national events, including:
St. Patrick's Day Parade
Rock 'n' Roll Atlantic City Marathon
Atlantic City Air Show
Boardwalk Summer Entertainment Series
Lucy the Margate Elephant
Lucy the Elephant is one of Atlantic City's quirkiest and most beloved attractions. Standing over 65 feet tall and weighing 90 tons, this 130 year-old sculpture draws over 100,000 visitors each year. Once home to a restaurant, tavern, and even business offices, Lucy is now reserved for sight-seeing and the occasional Airbnb stay as of March 2020.
If you're looking to add a little whimsy or kid-friendly fun to your AC adventure, you'll definitely find it here!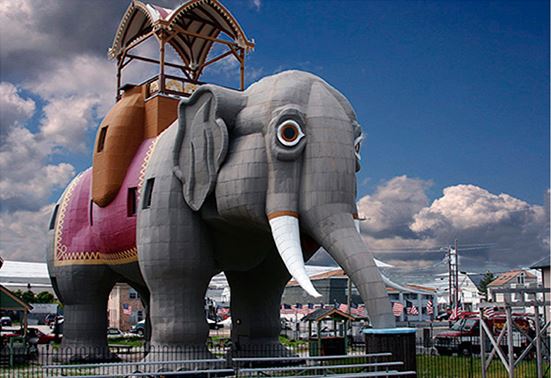 Steel Pier
Seeking an adrenaline rush? Look no further than Steel Pier. Filled with thrilling rides and exciting games, the pier boasts a unique setting over the ocean, overlooking Atlantic City's famous coastline. This is the perfect stop to make if you're bringing kids along for a family vacation.
Not only are there plenty of activities to keep them entertained, but it's easy to pay-as-you-go with their carnival ticket system. Single tickets are $1.25 and each ride ranges from 4-8 tickets, making it a great value for your money!
Gambling
If you're hoping to try your luck leaving Atlantic City with more money than you came with, opportunity is bountiful. With nine casinos lining the boardwalk and surrounding area, you're sure to find fun adult-centered games to indulge in following an afternoon at Steel Pier!
Poker
If you are visiting Atlantic City for gambling, playing poker should be a top priority on your list. Atlantic City may not be as glamorous as somewhere like Vegas, but as a result, you will likely be able to save on accommodations, giving you extra cash to play poker with. Borgata's poker room is easily considered the best place to play poker, even earning accolades across all of the East Coast. The room boasts 85 tables and has been home to prestigious marquee poker festivals from operators such as the World Poker Tour. Aside from Borgata, Harrah's, Tropicana, and a few other casinos offer poker tables, just not with quite the same level of action as Borgata.
Aquarium
For a break from the summer sun, be sure to check out the Atlantic City Aquarium! Catch a stingray feeding or view a Bearded Dragon lizard during their live animal shows, or simply gaze at the colorful fish for a relaxing recharge. With tons of unique sea species to marvel at and interactive exhibits to learn from, this is a must-see for anyone looking for some enrichment during their stay.

Absecon Lighthouse
Not only is Absecon Lighthouse New Jersey's tallest, but it also houses fun summer activities such as free yoga classes, live music, and nighttime climbs to its viewpoint.
Wrapping Up
Atlantic City is an ideal backdrop for family fun, adults-only adventures, and more! From historical and aquatic learning experiences to awesome adrenaline rushes, America's Playground is sure to have something for everyone. As you start planning your upcoming trip, keep these tips and attractions in mind.