Last month, to mark the occasion of Cardplayer Lifestyle's ninth anniversary, I announced a giveaway via our monthly newsletter (if you've not yet subscribed, now would be a great time to do so 😊).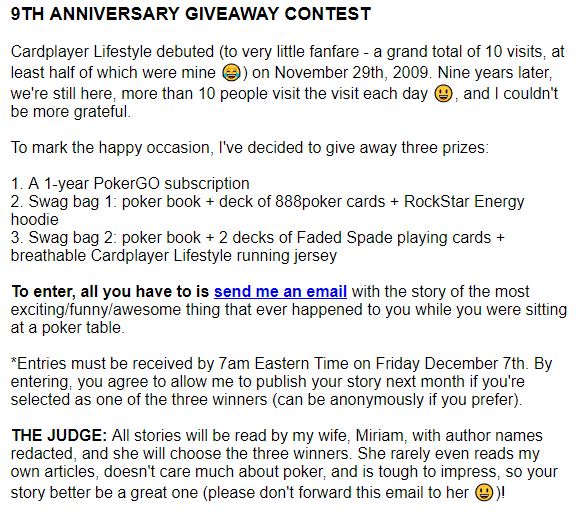 My wife has reviewed all the submitted entries and has chosen her top three. Congratulations to the winners: C.P., Peter Jones, and Keith Woernle; your prizes are on the way! I hope you all enjoy reading their poker stories – they're pretty darn good!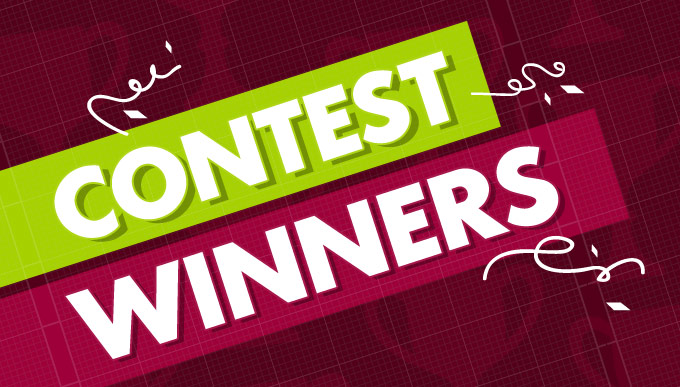 That's Poker Baby
About a year or two ago, a regular well-known player in my local poker room was expecting the birth of a child with his wife. He was playing as he normally does when the call comes in that she was in labor. Everybody was so excited for him, for his new child. We figured he'd run off to the hospital and we will see him again when things settled down in a few days.
Not the case.
He grabbed a seat marker to save his spot as we all looked on in disbelief. I can't remember exactly, but it was either at a $1-2 NL or $5-5-10 PLO table. He headed off to the hospital and made it there in time  for the birth of his child. We figured that the marker was just a joke. Lo and behold, a few hours later he reappears and sits down to play, proudly showing us pictures of his new baby! He posted his blinds and the game carried on as usual.
Getting a marker for the birth of a child and returning to your seat within hours was the most amazing thing I have seen at a poker table. He is a great family man and person in general, but this blew the minds of all within an earshot of the table.
– C.P.
A Bad Beat For The Ages
For almost the past four years my wife and I have been playing poker together. Whether it's NL Hold'em, PLO, mixed games, tournaments, or charity events, it is a game that we have fallen in love with. We both have a passion to play, learn, and study this great game. The game of poker has brought us closer together and opened up a whole new world of opportunities and adventures. It wasn't always this way, but one night of poker changed our lives.
In March 2015 we decided to have a weekend getaway at a "local" casino. We live in Boise, Idaho, so our "local" casino is a three hour drive away, in Jackpot, Nevada. We played a little slots, some blackjack, etc. Then my wife suggested we try poker. At first I was reluctant. She had never played poker in a casino before and while I had prior playing experience I was far from being any good.
We sat down at a $3/6 limit hold'em table (at the time no-limit was scary!) and bought in for $100 each. There was a person between us and we were playing for a couple hours, winning some and losing some, but having fun drinking cocktails and chatting it up at the table. Then comes the following hand: I'm in the BB (I had no clue to as to proper blind playing, etc.) when I look down at 3d3h. It gets around to me and I call. I think we had about eight callers pre-flop. The flop comes and it's JdJh3s, giving me a full house. The gentlemen to my right (SB) bets $3. I quickly call and so do a few more people. The Turn brings the 8s. The small blind bets $6, I call, and a couple more people call, too. Remember this is a $3/6 limit game! The River brings the 3c giving me quads!
Holy hell I was excited!
The SB bets $6 and I ask if I can raise and how much (just slightly nervous), and I raise it to $12. Everyone else folded and the SB calls. I proudly show my hand and say, "I have four of a kind!" I think there was a little over $100 in the pot so of course I was ecstatic. He looks at me and replied, "I hate to do this to you but I have quad jacks" and he turns over his two jacks. Oh man, I was so bummed. I looked at him and said, "Nice hand, sir," but inside I wanted to vomit.
All of a sudden someone else at the table stood up and yelled, "Holy shit! It's a bad beat!" The dealer waved his hands across the table and told everyone to stop and to not touch anything. I was clueless as to what was happening and thought I did something wrong. The dealer tells me I just hit the bad bead jackpot and just won a bonus. Turns out the bad beat jackpot was $75k. My wife got $2,800 as a table share, the gentleman with the quad jacks received $12,500 and I got a check for $35,000!
Fast forward to today and both of us love this game and love the poker community. We can't wait for the future!
– Peter Jones
A Prince in Mississippi
My story comes from a long, long time ago, in a land poker has since mostly forgotten: Tunica, Mississippi.
I was in college at the University of Mississippi, more commonly known as Ole Miss, and the poker bug was about to sink its claws in me and never let go.
The year was in 2006. Joe Hachem was the reigning world champion, partypoker was the largest site in the world, and GTO only existed in some textbook. I had just begun playing the game a year before in what had to have been the greatest college home game ever.
Now, in 2018, Tunica is but a footnote on the poker landscape, but in 2006 business was still booming. The economy was great. Poker was alive and well on TV, online, and in our hearts. And the money, sponsorships, and comps were all flowing freely.
Free rooms, free drinks, free buffets. Tunica was the Las Vegas of the South and a perfect destination for my 21st birthday.
Unbeknownst to me at the time, these were the days of $10k buy-in WSOP-Circuit Main Events and $10k WPTs. One just happened to be kicking off during the middle of January as my friends and I strolled into the Gold Strike casino with pockets full of cash and heads full of dreams.
I had just turned 21 and was ready to play some cards.
And play I did. The cards were breaking even for me, but my friends and I were enjoying some drinks and each other's company. About three hours into my session I was up around $50 after buying in for $120 at the $1/2 table. (I know, I know).
Needing to stretch my legs, I decided to take a little break and ventured on a five-minute walk to the upstairs conference rooms. But as I turned the corner into the main hallway I noticed a lot of commotion going on down at the end of the hall. This was strange because this part of the casino was generally empty. I walked over and turned the corner into the main ballroom.
And my head exploded.
Completely unknown to me, the World Poker Open was being played that very minute. Freddy Deeb, Michael Mizrachi, Josh Arieh, and other famous players were all playing in that room. I walked around shocked and elated for a solid 15 minutes before running to get my friends to tell them this tournament was going on. We were in heaven. We took pictures, asked for autographs, gave high-fives. We fan-boyed.
When I finally made my way back to the poker room, the staff had understandably picked up my stack since I had likely been gone 90 minutes.
Still geeking out, my friends and I grabbed another drink and sat down at a new table. This time I bought in for just $100 and had only played about three hands when it happened…
I turned around and who should I see walking into the poker room?
None other than Scotty Nguyen, one hand wrapped around his girlfriend, the other around a Michelob Ultra.
I immediately jumped and said, "Scotty, you're the prince, baby!"
"Thank you, baby!" he answered.
I'm not really sure what Scotty was doing there. It looked to me like he was just scouting out the area. I think for a guy like Scotty Nguyen, either he didn't play cash games at all or the games running weren't really big enough to interest him. Remember, these were the days when Scotty was probably paid $50k just to wear a UltimateBet hat.
My $1/2 table was the one located closest to the entrance and also closest to Scotty, who was just standing there looking around the room, and looking kind of bored.
And so, high on adrenaline and low on inhibitions, when it folded to me I held up my hand so that only he could see it and said, "What should I do, Scotty!?"
"All in, baby!" he responded, almost certainly not looking at my hand.
Sounded good to me, and I shoved all in for $106. The big blind, who had maybe $1,000 in front of him, shrugged and tossed in a call.
Oh. Things were serious now.
I looked down at my hand to see… two eights! I immediately turned them over and watched the board run out all low cards. My opponent tapped the table and flung his cards into the muck!
I fist-pumped. I high-fived my friends. I turned to celebrate with Scotty, who was already walking away. I ran over to him and shook his hand and exclaimed, "Thanks for the advice, Scotty!"
"You got it, baby," he answered undoubtedly having absolutely no idea what I was talking about.
– –
Today winning or losing $106 wouldn't raise my pulse by 5 BPM, but back in 2006 it was the highlight of my week, if not my month.
Because I was 21. It was college. It was the poker boom. And it was with the Prince, baby.
A week later Scotty won his first and only World Poker Tour title and nearly $1 million dollars.
I guess we both had pretty good weeks.
– Keith Woernle