Las Vegas is still buzzing over the Golden Knights improbable run to the Stanley Cup Finals, and the Golden State Warriors wrapped up another NBA title and look like an unstoppable basketball dynasty.
As seasons come to a close in two of our major sports leagues here in the US, the 2018 World Series of Poker is in full swing. With NHL hockey, NBA basketball, and NFL football on hold for a few months, perhaps we once again see some of our favorite sports superstars show up at the biggest poker event in the world?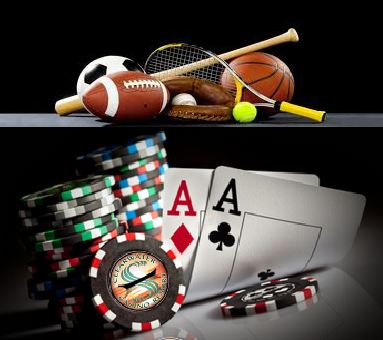 Superstar Olympian Michael Phelps has already been spotted walking the hallowed halls of the Rio and playing in some big cash games in the high-limit King's Lounge in the Pavilion Room, and of course the world's biggest soccer stars are out in Russia playing in the World Cup. But what about other athletes? On the one hand they can of course do as they please, even if it means just sitting around and playing online casino games at sites like Planet Fruity, but we poker fans would certainly hope that their competitive fires are lit and that they'd wish to play some poker at the World Series.
Here, then, are five other athletes who have played at the WSOP in years past, to varying degrees of success, the first of whom is of course a regular now, but the others remain to be seen.
Greg "FBT" Mueller
Quite possibly the most successful athlete-turned-poker pro of all time, Greg Mueller spent nine seasons playing professional hockey in Germany before embarking on a lucrative career in poker.
Mueller discovered poker on road trips during his hockey days and, after retiring from the sport in 1999, he returned to his native Canada and began making a living playing cash games. Mueller started appearing in live tournaments in the early 2000s and made a splash at the 2005 WSOP with four cashes, including a final table appearance in the $5k Limit Hold'em event.
Welcome back to the @WSOP mr @philivey … sorry for winning a small pot against u! #Legend #GOAT pic.twitter.com/RvEmuKEY97

— Greg Mueller (@GregFBT) June 3, 2018
Those were just the early years of what's been a fantastic career at the tables for Mueller, who has amassed more than $2.8 million in winnings and a reputation as one of the most feared Limit Hold'em players in the world.
Known by the nickname "Full Blown Tilt," Mueller has 40 WSOP cashes in his career, including 13 final tables and two bracelets. Both WSOP tournament wins came in 2009, in the $10k Limit and $1,500 Limit Shootout events. After his second bracelet win Mueller was hailed as "the top limit hold'em tournament player in the world" by then-WSOP Commissioner Jeffrey Pollack.
Mueller has continued to be a force at the WSOP, finishing 191st in a field of 7,221 in the 2017 Main Event.
Paul Pierce
The recently retired Pierce was a 10-time All-Star and won an NBA championship with the Boston Celtics in 2008, and at 6-foot-7 he's easy to spot on the floor at the Rio when he drops in for some WSOP action. He's said that he enjoys playing poker as a way to fuel his competitive spirit, without the physical demands of basketball.
He participated in the Main Event in 2011, as well as in 2013 for the $10k Pot-Limit Omaha Championship. Pierce returned for the 2014 Main Event and made his deepest WSOP run, making it through to Day 3 before busting out about 100 spots short of the money. Not bad for an event with 6,683 entries.
The future Hall of Famer's basketball salary was $15 million in 2013-14, so Pierce was probably OK losing the $10k buy-in. He drew quite a following on the rail during his 2014 run, and perhaps someday he'll score his first Main Event cash.
Richard Seymour
Much like Pierce, Richard Seymour is a sports legend in Boston, having won three Super Bowls as a member of the New England Patriots. After retiring from football in 2012, the 12-year NFL veteran turned to poker to challenge himself during life after football.
Seymour has done quite well for himself at the felt, with numerous cashes in large buy-in events. His career live earnings currently stand at $529,997, with most of that coming as a result of a 3rd-place finish at the 2018 PokerStars Caribbean Adventure High Roller.
Richard @BigSey93 Seymour just flexed his 💪 at the #PCA2018 $25K High Roller final table, but will the #Patriots flex on the #Jaguars and head to another #SuperBowl? 🏈 pic.twitter.com/NmzZUDlA6s

— Poker Central (@PokerCentral) January 21, 2018
The former All-Pro defensive end netted $376,360 with that finish, and Seymour also has two WSOP cashes to his credit, both in 2017. Seymour finished 24th in the $1,500 No Limit Hold'Em event for an $11,144 payout, and also cashed in the $888 Crazy Eights NLHE event.
All of Seymour's live cashes have come in the last four years, and he has a resume any solid poker player would be proud of in such a short span. Other big cashes for Seymour include an 18th-place finish in the 2016 WPT Five Diamond World Poker Classic Main Event.
There's a pretty good chance we'll see him at this year's WSOP, and poker pros know that Seymour is just as formidable at the tables as he was on the football field.
Alex Ovechkin
The Pocket Fives player database lists a player with the screen name Kryptokram on Full Tilt and PokerStars, with the real life name "Alex Ovechkin" and profession "hockey player."
Could this really be the NHL superstar with a couple of online poker accounts? His last cash was in a $4.40 tournament on PokerStars on May 26, just two days before Game 1 of the Stanley Cup Finals between Ovechkin's Washington Capitals and the Vegas Golden Knights.
Well, obviously there's a pretty good chance Kryptokram isn't the real Ovechkin, who was busy in late May and early June leading the Capitals to the franchise's first championship, and earning the Conn Smythe trophy as the Stanley Cup Playoffs MVP along the way.
However, Ovechkin has showed up at the WSOP before! In 2009, he made an appearance in an NHL-sponsored charity tournament. The nine-time NHL All-Star was spotted walking through the MGM Grand in Las Vegas after the Stanley Cup victory, so who knows; maybe he'll come back through Sin City to play some poker this summer at this year's WSOP.
John Salley
Four-time NBA Champion John "Spider" Salley shows up in the Hendon Mob database with zero live cashes to his credit, but he does rank 49,473rd in the poker popularity rankings.
The 6-foot-11 retired power forward played 11 seasons in the NBA and has made numerous appearances in celebrity poker events since his retirement. He appeared on the PokerStars Million-Dollar Challenge as a celebrity opponent on the first episode of the show, and also played at the 2009 WSOP Main Event as a PokerStars-sponsored player.
Salley busted out on the first day of the Main Event but got plenty of air time on the ESPN broadcast, making his appearance memorable nonetheless.
Which athletes would you like to see make an appearance at this year's World Series of Poker? Let us know in the comments, below.