Back in May, the World Poker Tour made a major announcement, that they'd be setting sail on the inaugural WPT Voyage, a first-of-a-kind "full ship takeover" of Virgin Voyages' Valiant Lady. Scheduled to take place next spring, from March 31-April 6, the WPT Voyage will combine all the best aspects of a top-of-the-line cruising experience with world-class poker tournaments and cash games.
We spoke with WPT Vice President of Strategic Partnerships Warren Woodall to get a deeper understanding of what the WPT Voyage will be like both from a poker playing and poker fan standpoint, as well as what sorts of adventures passengers can expect away from the seafaring felt. In addition, World Poker Tour President and CEO Adam Pliska also shared some insight with us as to how the WPT Voyage materialized and progressed from the seed of an idea to eventually take its present form.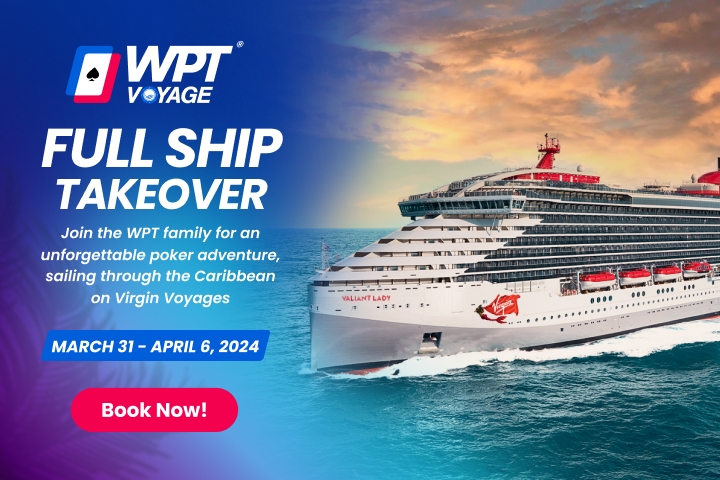 How many passengers are you expecting to welcome on the WPT Voyage?
Warren Woodall: The Valiant Lady is equipped with 1,400 cabins. We are expecting to have upwards of 2,200 passengers.
How many poker tables will be set up in the tournament area? How about the cash game area?
WW: In total, WPT Voyage will have more than 80 poker tables with 20 of them reserved for cash games.
Will the poker areas of the ship be open 24/7?
WW: Cash games will be open when we are in international waters. Late night poker tournaments will go until 3am.
The WPT Voyage is being advertised as a "full ship takeover". Can you give us an idea of what exactly that means? How will that be tangibly manifested?
WW: Most poker cruises have a tiny portion of a very large ship, but WPT has taken over the entire Virgin Voyages ship, meaning it is completely ours for the entire week and can dictate many other aspects of the voyage, such as destinations, room usage, entertainment, etc.
We have worked in coordination with our partner Virgin Voyages on almost every aspect, and they were more than happy to accommodate for our vision of a poker extravaganza "full ship takeover."
Surely a host of WPT talent and ambassadors will be aboard the ship as well. Would you be able to share with us a list of some of the confirmed WPT-affiliated passengers that folks might bump into while aboard the Valiant Lady?
WW: All WPT talent, ambassadors and members of the Royal Flush Crew are scheduled to attend.
This SPRING — the @WPT takes over an ENTIRE @VirginVoyages ship featuring a @WPT Championship, @WPTPrime Championship and tons of off the felt activities! 🚢

📆March 31 – April 6
💰$1.5 million in guarantees

Book your cabin now! We'll see you on board! https://t.co/TssP8s6wUD pic.twitter.com/tMOWIjyRm8

— World Poker Tour (@WPT) October 19, 2023
There are obviously many cruise companies out there, and cruising is more popular than ever before. What specifically prompted the World Poker Tour to opt to work with Virgin Voyages? In particular, why do you see their brand as one that complements that of the WPT?
Adam Pliska: The inception of our partnership with Virgin Voyages actually came from a conversation I had with Richard Branson on Necker Island. I mentioned to him that WPT has done poker cruises in the past, and he responded with 'Why don't you do the cruises on Virgin Voyages?' I joined him on a Virgin Voyages cruise for his birthday and it was a phenomenal experience.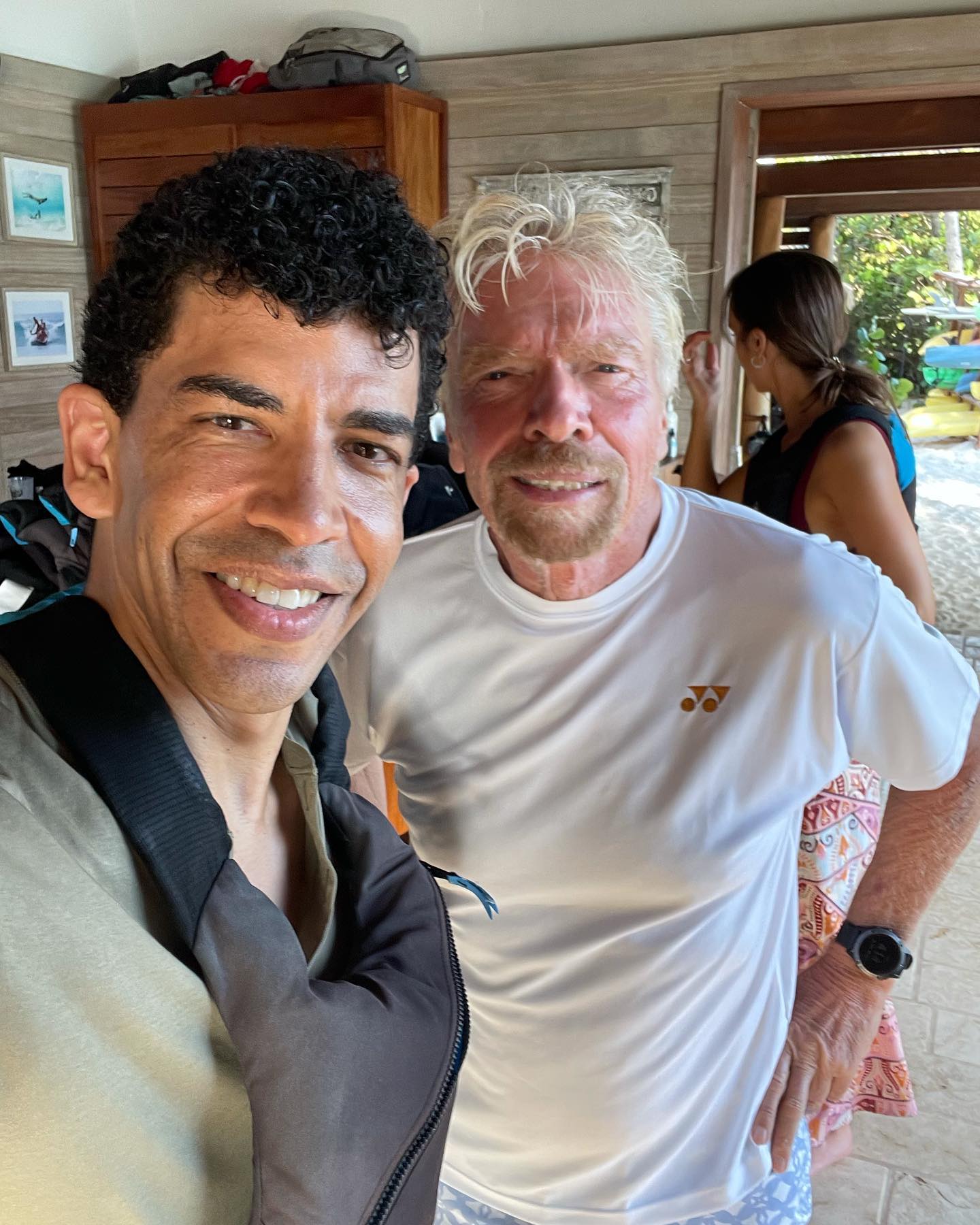 The brand complements WPT in so many ways, from the 18+ age limit for sailors to their exceptional customer service on board and propensity to providing passengers with a fun, once-in-a-lifetime experience. The WPT Voyage is set to be an extraordinary reunion celebration for the poker community.
To many poker players, embarking on the WPT Voyage would seem like a dream. Most cabins accommodate two people though, so I'm wondering what else will there be to do on board for those "significant others" who may not be too into poker?
WW: There will be an abundance of activities available to sailors, such as top-class dining experiences, immersive theatrical performances, an amazing top-deck pool area, fully equipped workout facilities, trivia nights, and more. When docked in Grand Cayman, there will be a pickleball event with Vince Van Patten, Golf tournament with Phil Ivey and Matt Savage, and a tennis event with Tony Dunst.
Poker, Sailing, and Pickleball… my favorite combinations! 😜

An unforgettable poker adventure Mar 31 – Apr 6, 2024, on @WPT Voyage with over $1.5M in GTD! https://t.co/v18e4Nf73x #WPTVoyage pic.twitter.com/R2jt4dscdV

— Vince Van Patten (@VinceVanP_WPT) September 14, 2023
As per the "events" section of WPTVoyage.com, we know there's going to be a $5,000 Main Tour Championship event with a $1 million guarantee, a $1,100 WPT Prime event with a $500,000 guarantee, high roller and super high roller events, and smaller events in the $150-$600 buy-in range, including PLO, Tag Team, Heros, and more. Will you be releasing a formal "schedule of events" at some point so that players can plan out their tournaments of choice ahead of time?
WW: Yes, an official tournament schedule is still yet to be finalized but should be released sometime this month.
Will there be any sort of provisions/possibilities for advance payment of tournament buy-ins for passengers who don't feel as comfortable bringing large sums of cash aboard the ship?
WW: Players will have multiple options to send money to their onboard ship account ahead of the WPT Voyage. Once aboard, all poker & casino activities will be completely cashless. This is the beauty of Virgin Voyages' payment system. Sailors load money onto a wristband that is then used for payment across the entire ship.
For those who've already booked their cabins, or who are intending to do so, can you share any important logistics tips/advice as regards arrival to the ship, boarding, etc.?
WW: All sailors will need an official passport, and that passport must not expire within six months of the disembarking date (April 6, 2024). On March 31, boarding begins at 2:00 p.m. EST. Sailors need to arrive at Terminal V in Miami no later than 4:30 p.m.
The best way to learn more about these procedures, and for any other specific questions about the ship is to chat with one of our customer support representatives at (316) 747-4446 or live chat on the website at wptvoyage.com.
Plan Your WPT Voyage, or Win One for FREE!
If all of that sounds enticing to you, we've got great news: you could potentially win a FREE WPT Voyage prize package, valued at over $5,000!
Cardplayer Lifestyle will be awarding a WPT Voyage prize package to the winner of our $260 HORSE tournament at Mixed Game Festival VI at Resorts World Las Vegas on November 30.
The package will consist of:
7-day Caribbean cruise for two in a Ltd View Sea Terrace cabin
One $1,100 buy-in to the WPT Prime tournament during the cruise
Covers WiFi, food, essential drinks, and gratuities
*Note: Prize does not include cost of travel to Miami, Florida, to board the ship. Winner is responsible for making their own such arrangements.
The WPT Voyage is expected to sell out, so if you want to play things safe and not risk missing out, you can bet on a sure thing and book your cabin today