Cardplayer Lifestyle will be hosting its sixth Mixed Game Festival, a five-day affair at Resorts World Hotel and Casino in Las Vegas, with a WPT Voyage Prize Package to be awarded.
We're proud to announce that Mixed Game Festival VI will see a return to the fabulous Resorts World Las Vegas from November 26-30 to stage what's sure to be another exciting week of mixed game poker.
This time around, the festival will include a pair of tournaments, namely a $260 Omaha 8/Stud 8 tournament on Monday November 27, and a $260 H.O.R.S.E. tournament on Thursday November 30 as our grand finale.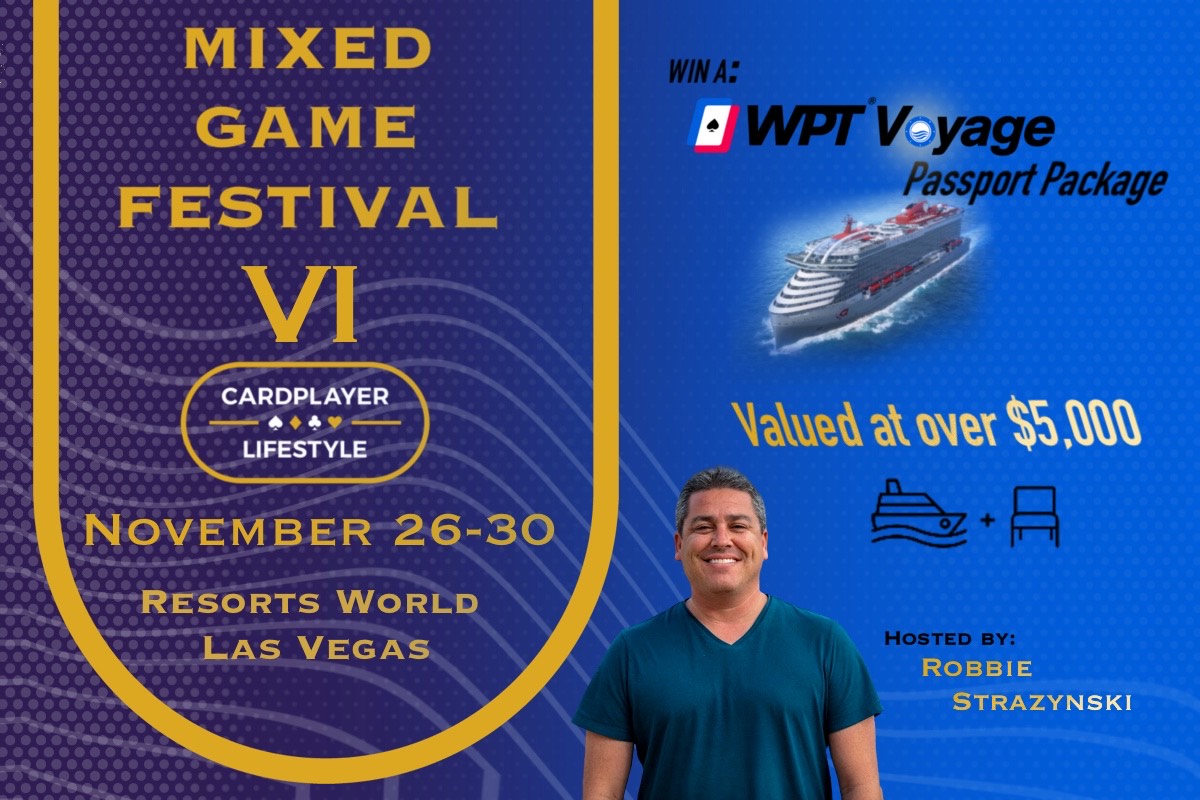 Alongside the two tournaments, nonstop dealer's choice cash game action will be spread at limits as low as $4/8 and $8/16, with higher stakes available upon request.
Cardplayer Lifestyle Omaha 8 – Stud 8 Tournament Structure + Rules
Cardplayer Lifestyle H.O.R.S.E. Tournament Structure Sheet + Rules
"Resorts World Poker Room is thrilled to extend a warm welcome to the Cardplayer Lifestyle's Mixed Game Festival once more. Join our first class dealers for an engaging week filled with social interaction and exhilarating mixed game poker. As part of the festivities, we're proud to present both O8/Stud8 and H.O.R.S.E. tournaments for your enjoyment" said Leon Wheeler, Director of Poker Operations at Resorts World Las Vegas.
Grand Prize Package Details
The WPT Voyage Prize Package, which will be awarded to the winner of our H.O.R.S.E. tournament, will consist of:
7-day Caribbean cruise for two in a Ltd View Sea Terrace cabin
One $1,100 buy-in to the WPT Prime tournament during the cruise
Covers WiFi, food, essential drinks, and gratuities
*Note: Prize does not include cost of travel to Miami, Florida, to board the ship. Winner is responsible for making their own such arrangements.
Estimated total value of the prize package is over $5,000. The 2023 WPT Voyage is scheduled to take place aboard Virgin Voyages Valiant Lady between March 31-April 6, 2024.
Schedule of Events and Giveaways
A hallmark of our Mixed Game Festivals are the "value adds", and that will begin right away with a fun-filled Pizza Party to kick things off at 12pm on Sunday November 26th.
At 11:30am on Tuesday November 28th, we'll stage a Poker Trivia competition, with hundreds of dollars in prizes to be won, to be immediately followed by cash games.
On Wednesday November 29th (final time TBD), we'll be staging a special poker book launch with Lexy Gavin-Mather, who will be signing copies of her brand new book Mastering Small Stakes No Limit Hold'em Tournaments, published by D&B Poker. Copies will be specially priced at $30 apiece and a portion of proceeds from book sales will be donated to Poker Gives, a non-profit organization that distributes funds to assist military families, homeless veterans, and youth programs in Las Vegas.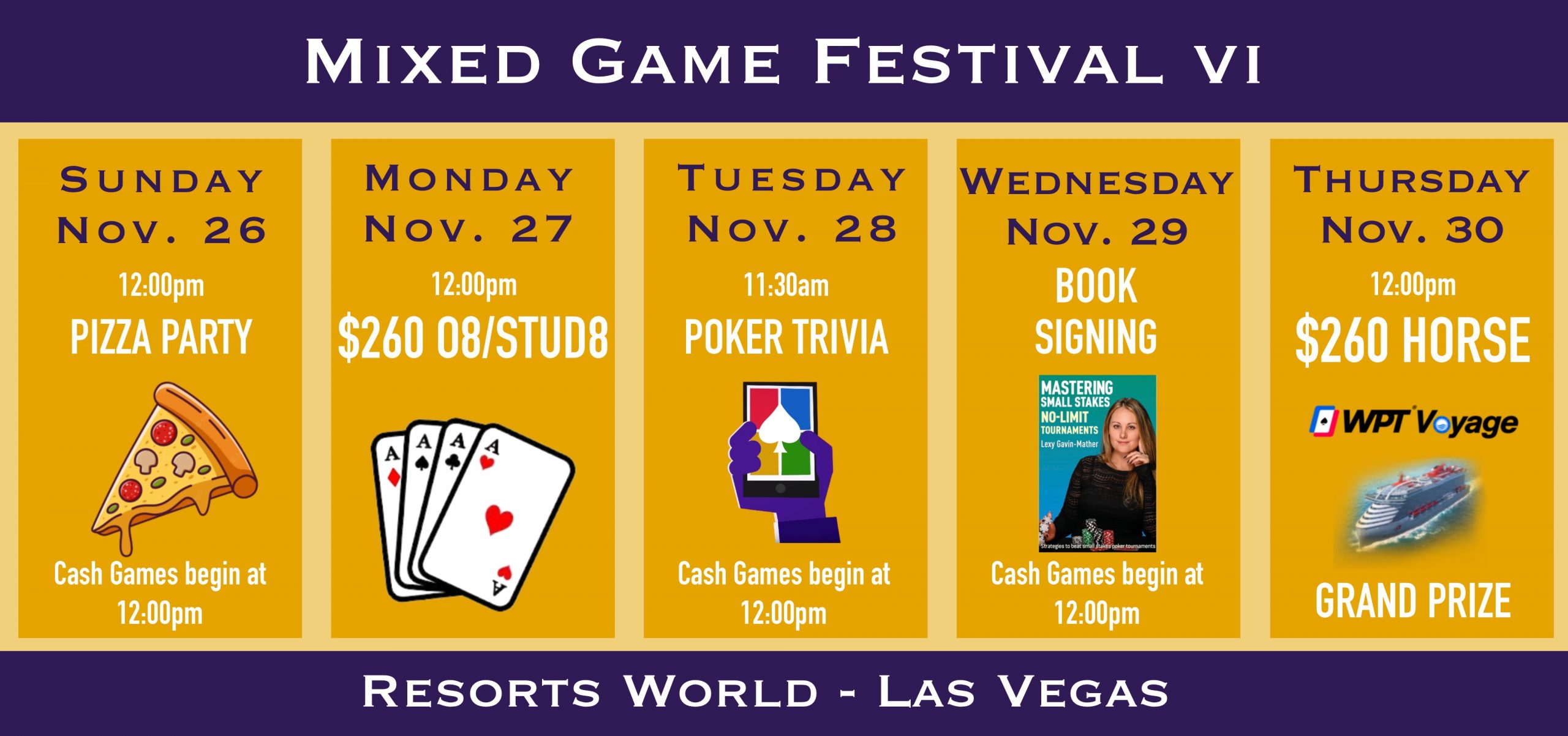 Throughout the festival, we'll be giving away plenty of merchandise courtesy of premium poker industry brands like: PokerGO, BBO Poker Tables, D&B Poker Publishing, and Faded Spade Playing Cards, as well as some special mixed game-focused booklets by Jim Donahue!
You can score discounted hotel room rates at Resorts World by using promo code YYPKR when booking online or calling directly: 1-833-930-3888.
Daily Mixed Game Festival Coverage
We will once again be producing daily recaps that highlight all the action during our Mixed Game Festival, and you'll be able to find them right here on Cardplayerlifestyle.com. We'll also be covering the festival extensively via social media on our Twitter and Facebook accounts.
A Pokercoaching.com Player of the Day will be selected for special recognition on each day of the Mixed Game Festival and will have "their story" written up on our daily recaps.
Show up and take part in the festivities, and you could "see your name in lights" alongside some top poker pros and popular poker personalities who've pledged to come and take part in all the fun.
Looking forward to seeing you all in Las Vegas!
Got questions about our upcoming Mixed Game Festival? Please contact: [email protected]