From November 11-16, the World Poker Tour will be returning to the Caribbean Sea aboard the Scarlet Lady cruise ship. On board will be WPT ambassadors Brad Owen and Andrew Neeme. On the cruise, you will be able to play with Brad and Andrew in an exclusive Meet Up Game. There will also be daily cash games and tournaments available at various buy-in levels.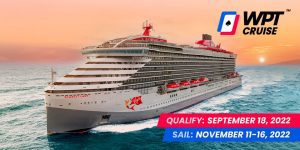 WPT CEO Adam Pliska anticipates that this will be the organization's most spectacular cruise to date: "Virgin Voyages is the perfect partner for the return of the WPT Cruise. Their complete reimagining of the cruise experience is very much aligned with the new face of WPT and the celebratory atmosphere of our 20-year anniversary."
Cruise Itinerary
The cruise will depart on Friday, November 11th from Miami, Florida. The first stop will be Puerto Plata in the Dominican Republic. There passengers will be able to visit both the beach and the city. The second stop will be in Bimini, Bahamas where cruisers can spend the day in an exclusive Beach Club with a DJ-led pool party.
The Full Schedule:
Day 1: Miami › Departs 7:00 PM local time
Day 2: Sailing
Day 3: Puerto Plata › 9:00 AM – 6:00 PM local time
Day 4: Sailing
Day 5: Beach Club at Bimini › 8:00 AM – 8:00 PM local time
Day 6: Miami › Arrives 6:30 AM local time

WPT Cruise Details
Prices for the cruise range from $2,070-$2,862 per cabin, assuming double occupancy. If you are interested in joining the WPT Cruise, we advise you to book as soon as possible, as cabins are selling out fast.
You can see the different accommodation options and make reservations on the WPT Cruise website. Note that in order to participate in the WPT poker events it is necessary to book through the WPT Cruise website.
Are you ready to set sails with @WPT and enjoy all the best that the Caribbean has to offer?🚢
TODAY on @ClubWPT @ 4:00 PM ET you can play for a chance to win a $4,500 WPT Cruise Dominican Daze VIP package sailing the Caribbean.*
🔗https://t.co/tQyMukyFPp
*No purchase necessary. pic.twitter.com/VvngueNlCb

— ClubWPT (@ClubWPT) September 18, 2022
Poker Details
Cash Games, MUG and tournaments
Poker lovers will have a wide variety of events to choose from on the cruise, with tournament buy-ins starting at $120 and rising all the way up to $500 for the Main Event. Cash games will also be offered, and on the first day there will be a Meet-Up Game (MUG) with Brad Owen and Andrew Neeme.
Schedule of poker events:
Day 1: MUG with Andrew Neeme and Brad Owen
Day 2: $120 Daybreak No-Limit Hold'em 10:00 AM
Day 4: $500 WPT Cruise Main Tournament 10:00 AM
Day 4: $330 Mystery Bounty No-Limit Hold'em 7:00 PM
Day 5: $120 Survivor Event 8:00 PM
Brad and Andrew shared their thoughts on the cruise:
Brad Owen: "I'm eagerly looking forward to my first WPT Cruise, taking on the Caribbean Sea. And what better to go with a relaxing vacation, than some poker competition? I plan on playing in a good mix of cash games, and will definitely fire the main event."
Andrew Neeme: "Who is ready for a meet-up game on the open seas? I can't wait for my first WPT Cruise experience, sailing to stunning Caribbean destinations while playing tournaments and mixing it up in some PLO cash games."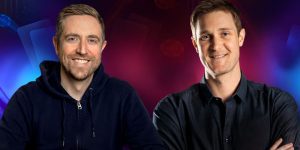 The Scarlet Lady Cruise Ship
Virgin Voyages' new luxury cruise ship is called "Scarlet Lady" and is 278 meters long and 38 meters wide. It was chosen as Cruise Critics' "Best New Cruise Ship" in 2021. The ship combines premium elements from favorites on land with the freedom and simplicity of a life well lived on the open ocean.
The ships extensive services include restaurants, gyms, swimming pools, spas, nightclubs, private karaoke, gaming spaces and shows. Scarlet Lady is the pinnacle of luxury and entertainment for anyone seeking the ultimate cruise experience.
Colleen McDaniel (Cruise Critic Editor-in-Chief) states "In a field that was surprisingly crowded, with a number of great new ships debuting this year, Scarlet Lady stood out for bringing new concepts to sea designed to give guests witty and smart features and options. We loved Scarlet Lady's design-forward take on bringing even more fun to cruising."
If you want to see the inside of the cruise ship you can watch this video:
All aboard! The WPT Cruise is about to depart!