To tremendous poker media fanfare, the World Series of Poker yesterday unveiled the schedule for this year's 44th installment of their annual summer tournament series. A massive 62 events will be played over 49 straight days, starting on May 29th, with the WSOP Main Event Final table being set by mid-July and resuming in November to crown a winner. A number of interesting poker tournaments are set to be played this year, including two charity poker events (the $111,111 One Drop High Roller and the $1,111 Little One for One Drop) and a $5,000 Open-Faced Chinese Poker non-bracelet event towards the end of the series.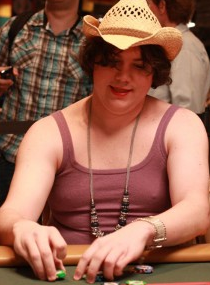 Major Commotion Surrounding the WSOP Ladies Event
Unquestionably, the most controversial thing about this year's WSOP schedule, however, is that it calls for the Ladies Event to be a $10,000 buy-in affair, with the stipulation that ladies who sign up to play will get a 90% discount. This notable stipulation comes as the WSOP's official "Valentine's Day gift" response to growing male participation in the Ladies event. Indeed, though the WSOP has held this special event since 1977, even giving a pink diamond-encrusted bracelet to the winner, recently more men, including big-name poker pros like Shaun Deeb, have cried foul at "gender segregation" and had been paying the $1,000 buy-in to play with the ladies.
If any man wants to try and pull that kind of stunt this year, they'll have to put up 10 times as much money to do so; $10,000 as opposed to a $1,000 buy-in for women.
Cardplayer Lifestyle's Take on "Special" WSOP Events
Honestly, we think the whole hullabaloo regarding the issue of men in the Ladies Event has gotten just a bit ridiculous. It shouldn't be about laws, loopholes, segregation, or creative reactions from the event organizers. The WSOP should be about poker.
I mean, seriously! Does the poker world  really want to see a smart-ass Internet whiz kid winning the WSOP Seniors Event bracelet after entering the event in protest of "age discrimination"?
Let casino employees have their own event. Let women have their own event. Let seniors have their own event.
With 62 events on schedule, featuring the full spectrum of buy-ins, plus additional bracelet events over the course of each year in Euro City Casinos (WSOP Europe) and now Australia (WSOP Asia Pacific) for the first time, every poker player, recreational or professional, has plenty of opportunities to ante up and try to win a bracelet without trying to "make a point".
Sticking it to the WSOP "just because the law says it's okay" is out of place in a poker world still looking for more mainstream coverage, acceptance, and legitimacy.