Watching the same format of poker programming can sometimes become a little too repetitive and boring. Sometimes we need to change it up and find something that mixes it up. The same can be said of poker itself, which is why I prefer to play mixed games instead of Hold'em, but I digress.
When looking for something new to watch I often find myself watching something random that might not be good, but I am willing to take that chance so that you don't have to. Here are some alternative forms of poker programming that can be found on PokerGO when you need to watch something different from a tournament or cash game.

First is PokerGO's first full length documentary film, To Be Determined. This film features a low stakes player who wants to move up and make it in the poker industry but has something that is holding him back. Matt Berkey and Christian Soto, from Solve For Why, take Oscar under their wing as they mentor him and attempt to help him overcome the obstacles he perceives in his life. The question proposed to us, the viewers, is does he have what it takes to be successful in poker? The answer is "to be determined" as we see an inside look of what its like to try and break into the extremely competitive world of poker. If you haven't noticed this film on PokerGO, just look for it using the Search box or sort the On Demand page by grid.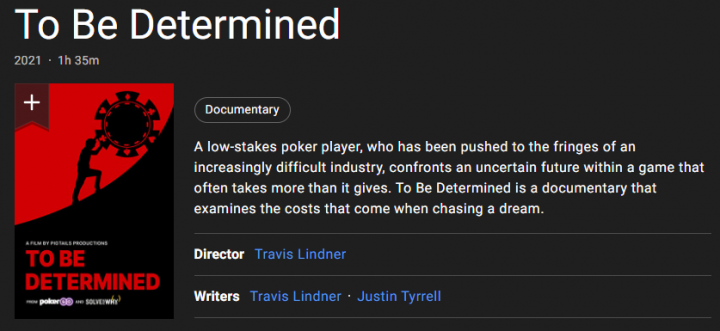 Dead Money, a documentary series on PokerGO, gives us a look into a world that most poker players dream of reaching. The series focuses on Matt Berkey as he gives us an insider's look at what it takes to prepare for an event like the Super High Roller Bowl. In this series we also learn about Berkey's background and where he grew up. It's a poker rags-to-riches story as we root for the hero to make the final table at the High Roller Bowl in 2016.
If learning about just one poker professional in the industry is not enough for you, don't worry there are plenty more poker icons who have their stories told on PokerGO. Their Pokerography series contains two seasons worth of rags-to-riches stories. Featuring big names like Phil Hellmuth, Jennifer Harmon, Mike Sexton, and Maria Ho, each episode dives deep into a player's past so that we can learn how they came up in the world of poker. With 24 episodes, each about 20-minutes long, you can spend a weekend binge watching this series while learning about some of the biggest names in the poker world.
If you want, you can also travel even further back into poker's history watching Legends of the Game. It's a series that presents poker's past as we learn about what poker was like back before it had all the media coverage that there is now. This series is little different in that not all the legends are people. Some of poker legends are places, eras, or groups that have helped shape the game in some way. If you have not learned about how the game of poker started out, this series will be of interest to you.
PokerGO even has some old episodes of a game show that was originally aired in 2009 called Face the Ace. When you look for poker in the form of a game show, there are some out there you can find but not many can be considered successful. In Face the Ace contestants are given the opportunity to compete for set prizes by playing against the Ace. The Ace is a mystery poker pro, and contestants pick from one of four doors to reveal who they will be playing against. After each round, if they win they are presented the choice of taking the money or parlaying to play for the bigger prize; but if they lose, they lose everything.

There is a lot of programming on PokerGO. They provide is with coverage of marquee events like the World Series of Poker, the Poker Masters, and the Super High Roller Bowl. Because of PokerGO we are seeing some of our favorite shows — like High Stakes Poker — come back to life, but they also provide quality poker programming beyond tournaments and cash games. Their catalog contains events like the annual Global Poker Awards ceremonies, as well as the interview that Barry Greenstein did with Phil Ivey. If you are not in the mood to watch "just another cash game," surely you can find something else in their library of poker content.