Many Cardplayer Lifestyle poker blog readers used to play on Full Tilt Poker before they disappeared from the online poker landscape. The rumor mill has been churning ever since as to the future of the former #2 online poker room, with plenty of trending topics of discussion, including "Where's Phil Ivey?", a possible European buyout of the site, and the potential of frozen monies to be returned to the players.
The only guaranteed news fact is that Full Tilt has a hearing scheduled with the Alderney Gambling Control Commission (the guys who used to license them) for tomorrow, July 26th. Naturally, anyone with money stuck in Full Tilt, from low-stakes grinders up to nosebleed stakes regulars like Tom Dwan, has a vested interest in being able to play again on the site, or at the very least being able to cash out their funds.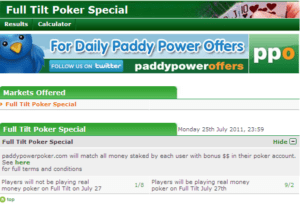 PaddyPower.com is trying to cash in on Full Tilt's miseries by offering betting lines on whether or not Full Tilt Poker will be able to offer real-money online poker again. If you believe that on Wednesday, the day after the hearing, there will be real-money poker on Full Tilt, Paddy Power will lay you 9:2 odds. If, however, you're like majority who believes that Full Tilt won't be back online, you'll just be getting 1:8 odds on your wager. Either way, winning a bet like this one will be a sweet silver lining for anyone who's had their funds frozen.