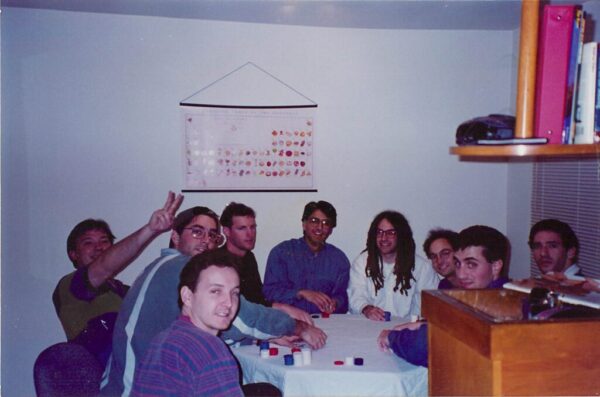 Robbie and Bruce recap their home games, played both online and in person. Bruce lost two whole dollars(!), while Robbie's Dad came back to the home game after a on over 6-month-long hiatus.
Two of poker's legendary Tiltboys, Dave Lambert and Paul Swiencicki join the hosts for a wonderful interview about the history behind their home game, over 25 years of playing poker together, the many amazing stories they have to share, and a book that chronicled their adventures over the years. Other famous Tiltboys members include Phli Gordon, Rafe Furst, and Perry Friedman.
Finally, Bruce shares a funny One Outer detailing the perils of screen sharing while on Zoom for an online poker home game.
Time Stamps
| | |
| --- | --- |
| 00:07 | Synopsis Poker Notes Live mobile app ad |
| 1:09 | Synopsis |
| 1:51 | How Ya Runnin? |
| 2:06 | Israel going into a second lockdown, so Robbie's getting as many home games in as possible before that happens. |
| 3:13 | A special home game featuring the return of Robbie's Dad, Dr. Joe, after 6+ months of no in-person home game play. |
| 7:17 | Robbie's winning streak was broken. However, while ending up a loser for the game, it could have been a lot worse! |
| 11:43 | Shout out to former guest Tadas Peckaitis for writing a great mixed game article on 2-7 Triple Draw and to listener Naomi for her Facebook comment. |
| 18:03 | Dedicating a little portion of the show to speak about the late, great Mike Sexton. Robbie wrote a tribute and Bruce shares some memories as well of interviewing Mike and reading his book, Life's a Gamble. |
| 24:17 | Bruce played in an online poker home game and lost a grand total of…. $2. |
| 26:44 | Look Who We Found: An Interview with the Tiltboys! |
| 26:20 | Dave "Diceboy" Lambert and Paul Swiencicki are two of the Tiltboys, and they join us for the show. |
| 27:28 | Tiltboys members include big names like Phil Gordon, Rafe Furst, and Perry Friedman. Paul and Dave explain the moniker and what the group was all about. |
| 30:25 | The Tiltboys have been playing throughout the pandemic with 100+ straight days of online home games. |
| 31:10 | The Tiltboys design new card games all the time and with as many twists, turns, and rules as possible in order to get fellow players to tilt. Also, they attempt to introduce features that prevent players from knowing the optimal strategy, such that things stay as enjoyable as possible. |
| 35:23 | Paul and Dave discuss the origins of the game and how the group initially formed and brought on new members. It originally started out with many of the group members having attended Stanford University. |
| 38:04 | Paul tells the story of how he was first introduced into the Tiltboys group, way back in 1995. It happened while some members of the group were together in a poker room. He was a participant in a hilarious NBA game wager between the Lakers and Bulls, featuring Phil Gordon and Rafe Furst. |
| 41:50 | Dave and Paul explain the concept of "implied tilt odds". |
| 48:20 | The Tiltboys group basically stayed in California and took trips to Las Vegas. They played golf every day and poker every night among themselves in a home game. They also primarily enjoy cash games rather than tournaments. |
| 50:00 | Dave and Paul discuss the stakes the group has played for. A critical note of importance for a fun home game: keep the stakes low enough that people can always still afford their losses. Otherwise the losing players will leave the game and stop coming. |
| 53:55 | Bruce talks about his love for the Tiltboys' book. Paul and Dave explain what made the group decide to write the book in the first place. |
| 57:08 | Dave ad Paul discuss the Tiltboys' affiliation with the famous BARGE mixed games poker lover group. |
| 1:00:40 | Paul and Dave remind listeners that a home game should always be about the enjoyment; not about the money. |
| 1:01:51 | One Outer: Bruce talks about a funny situation with Zoom online poker and screen sharing. |