While I've enjoyed playing poker ever since I was a little kid, I suppose you could say my entry into "proper poker fandom" came in 2002-2003. It was during that period of time that the World Poker Tour, PokerStars, and the World Series of Poker entered my consciousness through the twin media of television and the internet. Two decades later, as the biggest WSOP Main Event of all time was being staged at the Horseshoe Las Vegas, I had the exquisite privilege of being extended an invite to the WPT Honors ceremony just down the road at Wynn Las Vegas. That's where the special distinction was to be bestowed upon a pair of recipients: longtime commentator Vince Van Patten and PokerStars founder Isai Scheinberg.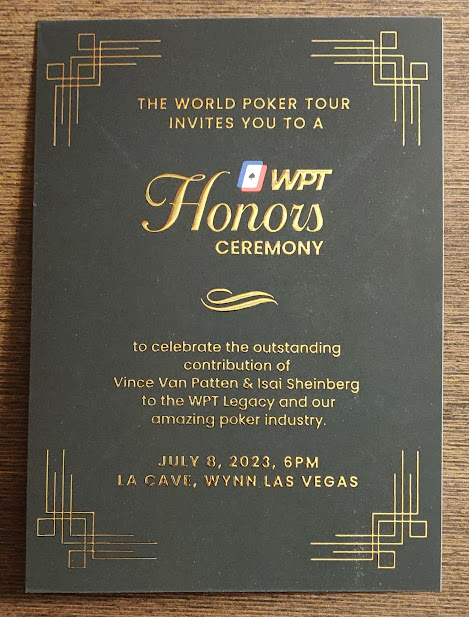 If you would have told 21-year-old me that I'd someday get to be in the same room with those two legends, I'd be beside myself. Hell, 41-year-old me typing up these words still can't believe I had that opportunity just a few short hours ago.
You might be asking yourself, "what was so special about that opportunity?"
There's an old saying that you can tell a lot about a person by the company they keep. As much as the 2023 WPT Honors ceremony was about the honorees, in my eyes it was similarly about the group that assembled to pay tribute to said honorees.
A Ceremony Like No Other
A good deal of pomp and circumstance went into the ceremonial aspects of the event, with numerous individuals stepping up to the podium to "make the case" for each nominee's worthiness of receiving the WPT Honors to the dutifully bespectacled and robed WPT President Adam Pliska. The World Poker Tour might be unrivaled in our industry when it comes to putting on special events like these, and to have had a seat at the ceremony was akin to witnessing a very special episode of poker's greatest show.
After Angelica Hael officially nominated Vince Van Patten, a parade of World Poker Tour stalwarts including Matt Savage, Lynn Gilmartin, Tony Dunst, and company Founder Steve Lipscomb ascended to the mic to heap oodles of praise upon their longtime colleague and friend. Beyond their obvious outpouring of love and appreciation for the man, what stood out to me from the speeches about Vince was his colleagues' admiration for his work ethic. Plainly speaking, the man showed up every single day and just put in the work. But Vince hasn't just "clocked in" for 21 years; he's done so with the same vim, vigor, and joie de vivre with which he showed up on his first day. A rare quality, to be sure.
Ever humble, Vince deflected the praise to in turn show appreciation for his World Poker Tour colleagues and the late Mike Sexton; the people who helped and supported him along the way. In response to the deluge of kind words spoken about him, he humorously quipped that "this is like attending your own funeral."
I couldn't help but draw direct lines of comparison to the reactions when Cal Ripken Jr. broke Major League Baseball's consecutive games streak years ago; a veritable poker Iron Man was getting his due. How sublime for someone who has worked so hard for so long to enjoy such a special moment of public appreciation.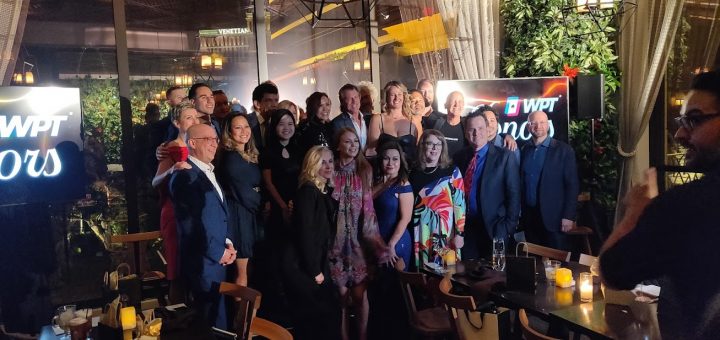 A similar cavalcade comprised of Jeffrey Haas, Hermance Blum, Lance Bradley, Israel Rosenthal, and Sven Stiel took to the stage one by one to express their gratitude and appreciation for Isai Scheinberg's contributions specifically to their careers as well as to poker on the whole.
From my perspective, it was astounding to note the attendance of so many former PokerStars employees who had worked under Scheinberg until the then-privately owned company was sold in August 2014. It's simply surreal to think that one man was ultimately responsible for putting together such an impressive array of talent. All of those people have since moved on to other successful endeavors and roles in the subsequent years, many still within the poker industry. But witnessing "the old PokerStars family" reunite under one roof felt like watching the Avengers assemble.
They spoke of Isai's three simple, straightforward rules: never lie, never cheat, and always do the right thing. While simple, rules like those aren't always easy to adhere to in an industry with billions of dollars at stake, as history has taught us.
Scheinberg has always been notorious for his preference of privacy. The entire poker world knows of his accomplishments, but the great man rarely, if ever, surfaced publicly. Being at the 2023 WPT Honors ceremony to see Isai accept his award felt like being transported to PokerStars' headquarters prior to 2014; a place full of people who never lied, never cheated, and always did the right thing. No wonder it proved to be such a successful venture.
While fish may be surrounded by water, they still rise to the surface when it rains to welcome new droplets. So, too, the entire room full of luminaries could be seen leaning in to listen closely to the soft-spoken Scheinberg during the latter's acceptance speech. It was a telling moment.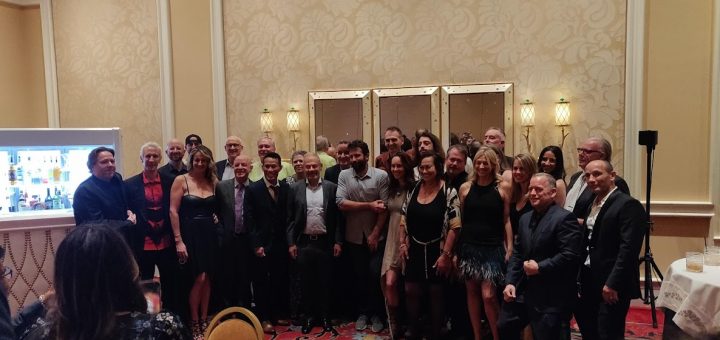 Reflections From Fellow Attendees
Reader can clearly identify my long-held esteem for both the World Poker Tour and PokerStars, but I've always been an outsider and independent media voice. So, in order to gain a greater understanding and appreciation for what I had borne witness to, I asked a few insiders who worked with Vince and for Isai, to share their thoughts and perspectives on the evening. Here's what they had to say:
"There are two men in my life who have been incredible role models of what it means to be an honest entrepreneur. One of them was my late father; the other is Isai Scheinberg. I didn't think that I was going to get into the world of gambling and learn more about honesty than I had learned before in my life as a journalist. Isai taught me that you can be a good businessman and you could be a good person at the same time. He was more generous with me than any other boss or company owner ever has been, and I think he is worthy of every honor he's been given and more."
Brad Willis, Editor-in-Chief of Poker.Org, formerly the Head of Blogging at PokerStars
"Both of these gentlemen have meant so much to me in my poker career. Isai doesn't realize it, but of course being a part of the poker industry just would not have been the same without Isai Scheinberg. I want to thank him. He hasn't received the accolades that he deserves; I think he should of course be in the Poker Hall of Fame.
And I think that Vince Van Patten deserves recognition for all that he's done for the game. It's not very often that you see someone who has been around in the game for as long as he has been. He's become like family to me, so I speak from the heart: we've spent a lot of time together sharing our passion for poker. I really appreciate everything both of these guys have done."
Matt Savage, Executive Tour Director of the World Poker Tour
"I've been in poker for just over seven years. It's incredible to hear the historical stories and learn how our industry has evolved. We get into our positions these days and de facto only think about our current time and present roles. To go back and see the history is just incredible. There are so many stories from the people who came before us, and it's important to appreciate them."
Eric Lusch, Media Relations Manager with the World Poker Tour
"I have not been to a poker event since 2016. The only reason I came tonight was because of Isai Scheinberg. All the things that have been said about him; it wasn't enough, about what this man taught me and what he taught everybody in the room. Not just about business and about poker, but about life and how to treat people the right way.
The emotion that I feel tonight is because of the sense of community that I'm feeling and don't remember poker having had for a very long time. I miss it. The World Poker Tour was always the rival to the organization that I worked for… and I didn't realize until tonight just how super cool the people who work for the World Poker Tour are, from the top down… and there's no such thing as 'down' with them! Everybody's got an important role to play in the World Poker Tour. I'm so impressed with the WPT, what they've done tonight, the sense of camaraderie they have, and the love they have for each other.
When we talk about playing poker, sitting around a table, and competing to take each other's money… the game is about more than that. It's about the friendships, and the love, and the trust, and the lessons you learn from one another. Even though I was here for just two hours tonight, I came away with a great sense of energy."
Nolan Dalla, former Director of Communications at PokerStars
The Coolest-Ever Poker After-Party
Poker.org owner Eric Hollreiser, himself a former PokerStars employee, hosted a swanky afterparty in one of the Wynn ballrooms that featured an open bar, flowing chocolate fondue fountains, and the most succulent strawberries to delight our tastebuds as we mingled to mellifluous music. Designed to orchestrate a reunion of former PokerStars employees, many World Poker Tour personages could also be found among the attendees.
You can tell a lot about people by the folks they surround themselves with.
I hesitate to use the word "magic", but there was something indescribably unique in the air throughout last night's festivities.
I suppose that's what happens when the spotlight shines on poker's best. The entire room lights up.