You already know what's on the table at Mixed Game Festival III in Malta from October 25-27, but we've now got even more cool news to share with you. While this article's title says it all, we'd like to tell you the full story and all the pertinent details.
Poker players who will be traveling to the Portomaso Casino for the Malta Poker Festival and joining us for our €230 HORSE tournament will now have the opportunity to claim a seat for a fraction of the price, thanks to Onlive Poker. But first, let's explain exactly what that is.
What is Onlive Poker?
The brainchild of longtime poker tournament organizer Alex Henry, Onlive Poker has just been certified and licensed by the Malta Gaming Authority to offer poker games in the country and they're exclusive to Portomaso Casino. The product digitizes the live poker experience, meaning you sit around the table playing against other players while gameplay itself is conducted on specially outfitted mobile devices. No dealers, chips, or shufflers means you can get in close to twice as many hands per hour and there are no mistakes during the action, all while maintaining the fun, social experience of live poker play against your opponents.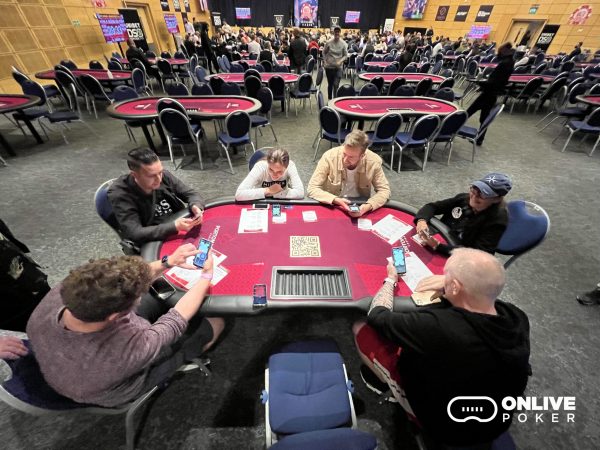 Onlive Poker currently offers Texas Hold'em as well as PLO, and the latter game will be what you can play in order to satellite in to our €230 HORSE tournament.
€50 sit and gos (€48 + €2) will be running 6-handed from Monday afternoon October 24 straight through until our tournament begins at 6pm the following day on Tuesday October 25 at 6pm. The winner of each satellite will score a seat in our €230 HORSE tournament, with the second place finisher getting their buy-in back plus a little extra cash on top (€58 total).
An Affordable, Fun Experience
Lest a reader think I'm simply shilling the Onlive Poker product, know that I have tried it out myself back in May during my previous trip to Malta, and genuinely found the experience to be enjoyable. It takes a couple minutes to learn the mechanics, but once you've got that down, poker play can proceed as "normal".
A 6-player Pot Limit Omaha satellite takes approximately 1 hour to reach a winner rather than a typical sit n' go, which can usually take anywhere from 2x-3x as long. That means that plenty of aspiring mixed game players can try their hand at PLO via a Online Poker satellite and make their way to our HORSE tables for just a €50 investment.
How to Enter and Play in an Onlive Poker Satellite
If you'd like to give Onlive Poker a shot and try to get in to our €230 HORSE tournament on the cheap, just approach the cashier's desk at Portomaso Casino and pay the €50 registration fee. They'll give you a receipt which you can take to one of the Onlive Poker representatives who will be located in the poker room. As soon as six players register, a sit n' go satellite will begin.
That's all there is to it. Good luck, and I look forward to seeing you in Malta for Mixed Game Festival III.
And don't forget, even if tournaments aren't your thing, there's plenty of dealer's choice cash game fun to be had as well, and I'll be in the mix along with the wonderful group of locals to ensure you have a great time!
About last night… 😃

Thanks to everyone who came out to play in the €5/10 Malta 🇲🇹 #mixedgame Meetup.

What a joy!#maltapokerfestival pic.twitter.com/LGg9R3k5gt

— Robbie Strazynski (@cardplayerlife) April 29, 2022