Last month we announced that Cardplayer Lifestyle's third Mixed Game Festival will be taking place between October 25-27 at Portomaso Casino in Malta. Over these last few weeks, we've been working hard behind the scenes to ensure our live event will truly be a memorable one.
A number of wonderful partners have stepped up to provide us with plenty of extra value to offer our festival participants, both those who play in our €230 HORSE tournament, as well as those who opt to just play in our dealer's choice cash games.
So, I'm proud to release some additional announcements about the festival that everyone who attends will be able to enjoy.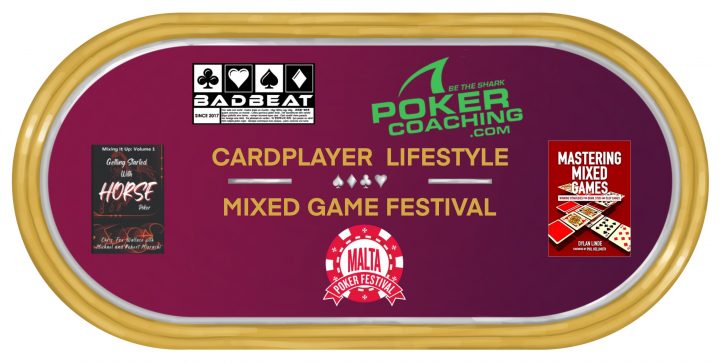 Tournament Structure
Our €230 HORSE tournament will feature 20-minute blind levels, with unlimited re-entry open for the first 10 levels of play.
Players will receive a starting stack of 40,000 chips, with the initial blind level being 200/400.
Click here to view the full, printable schedule (PDF).
Extra Value for our Tournament Winners
Pokercoaching.com will be awarding a Malta Poker Festival Main Event seat (€550 value) to the winner of our €230 HORSE tournament. The winner will also receive a 1-Year PokerCoaching.com Premium membership ($1188 value).
The remaining five players who make the final table of our €230 HORSE tournament will receive a 1-month free PokerCoaching Premium ($99 value) added to their payout.
Our €230 HORSE tournament will also feature "Bubble Protection" from BadBeat Clothing. If you're unfortunate enough to get eliminated on the bubble, BadBeat Clothing will sooth that pain by giving you your €230 buy-in back.
Freebie Merch and More
BadBeat Clothing has also provided us with dozens upon dozens of T-Shirts to distribute to our €230 HORSE tournament players as well as players who participate in our three nights of dealer's choice cash games from October 25-27.
Throughout the €230 HORSE tournament as well as our cash games, I'll be giving away a bunch of extras via "bomb pots" as well as random seat draws. These include:
Come Join Us!
We're just over a month away from the festivities and Malta beckons. The local Malta mixed game crowd is excited and plenty of folks who share that excitement are slated to fly in for the festivities from around Europe… and even as distant as the United States.
Be sure to join us at the Portomaso Casino and get your mixed game poker fix. While some of you will walk away with big winnings, anyone who comes to participate in our Mixed Game Festival is assured to walk away with great memories.
Just booked my flights! Malta I'm coming for some sweet mixed game action❤️❤️❤️@cardplayerlife

— Milko (@DegenOnTour) September 18, 2022
So looking forward to this… https://t.co/6pYod9LGSI

— Martin Smith :-: Pot Limit Sviten Special (@poker4leisure) September 8, 2022
In more exciting news (to me), I'll be heading to Malta to try and earn a 🇲🇹 between Oct 26 – Nov 4 for the annual @TheHendonMob Summit and play The Hendon Mob Championship, a part of the @maltapokerfest https://t.co/HCCsZCaKaA

Are Maltesers available in Malta?

— Kevin Mathers (@Kevmath) September 12, 2022