Episode #10 of The Orbit, poker's premier roundtable discussion show that I host, was recorded on April 6, 2021 and is set to premiere at 10am Pacific | 1pm Eastern | 6pm UK on Thursday April 15, the 10th anniversary of what's come to be known as Black Friday in the poker world.
April 15th, 2011 remains a pivotal moment in poker history, as it upended the online poker industry and the lives of countless individuals worldwide. From players to sponsored pros to operators to the media, the poker world stood still as the US Department of Justice effectively shut down the biggest sites, including PokerStars, Absolute Poker, and Full Tilt Poker.
A decade on, our memories might have faded a little but the scars still remain. Moreover, so many new people have entered the poker world over the last 10 years, many of whom don't know the full extent of what happened that day.
On Episode #10 of The Orbit we gathered a special group of individuals who are with us to share their unique perspectives on Black Friday.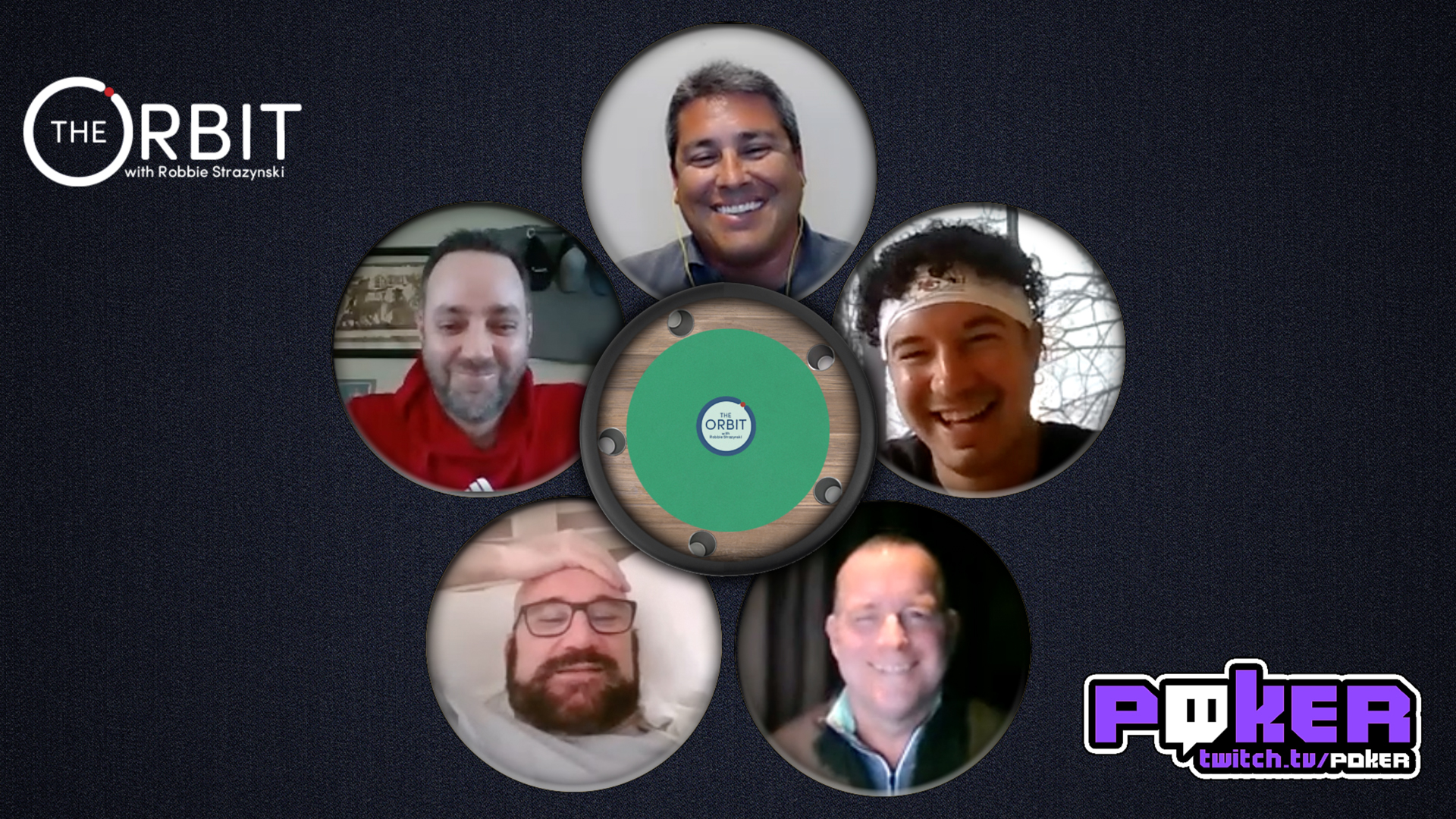 Panelists
BLAIR HINKLE
A WSOP bracelet winner and 5-time WSOP Circuit ring winner, Blair has over $4.6 million in live tournament earnings. In February 2011, Blair won over $1.1 million in an FTOPS event on Full Tilt Poker. Two months later, Black Friday struck, and like tens of thousands of other players, with his bankroll locked in the online account, Blair had no idea if he'd ever see the money again.
ERIC HOLLREISER
Eric was the Vice President of Corporate Communications for PokerStars, responsible for brand PR, and the company's global poker marketing strategy. He joined the company as a Member of the Executive Management Team in the immediate wake of Black Friday, and served for eight-and-a-half years in that role before leaving in October 2019.
MIKE MATUSOW
Mike has been playing professionally since the early 1990s. In that time he's won 4 WSOP bracelets and amassed over $9.7 million in career live poker earnings. Prior to Black Friday, Mike was a member of Team Full Tilt and one of the brand's most well-recognized and prominent ambassadors. Known affectionately as "the Mouth", Mike has never shied away from sharing his opinions on anything and everything Black Friday-related.
STEVE RUDDOCK
Steve is the Editor in Chief at Gaming Law Review and the Content Director at BettingUSA.com. He's written for dozens upon dozens of media outlets (including Cardplayer Lifestyle) since entering the poker industry in 2009. After Black Friday he began to focus almost exclusively in the niche of U.S. gaming legalization, where's he's become one of poker's leading experts and authorities.
Below is a teaser for our one hour roundtable discussion.
On Episode #10 of #TheOrbit we will mark 10 years since Black Friday together with @blur5f6, @erichollreiser, @themouthmatusow, and @SteveRuddock.

You don't want to miss it. Here's a teaser to give you a little taste. 🔥

Premieres Thursday at 10am Pacific | 1pm Eastern | 6pm UK pic.twitter.com/xaAL1MuApT

— Robbie Strazynski (@cardplayerlife) April 12, 2021
TOPICS
We start off the show by revisiting what our panelists poker lives were like prior to Black Friday. Our panelists give us a little background about themselves, how they got into poker, and where their careers had progressed to up until April 10, 2011.
Then we discuss Black Friday itself. It's the day where everyone involved tends to remember exactly where they were. I was actually offline as it was already the Sabbath here in Israel… I only found out when I got back to work and turned on my computer on Sunday morning. Our panelists share their perspectives of what happened, from the moment they found out and for the following 24 hours.
After a brief break, we discuss the immediate short-term aftermath of the events of Black Friday, specifically how our panelists lives were affected on a day-to-day basis, and to what degree/extent things change for them.
Finally, 10 years on, we ask what our panelists are currently involved in and inquire as to how they've moved on since Black Friday. We ask in what ways – if at all – does it continue to affect them? Moreover, since "those who don't learn from history are doomed to repeat it," we ask our panelists to share the main lessons they would you encourage poker players and our industry to learn from Black Friday.