The World Poker Tour's Premier Meet-Up Game (MUG) will once again kick off the WPT World Championship festival in December and will be hosted by World Poker Tour Ambassadors Andrew Neeme and Brad Owen. The Premier MUG will take place on Friday, December 1st at the Wynn Las Vegas and Poker Hall of Famer and fellow WPT Ambassador Phil Ivey will be making a special appearance along with a cadre of other big name poker personalities.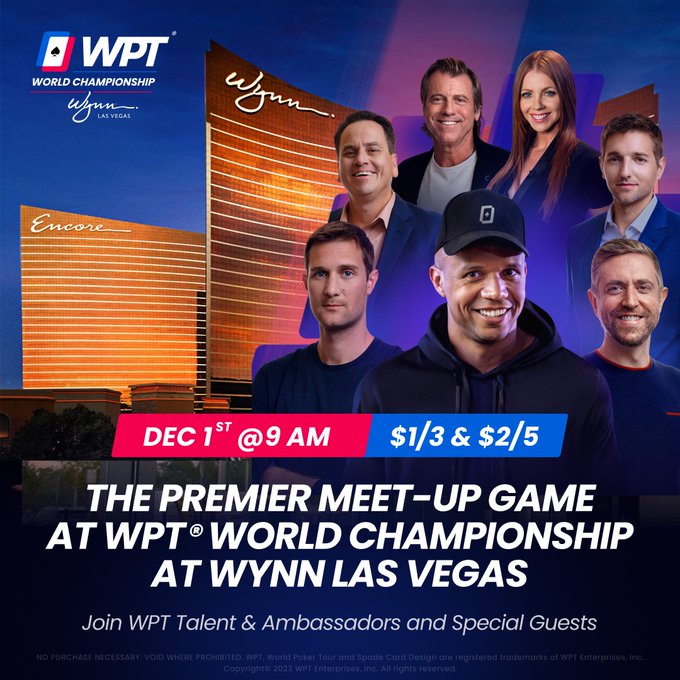 "We're pumped to bring the Premier MUG back to the World Championship stage with players from all different countries present," said Neeme. "I think the fun and relaxed vibe of the event sets a great tone for the rest of the festival."
READ MORE: Neeme, Owen Discuss the Anatomy of a Poker Meet-Up Game
The Wynn Las Vegas has earmarked all 28 tables in their poker room to host a variety of cash games, including $1-$3 and $2-$5 No Limit Hold'em, as well as Pot Limit Omaha (PLO). The Premier MUG is scheduled to begin at 9:00 a.m. and end at 1:00 p.m. Seating will be on a first-come, first-serve basis on the day of the event before the start time of 9 a.m. That is to say that anyone wishing to participate in the Premier MUG will have to sign up in person on the day of. It's thus recommended that interested players arrive ahead of the start time to lock in their seat.
Last year's Premier MUG attendees included DJ Steve Aoki, WPT on-air talents Lynn Gilmartin, Tony Dunst and Vince Van Patten, Executive Tour Director Matt Savage, and other notable players such as Patrik Antonius and Joey Ingram.
The recently departed Doyle Brunson, a.k.a., "Texas Dolly", memorably participated in last year's first ever Premier MUG. This year, to honor his legacy after his passing, a promotion will be offered that features his most memorable hand, Ten-Deuce and his son Poker Hall of Famer Todd Brunson will be in attendance.
— Andrew Neeme (@andrewneeme) December 2, 2022
"I know my dad had a wonderful time at the WPT World Championship last year, playing in the Premier MUG among friends and fans alike," said Brunson. "That is why I pledged to attend this year. It is an honor that WPT will be commemorating his legacy as an ambassador of the game during this celebratory event."
READ MORE: What it's like to play poker with Doyle Brunson, Phil Ivey, and the WPT Crew
Multiple seats to WPT World Championship festival tournaments will be awarded during the Premier MUG via a drawing at the culmination of the event. Seated players will have the opportunity to win multiple drawing entries through live-action promotions. These promotions will be highlighted on WPT's social media channels in the coming weeks.
The WPT World Championship at Wynn Las Vegas will run from December 12-21, with a buy-in of $10,400 and the largest ever guaranteed prize pool in history of $40 million. Last year's World Championship nearly doubled the prize pool guarantee, ballooning from $15 million to just over $29 million dollars.
READ MORE: 7 Reasons Why the WPT World Championship will Beat their $40 Million Guarantee
Cardplayer Lifestyle founder Robbie Strazynski will be in attendance at the upcoming WPT Premier MUG to cover the festivities in person, as well as to kick off this site's coverage of the World Poker Tour's year-end event series, which will be continued in person by longtime contributing writer Jennifer Newell.
"The Premier MUG is the pinnacle of meet-up games, and highlights to the world what Andrew and I set out to accomplish from the beginning, which is to provide players with a fun, non-intimidating atmosphere and experience," said Owen.