Over the last few weeks, PokerStars has been busy promoting a whole host of events dedicated to celebrating its 10th anniversary. The richest such scheduled promotional event is today's special $10 million Guaranteed Sunday Million.  Perhaps lost in the shuffle of the celebrations, however, has been the $10,300 buy-in High Roller event, which has a $500,000 guaranteed prize pool. As of this writing, with 8 hours to go until the tournament begins, there are only 38 registered players, meaning a potential overlay of $120,000!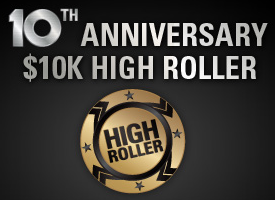 In describing the event, the PokerStars website itself writes that "nothing creates action among the high rollers better than a $10,300 event! This special tournament is set to attract scores of poker's elite, and as an added sweetener, there will be a guaranteed prize pool of $500,000 on the line." Really? At the moment, the world's largest poker site hasn't yet even attracted 2 scores! (That's 40, people, – think "four score and 7 years ago".)
When Does It Start? Who's Playing?
The High Roller tournament is scheduled to start at 3:30 pm Eastern, exactly 1 hour after the Sunday Million begins. Currently there are about a dozen Canadian players registered, among them Randy "nanonoko" Lew and Pat Pezzin. Most of the other players hail from Europe, with a couple registrants from Australia and Costa Rica to round out the mix. Among the more notable entrants thus far are Humberto Brenes, Eugene Katchalov, and Bertrand "ElkY" Grospellier.
It should be noted that extended registration is available for up to 2 hours for this online poker tournament. Moreover, much of the high-stakes community of live and online players are familiar with one another, and are likely to spread the word of a potential overlay. Thus, in all likelihood, there will be at least 50 players taking part in this event.
One thing's 100% certain though; with approximately 17,000 people signed up (so far) for the Sunday Million, there will surely be a lot of railbirds online eager to see how the High Roller event plays out and who takes home the six-figure first place prize money.
Our Sources
Lastly, we just want to thank one of the Cardplayer Lifestyle poker blog's regular readers, Hank N., for bringing this story to our attention. We aim to bring our fans the most interesting news emerging from the poker world. If you know of some interesting poker stories that we haven't reported on, feel free to let us know on the Cardplayer Lifestyle Facebook page or contact us directly.