It is going to be an action-packed month of March on PokerGO with a constant stream of new releases, along with the highly anticipated High Stakes Duel II between Daniel Negreanu and Phil Hellmuth.
Over 20 new episodes are scheduled for release on PokerGO this March with the newest season of Poker After Dark continuing, while the Season 8 of High Stakes Poker will come to a conclusion. Meanwhile, WSOP Europe episodes will transition from the 2008 Main Event into the 2009 Main Event.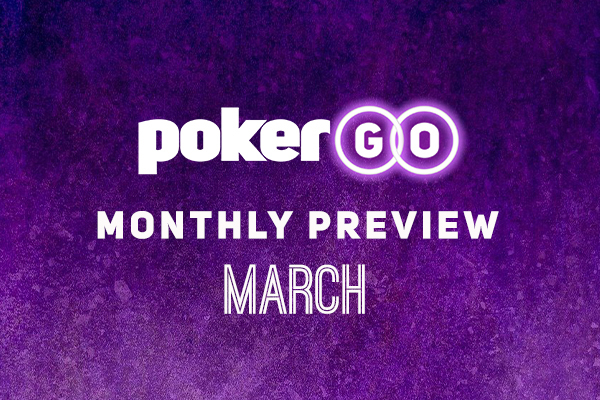 High Stakes Duel
PokerGO's newest social show of No Gamble, No Future  — co-hosted by Jeff Platt and Brent Hanks — broke the news of High Stakes Duel II that will see Hellmuth defend his title against Negreanu. Hellmuth criticized Negreanu's play against Doug Polk from High Stakes Feud, and Negreanu happily stepped up to the plate to take on Hellmuth.
Hellmuth swept Antonio Esfandiari over three rounds of play in High Stakes Duel last year to pocket the final prize of $400,000. And now he'll look to continue his winning ways against Negreanu who lost over $1.2 million to Polk over 25,000 hands throughout High Stakes Feud.
Poker After Dark
Season 12 of Poker After Dark continues in March with the conclusion of One Bourbon, One Shot, and No Fear week featuring Sam Soverel, Jake Daniels, Chris Johnson, Alex Ding, Justin Young, and Jonathan Little playing $25/$50 No-Limit Hold'em. Beyind that, Lesson Learned will be see the first sit-n-go action of the new season as Little hosts James Romero, Matt Affleck, Justin Saliba, Faraz Jaka, and Brad Owen as they compete for $30,000 in prize money.
Not About Nick week will close out the month as Nick Schulman, Terry Fleischer, James Bord, Jeremiah Williams, Scott Ball, and Matt Berkey battle in a game of $50/$100 No-Limit Hold'em.
New episodes of Poker After Dark are released every Monday at 8 p.m. ET.
High Stakes Poker
The final three episodes of Season 8 of High Stakes Poker will conclude in March with the final line-up being led by the debut of Doug Polk. Seated alongside Polk is Phil Ivey, Bryn Kenney, Phil Hellmuth, Brandon Steven, James Bord, Jake Daniels, and Tom Dwan.
After nearly 10 years off the air, the excitement over the new season of High Stakes Poker can only be matched by the anticipation of a Season 9 that is scheduled for some time during 2021. This current season of High Stakes Poker has provided some incredible moments, most recently Chamath Palihapitiya turning quads on Dwan and being paid off. Watch the hand play out here:
New episodes of High Stakes Poker are released every Wednesday at 8 p.m. ET.
World Series of Poker Europe
The WSOP Europe 2008 Main Event concludes with John Juanda winning his fourth WSOP bracelet after he defeats Stanislav Alekhin to claim the £868,800 first-place prize. Following this final episode from 2008, there will be 10 episodes from WSOP Europe 2009.
The first two will cover the inaugural Caesars Cup that sees Europe battle the Americas in a best-of-seven series of doubles and heads-up matches. Annette Obrestad captains Team Europe, while Daniel Negreanu captains Team Americas. Action then turns to the Main Event where the road to the title and the £801,603 first-place prize must go through Negreanu, Jason Mercier, and several November Niners.
New episodes of WSOP Europe are released every Tuesday and Friday at 12 p.m. ET.
What Did You Miss in February?
PokerGO's February releases featured the start of WSOP Europe episodes beginning with the WSOP Europe 2008 Main Event. High Stakes Poker continued and showcased a new line-up led by Phil Hellmuth and included 10-time WSOP bracelet winner Phil Ivey, WSOP Europe 2010 champion James Bord, and venture capitalist Chamath Palihapitiya making their Season 8 debuts.
The Fantastic Five week dominated Poker After Dark for February as the $50/$100 No-Limit Hold'em game included Matt Berkey, Sam Soverel, Jake Daniels, James Romero, and Lynne Ji for three episodes of play.
Connect with PokerGO on Facebook, Twitter, and Instagram.