June is always a big month on PokerGO as live events dominate the schedule. Normally the WSOP is slated for a plethora of final tables, but with it moving to the Fall, the 2021 U.S. Poker Open steps up to take its place following a two-year hiatus.
Once the 12-event U.S. Poker Open wraps up, Phil Hellmuth and Daniel Negreanu will return for Round 3 of High Stakes Duel II where $400,000 is on the line. Finally, episodic content continues with Poker After Dark wrapping up Season 12 before the month is over.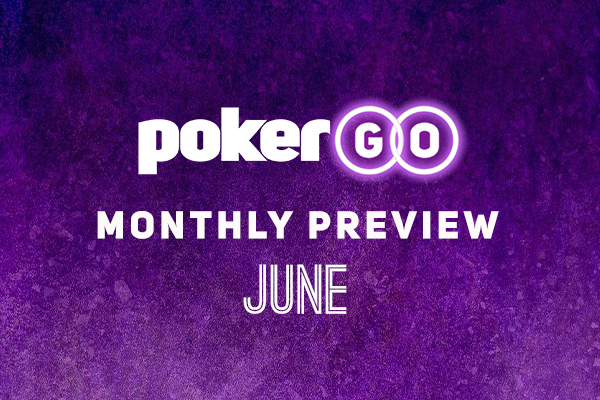 U.S. Poker Open
The U.S. Poker Open returns for 2021 from June 3-15 at the PokerGO Studio from ARIA Resort & Casino. There are 12 events on the schedule with games varying from No-Limit Hold'em, Pot-Limit Omaha, Big Bet Mix, 8-Game, and Short Deck. The buy-ins are $10,000 for the first 10 events, before the stakes are raised to $25,000 and then $50,000 for the final two events.
All the U.S. Poker Open events will play down to a final table on Day 1 before concluding the following day on PokerGO.com at 4 p.m. ET. The PokerGO Live Reporting team will also be on-site to provide live updates throughout the entire U.S. Poker Open.
For the eventual player that accumulates the most PokerGO Tour points throughout the U.S. Poker Open, they will be crowned the U.S. Poker Open champion and receive $50,000 in added prize money as well as the Golden Eagle Trophy.
Watch every U.S. Poker Open final table air from June 4-15, at 4 p.m. ET
High Stakes Duel II
Phil Hellmuth celebrated Cinco de Mayo with a victory over Daniel Negreanu in Round 2 of High Stakes Duel II. With Hellmuth collecting the $200,000 prize. Plus, he also locked up his fifth consecutive High Stakes Duel victory on the back of his sweep of Antonio Esfandiari.
Following an immediate challenge from Negreanu, Round 3 is now set for Wednesday, June 23, where the two will face-off in the $400,000 match. If Hellmuth wins, he will have the option to cash out and be crowned the High Stakes Duel II champion – something he has hinted at doing already. If Negreanu wins, the ball will be in Hellmuth's court if he wants to challenge and play for $800,000 – that is something he has hinted at not doing – and one opponent waiting in the wings for Negreanu is Tom Dwan.
Round 3 is set to premiere on Wednesday, June 23, at 8 p.m. ET with Hellmuth and Negreanu battling for $400,000. The Weigh-In will air at 7:30 p.m. ET with Ali Nejad taking over hosting duties.
Watch Round 3 of High Stakes Duel II on Wednesday, June 23, at 8 p.m. ET
Poker After Dark
Season 12 of Poker After Dark comes to a conclusion in June with Gamblers Delight closing out the season with a total of five episodes. The two nights of filming see the highest stakes of the season since Cry Me a River aired in December 2020 as the game of choice is $100/$200 No-Limit Hold'em.
Gamblers Delight features 2010 WSOP Europe Main Event winner James Bord, Survivor contestant Albert Destrade, REDEMPTION Fitness CEO Bryan Ercolano, hedge fund manager Dan Shak, WSOP bracelet winner Trevor Pope, and recent Season 8 High Stakes Poker participants Jake Daniels and Lynne Ji.
New episodes of Poker After Dark are released every Monday at 8 p.m. ET.
What Did You Miss in May?
The highlight during May on PokerGO was Round 2 of High Stakes Duel that was won by Phil Hellmuth, while new content continued to roll out with the conclusion of the WSOP Europe Main Event episodes, and the continuation of Season 12 of Poker After Dark.
Poker After Dark's Watch Your Step week came to a conclusion during May as the six-episode week was highlight with a vibrant line-up that included Frank Stepuchin, Ilyas Abayev, Alex Ding, Ronnie Bardah, Alan Richardson, Marle Cordeiro, Landon Tice, and Mike Matusow playing $50/$100 No-Limit Hold'em.
Also released during May was the co-creation between PokerGO and Solve For Why of a feature-length documentary titled "To Be Determined". The latest original content documentary follows Oscar, a low-stakes grinder from New Jersey, struggling to find his footing as a professional poker player. Mentored by Matt Berkey and Christian Soto at the Solve For Why Academy, Oscar looks to elevate his play, conquer his inner demons, and find the poker success that has eluded him the past decade.
Connect with PokerGO on Facebook, Twitter, and Instagram.